Ways to attract attention from customers on a busy high street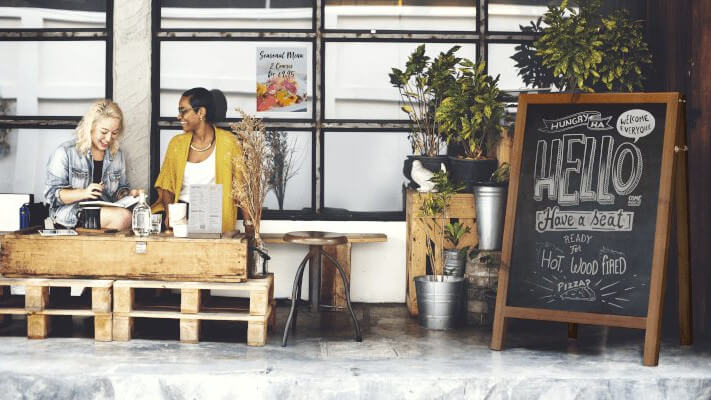 So, whether it was your choice or not, you've found that your shop is situated near to an anchor store or anchor site. Learning how to get customers' attention and learning how you can use point of sale materials to encourage people into your store is essential to stop people heading straight to the big store next door. It all relies on how the front of your business looks to passersby and how appealing it looks compared to your larger competitor. There are plenty of point of sale display products that you can use to make a big impression on potential customers walking by and increase footfalls for your store.
Window displays
Window displays are the most obvious way to catch a customer's attention. Depending on the space you have available, you can use your windows to either construct a large 3D display behind the glass, or a 2D poster-based display.
A study in The Journal of Retailing and Consumer Services states that: "Merchandise-focused displays convey concrete messages and thus facilitate an understanding of merchandise itself to influence shoppers' store entry decisions.
In contrast, artistic displays are intended to convey store image and grab the shopper's attention. Store windows mainly work by inspiring and enabling customers to infer information about the retailer" [1].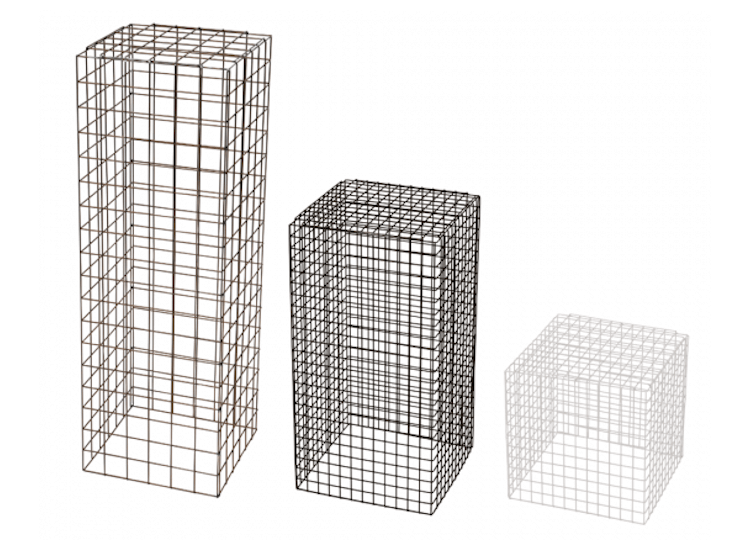 You will have to differentiate yourself from the anchor store by choosing themes that reflect your brand's image. If you have more 'green' credentials than the other store, then let the world know through your window displays.
If you sell similar products to your anchor store neighbour, then consider showcasing your competitive offerings. A lot of customers head into a department store with a clear idea of which product they are going to buy.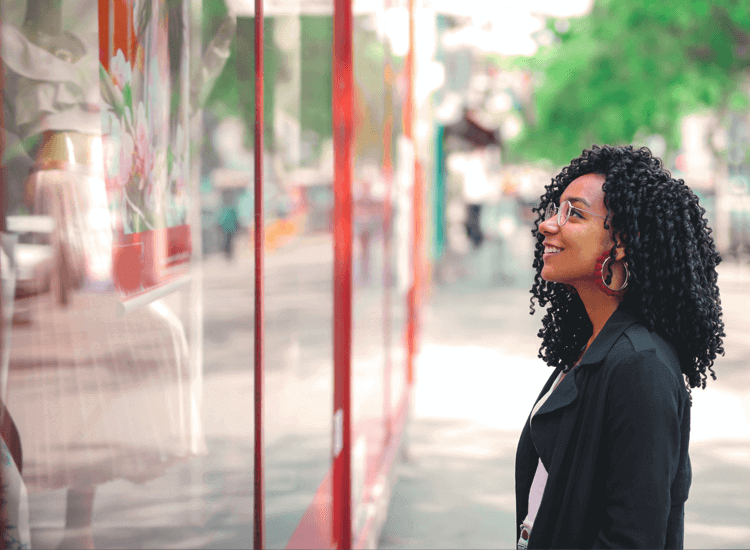 Many studies have shown that the key to a successful window display is creativity as, generally, higher percentages of customers enter stores which have creative window displays, compared to information based displays. Large anchor stores such as department stores are very experienced at creating these types of displays, often with very large budgets behind them.
Use display plinths to add height and prominence to your window display items.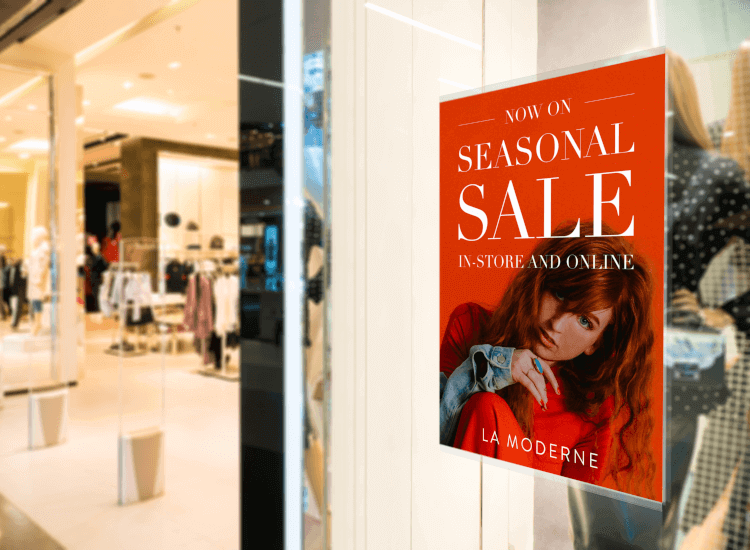 If customers see the same product at a better price in your shop window, then they more likely to enter. For a look at how to create an effective window display, please take a look at our guide to winning customers with window displays.
Pavement signs
If a window display doesn't attract as much attention as you would like, then a pavement sign may just do the trick, as they are more difficult to miss. Cafes are particularly good at using rustic chalkboards and a-frames to display engaging messages or promotions.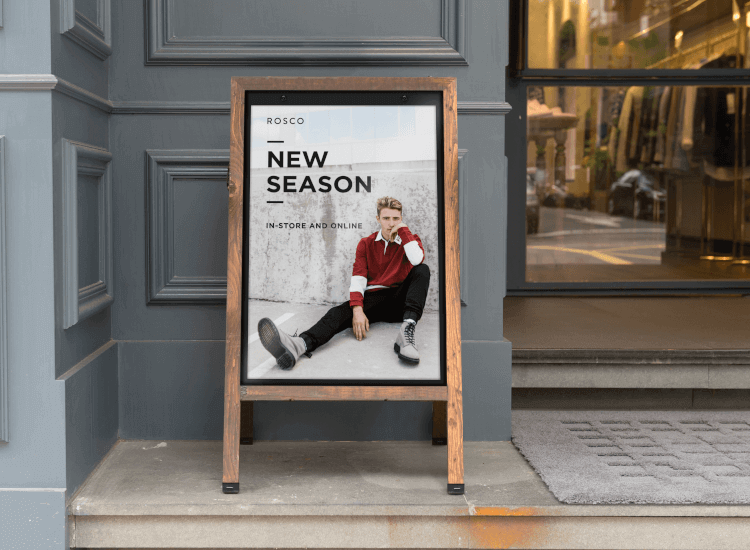 Most people decide whether to enter a store or not within a few seconds of observation [2], so the design of your pavement signs is critical to the success of your displays and the number of people entering your business. Invite customers in to sample your products, display your deals and any sales that you may have running. Special offers and student discount deals are always popular among shoppers.
The style of pavement sign you choose should accurately reflect your brand. Pubs and restaurants will find that chalkboard or wooden signs will work well, as this style evokes a sense of warmth, hospitality and family values that customers expect from a food or drink establishment. Metal and plastic signs are perfect for fashion and homeware stores because they are modern and practical. Keep your messaging clear and simple in order to convince your customers to make a snap decision to enter your store.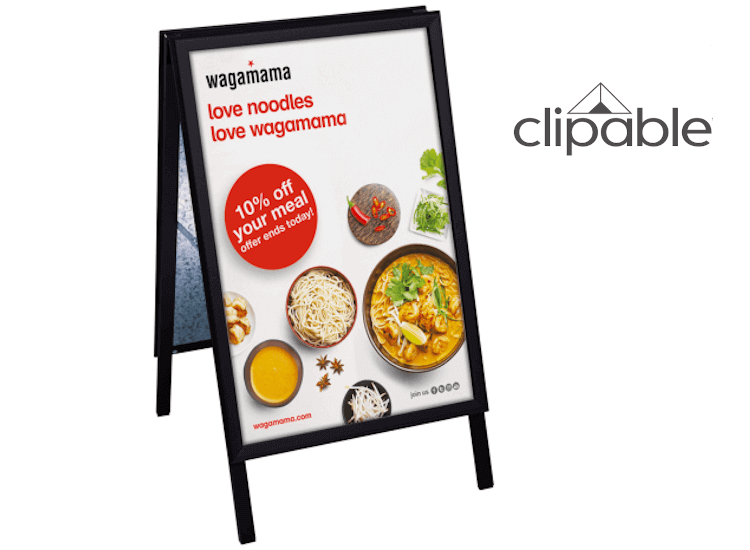 Do light boxes and LED displays attract customers?
By their very nature, light boxes are very noticeable to people passing by, thanks to their brightness. LED light boxes come in various shapes and sizes, from wall mounted poster cases outside cinemas, to large freestanding totems outside retail stores.
LED backlit lectern stands are great for use by restaurants, who traditionally do most of their trade in the evenings, as the illumination of their menu is attractive to those looking for a place to eat.
This type of outdoor menu display is ideal for pubs and restaurants located near to anchor sites such as cinemas, which attract a lot of foot traffic after dark.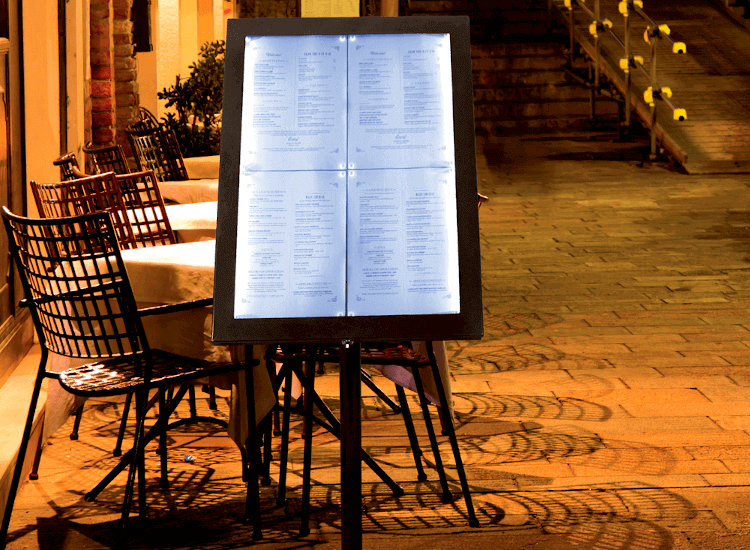 You will often see two or more large totem light boxes framing the entrance to fashion stores, creating a natural path for customers to walk through and offering a fantastic space to showcase lifestyle images from the stores' most popular brands.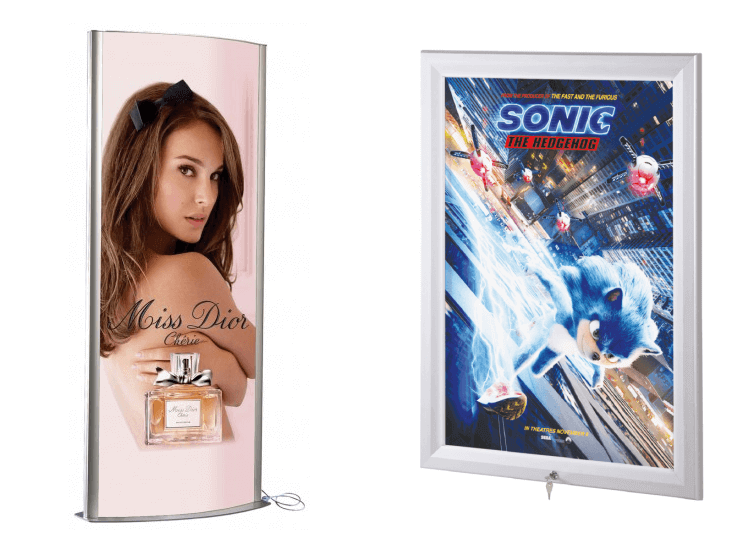 Window displays can be made even more visually exciting for consumers with the use of LED posters. If sunlight or any other external light hits your shop window at a certain angle, this can occasionally cause your window displays to become invisible, as customers only see their own reflection as they walk past.
LED backlight posters can cut through this effect and literally shine a light on your most enticing offers.
Digital displays for retail
Digital displays are fast becoming very popular point of sale products for retailers. Shoppers are becoming more and more demanding of retailers, expecting them to offer more than just traditional bricks and mortar. Patrick Bohl states that "Innovative displays have led to consumers perceiving a store to be more sophisticated, modern and trendy" [3].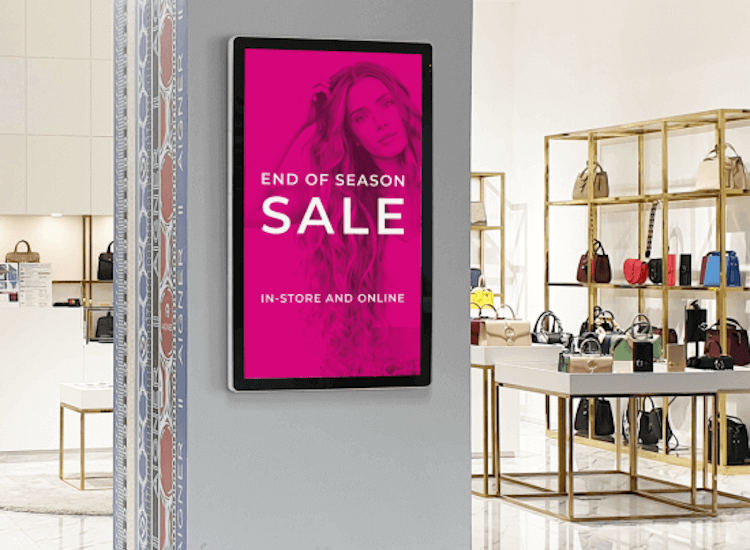 Digital displays can be set to play advertising messages on a loop, so you can tailor your messages to appear at relevant times of the day. Have you got a lunch meal deal offering? Then set a promotional display which advertises that offer to play between 12pm and 3pm. Unlike LED posters, digital displays can showcase moving images and are also interactive if you use a touchscreen.
Although digital displays are initially more expensive than printed posters, they can save your business money in the long run because they are so simple to update.
If you wanted to change your window poster display every day or every week, you would have to pay for printing costs. With a digital display, simply upload your new poster or video straight onto the unit.
84% of UK retailers believe digital signage creates significant brand awareness [4]. If you are trying to divert the attention of passersby to your store instead of a larger anchor store nearby, it's hard to ignore moving images.
When you see the facts that show the power of digital signage in retail, compared to traditional print media, it's hard to argue why they aren't worth the initial investment. Research undertaken by Fourcast shows that organisations that use digital signage have seen a 3% rise in in store revenue on average [5]. Further studies carried out by the APS Group, which surveyed 1.6 million people, showed that:
6.6% of shoppers glanced at traditional print.
9.9% of shoppers looked at a digital screen showing static content - an increase of 50%.
11.7% of shoppers engaged with a digital screen showing animated content - an increase of 77% on the static poster [6].
Summary
Whether you are planning to open a new store near to an anchor store or anchor site, or are already well established in your location next to one, it is imperative that you use your storefront to attract customers into your store. Now more than ever, customers are looking for experiences when they shop, as well as just being presented with the products. This is illustrated by the fact that an increasingly successful anchor tenant for shopping malls is the Apple Store [7].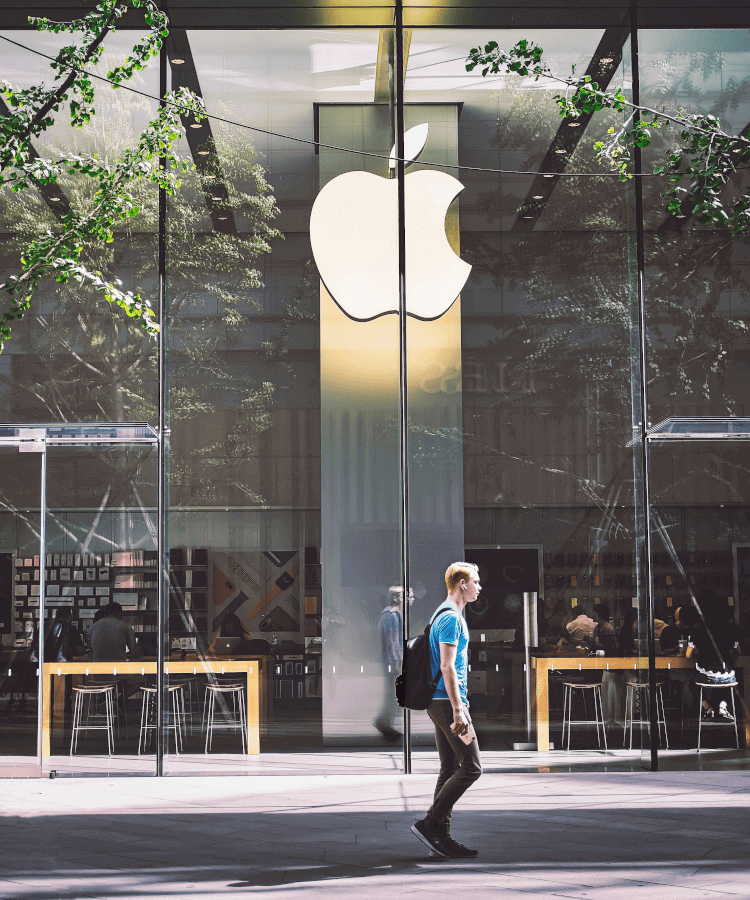 75% of Goldman Sachs' list of the top 100 malls contain an Apple Store. Apple are renowned for their modern stores, which don't have traditional checkouts and allow customers to play and interact with their products while they browse.
So how can your business take inspiration from this?
Now that you know which point of sale products are most effective at grabbing the attention of passersby, you can implement them within your own displays. Here are some extra things that you need to consider when putting together displays that are designed to draw attention away from the anchor store nearby.
Know your USPs
Work out what you can offer that the anchor store doesn't. This could be a specific product range, lower prices for the same products or even an atmosphere that the other business doesn't have. It doesn't have to be as radical as Apple's approach. If the anchor business is a big multinational brand and your business is family-run and smaller, then you could emphasise this difference.
Create a pleasant atmosphere
Music can play a big part in setting the scene for customers about what your brand stands for. If you are a store that keeps your shop front open at all times during opening hours, then you should consider playing some ambient music that can be heard by people walking by.
The most important thing to remember when trying to increase footfall for your business is to try to create an atmosphere that is inviting and appealing. A customer's first experience with your store will determine whether or not they return. We hope that you have found this guide to be useful when it comes to making your business stand out against larger businesses on the high street. Make sure to read part one of this guide to discover more about the advantages and disadvantages of your business being located near to an anchor store.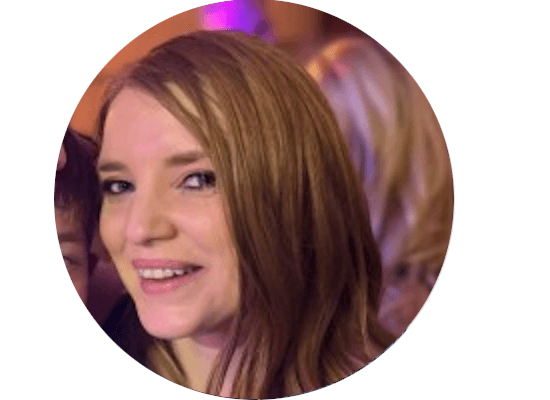 Alysha Bennett
Alysha is a copywriter at UK POS, with experience working in B2B and B2C companies, as well as with charities. She has been curating consumer and retail trends to assist retailers in implementing effective point of sale materials into their own businesses for over five years.
References
1.
Oh, H and Petrie, J, 'How do storefront window displays influence entering decisions of clothing stores?,
Journal of Retailing and Consumer Services
(2012), 19 (1).
2.
Ebster & Garaus,
Store Design and Visual Merchandising: Creating Store Space That Encourages Buying'
, (New York: Business Expert Press, First Edition, 2011) p. 50.
3.
Bohl, Patrick, 'The effects of store atmosphere on shopping behaviour',
Corvinus Marketing Studies
(2012).
4.
'10 key stats accelerating digital signage adoption',
Digital Signage Today
, July 2015, retrieved from: https://www.digitalsignagetoday.com/blogs/10-key-stats-accelerating-digital-signage-adoption/.
5.
Hermans, Liesbeth, 'Why consumers love in-store digital signage and you should too',
Fourcast
, 2019, retrieved from: https://www.fourcast.io/blog/why-consumers-love-in-store-digital-signage-and-you-should-too.
6.
White, Stephen, 'The Eyes Have It: The Power of Digital Signage',
Digital Marketing Magazine
, 2016, retrieved from: https://digitalmarketingmagazine.co.uk/digital-marketing-advertising/the-eyes-have-it-the-power-of-digital-signage/3235.
7.
Carter, Brandon, 'What is an "Anchor Tenant?',
Squarefoot
, 2017, retrieved from: https://www.squarefoot.com/leasopedia/what-is-an-anchor-tenant/.