Food Dispensers for Supermarkets, Cafes and Zero Waste Shops
Why does my business need food dispensers?
Food dispensers are an easy way to reduce the amount of packaging waste that your business produces. Many food retailers are now opening up zero waste shops, where all food products are sold without being wrapped in single use packaging. A dry food dispenser is ideal for use in this type of shop, as they are designed for self service and airtight food storage, and they can be easily refilled.
Encourage your customers to bring their own reusable containers into your stores to take their groceries home in, so that you can cut down on unnecessary food packaging. As well as gravity food dispensers, we also have a range of dump bins, which are ideal for placing in meal deal sections of supermarkets so that customers can quickly grab their lunch and go.
What are they made of?
Our gravity and scoop bins are made from PCTG plastic, which is BPA free and food safe. They are easy to clean and dishwasher safe up to temperatures of 55°C.
What can I put in zero waste containers?
Our refillable gravity bins are ideal for dispensing portions of dry bulk food stuffs, such as cereal, confectionery, pasta, rice, lentils, dried fruit and nuts.
A cereal dispenser would be ideal for customers who want to buy in bulk for a larger family. However, they can store more than just food for human consumption. You can even use gravity dispensers to hold dry cat, dog and bird food in pet shops.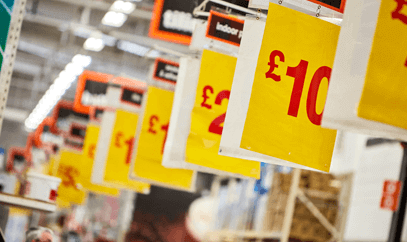 Point of sale displays for supermarkets
Maximise the effectiveness of your point of sale merchandising at the checkout and in the aisles.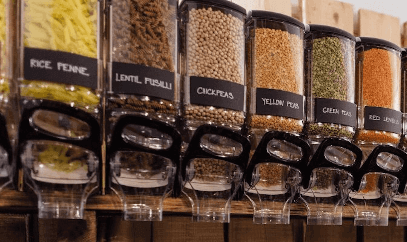 Setting up a zero waste shop
Did you know that between 2017 and 2019, over 100 zero waste stores opened in the UK?
Where should I position my dry food dispensers?
We offer two types of self serve dispensers: wall mounted and counter standing. We have two counter standing containers, one of which comes with a scoop attachment for dispensing instead of an opening handle that relies on gravity.
Counter standing versions are great for filling with products that may be more difficult to dispense cleanly, such as sticky sweets and fruit, while wall mounted dispensers are perfect for drier products such as flour, pasta and rice. Bases and brackets are supplied with each dispenser so that you can secure them in place.
What sizes are your zero waste food dispensers available in?
Our self serve food dispensers are available in sizes ranging from 6L to 19L.