How To Design A Shop Window Display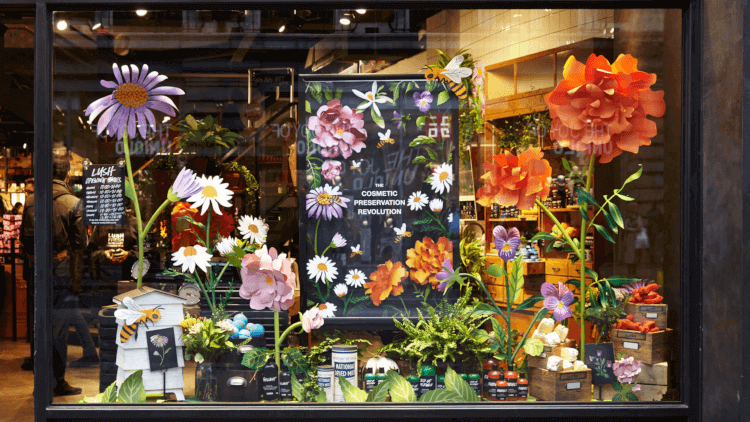 Reveal actionable, data-backed guidance on how to implement an attractive storefront, regardless of your budget, with clever window display design factors and supplies.
The style and theme of your shop window displays will help inform which window display props you choose, and the way you use those props will be affected by the design factors outlined below.
By the end of this article you will be generating brand new creative window display ideas to bring to your own business.
Choosing window display props: 5 key retail window display supplies
We've compiled a handy list of the top 5 types of window display supplies to help your products stand out. While all of these aspects are important when designing a window display, ensure you don't use too many retail window display props at once, or this could overwhelm and deter customers. Avoid clutter, or the excessive information is received as a high cognitive load, which creates avoidance behaviour in viewers [1].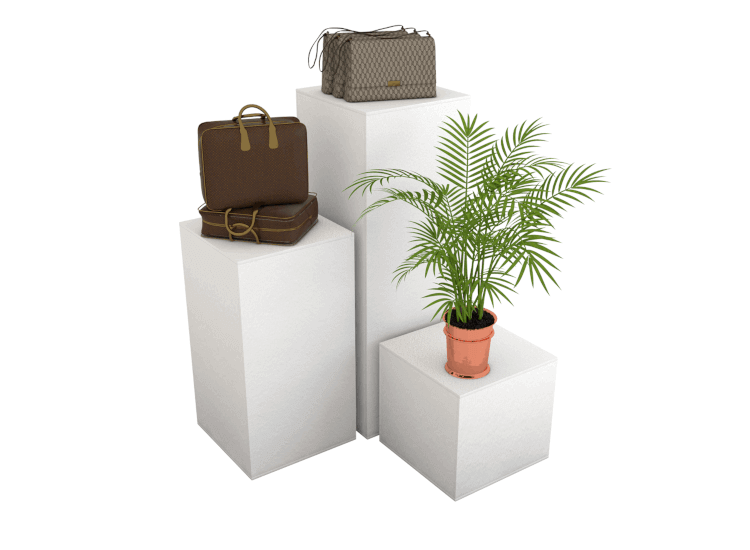 1) Plinths, cubes and crates
For many businesses, plinths and display cubes are a key part of their window display props as they are ideal for displaying products or mannequins.
Try using these in different materials for different themes, e.g. wood for rustic decor, wire for an industrial quality, or acrylic for a modern and sleek look. Bright colours suggest a fun and modern style.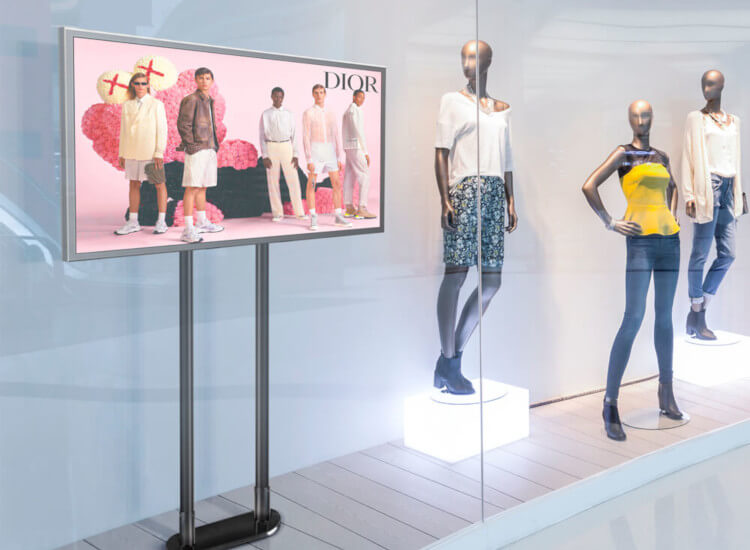 2) Digital screens
Digital screens have been proven to increase footfall and brand awareness. The bright moving images are incredibly eye-catching and can grab attention even from right across the street.
A High-Brightness Window Screen is perfect for outward-facing windows, as they have bright, sharp images, even in direct sunlight. These screens are available in a wide variety of sizes and fixing options.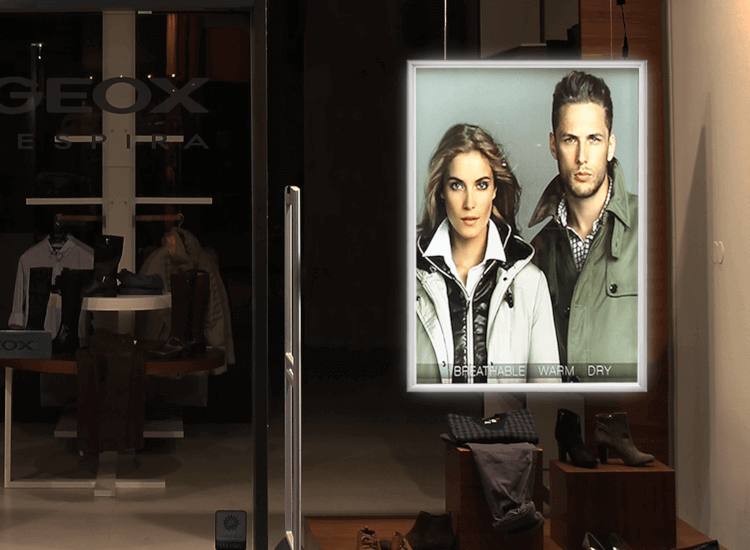 3) Posters and signs
Posters and signs are important for conveying essential information such as opening hours, store rules, sale information. Using an illuminated hanging sign helps to brighten windows, especially during late hours.
Window posters are also a great chance to display attractive graphics and promotional information to draw in opportunistic bargain hunter types.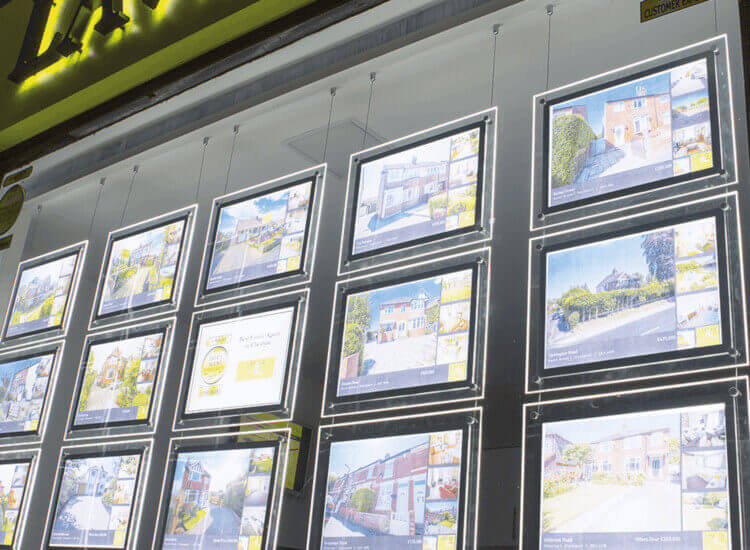 4) Cable and rod displays
These are increasingly popular in many business types due to their ability to display multiple images at once, maximising on display space. While they are traditionally popular for showcasing properties in estate agencies, they are also often used by hairdressers, beauticians and travel agents to attract customers using images of services or destinations offered.
Cable and rod window displays are often available with LED lighting to make sure the display has a really high quality attractive appearance at all hours.
LED-lit signs are great for businesses with visible window displays at night-time to ensure they get noticed no matter the hour. LED-lit window signs add a warm, inviting glow to a business which is ideal for attracting footfall during winter.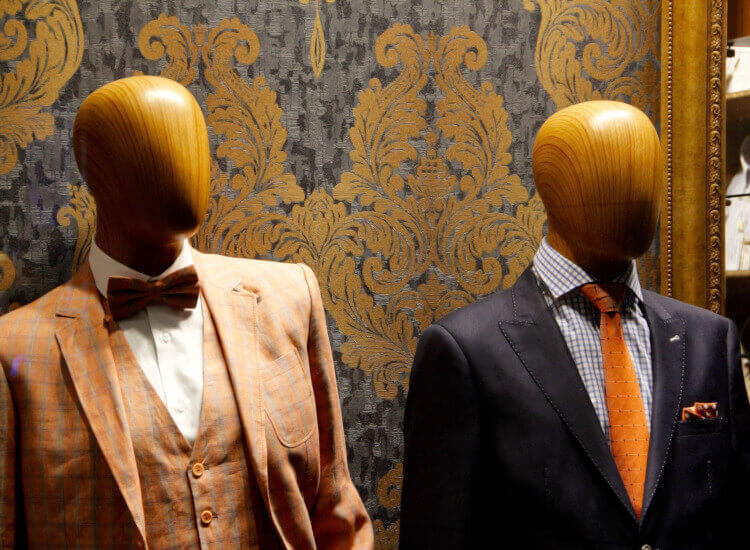 5) Mannequins
Mannequins are an important part of any window display supplies, often used in garment retail as it is important for customers to imagine how the garments might look on them. Customers can more easily picture themselves or their family wearing clothing when it is displayed on a mannequin which is depicted participating in a relevant activity.
For example, sportswear displayed on a mannequin fixed in a running position or yoga pose might appeal to the sportswear shopper more than if the mannequin were just standing stiffly upright. Or, a pyjama display may be more appealing when displayed on mannequins that are laying on a bed, with window display props such as a book or lamp. This is why mannequins are available in such a wide variety of styles.
Design factors for shop window displays
Focal point
Firstly, all window displays should have a focal point. This is the dominant element of your display, and often the main merchandise on show, for example, a product on a plinth, or a floor to ceiling poster showing trending items. Alternatively, a more creative, unexpected prop could be used as the main focal point in order to first grab attention, and then direct it to your products.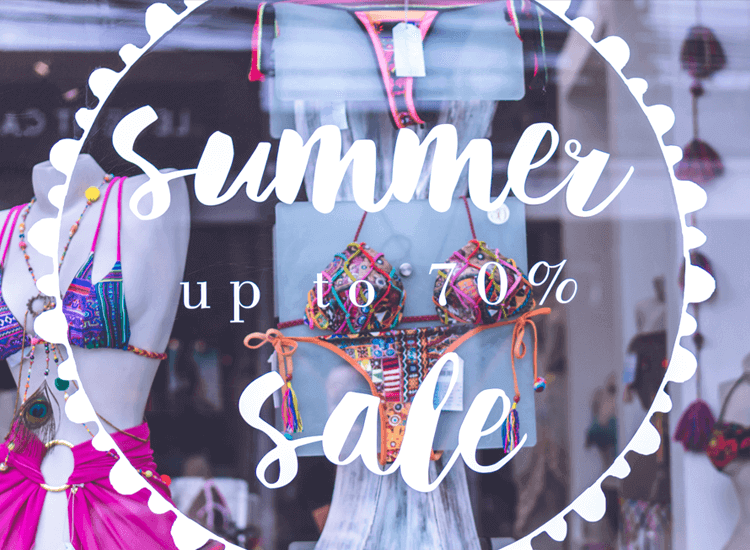 Decide on what your focal point is going to be and begin to construct your retail window display around it. Merchandising expert Tony Morgan suggests that a good rule of thumb is to balance window displays with two-thirds prop to one-third merchandise [2].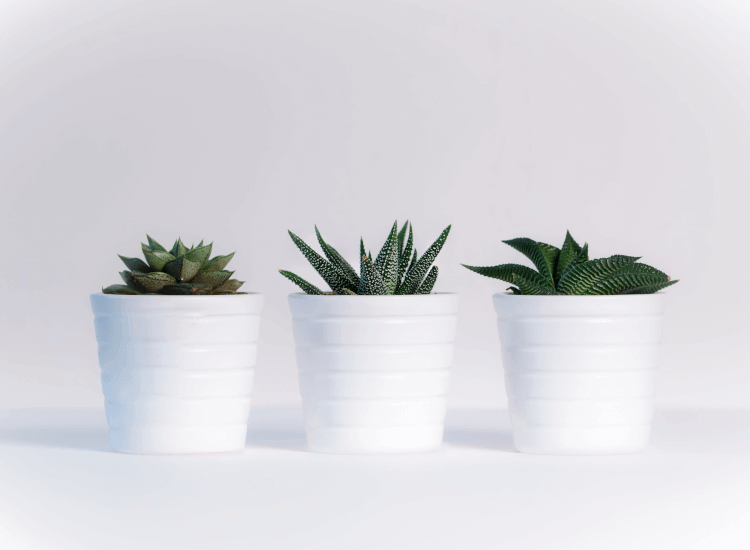 Optical balance
Optical balance is an important consideration when generating shop window display ideas. Symmetrical (or formal) balance can be pleasing to the eye, creating an order that the brain can instinctively process. Conversely, asymmetrical balance is an informal style and has the element of surprise.
Asymmetrical displays can grab interest better, encouraging viewers to examine more closely. Symmetry, or the lack thereof, can be used to create rhythm and eye movement. Symmetry does not just refer to two identical products side by side, but can be represented by products of similar colours, textures and weights, for example, or even completely different products that are lit in a symmetrical way.
Depth and layering
Experienced window dressers employ depth and layering to displays, which is visually appealing and helps to draw the eye. Varied textures and adjustable lighting is an easy way to enhance this.
The type of retail window you are displaying in must be considered first though, as an open backed window will allow customers to see right into the shop.
This can draw the customers' gaze further in; however, retail window display props and lighting must be positioned carefully so as not to intrude into the main shopping area. A closed back window provides more freedom over backdrop, allowing for more artistic compositions.
Grouping styles for shop window display
Whether you're arranging products or props in your window, these tend to be grouped in various ways (as opposed to scattered randomly). There are two main forms of grouping: pyramid grouping and repetition grouping.
Pyramid grouping is the most common form, as it encourages natural movement of the eye. Repetition is also a highly popular display method in window dressing. This is a great way to emphasise a specific aspect, but must be done carefully so as not to detract from your focal point.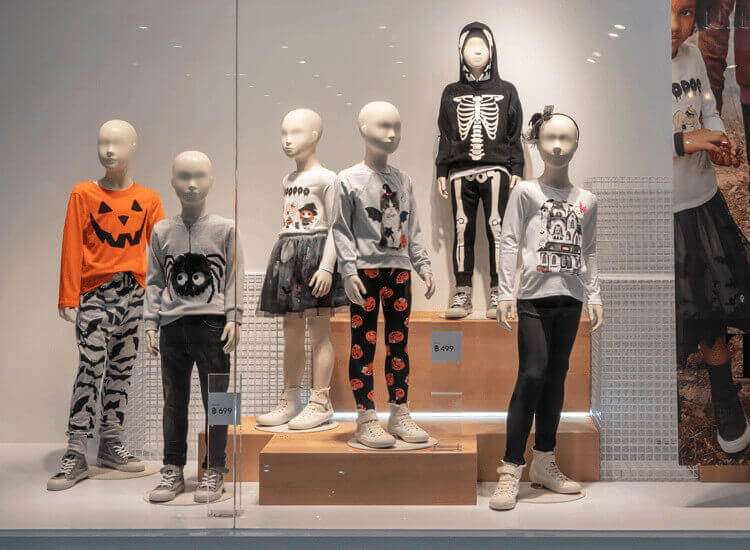 Pyramid grouping
Props and products are grouped into a pyramid style, with the intention of quickly drawing the eye to a main focal point, then leading onto the surrounding display items.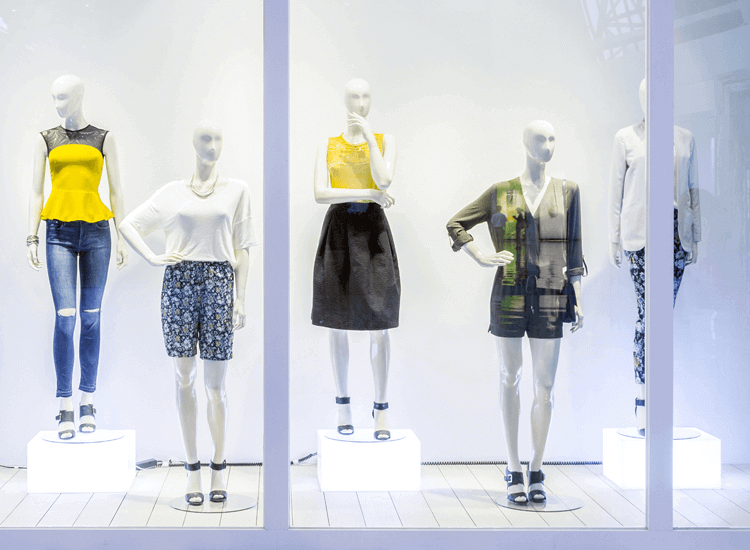 Repetition grouping
Multiples of the same or similar products are placed together to create a stronger impact. With this style however, focal points must be considered thoroughly.
How often should you change your window displays?
Most sources will recommend that window dressings should be changed at least once per key season, however, changing them too often can be costly and confusing.


There are some low or no-cost ways to refresh displays in between major dressings, such as rearranging some of the key items. This can be done as regularly as every week, or every day.


Repositioning a single prop or adding new accessories to a mannequin is enough to freshen up the display a little so as not to bore everyday viewers.
So they're in store, now what?
It would be too easy to spend all your time, effort and budget on window advertising, and end up neglecting your in-store point of sale. Making the in-store experience match the expectations that have been built from the external signage should be a high priority, including the shop theme and atmosphere.
If specific products or offers have been advertised outside, make sure that these items or services are easy to find upon entering the store. Also, consider routing the customer pathway in-store to make them pass more enticing merchandising displays and add-on items on their way to the checkout.
Window display props
How to design a shop window display summarised:
Designing a successful shop window display involves more than just picking the right products. Various design elements must be carefully considered to ensure that your shop windows are attractive, informative and inspiring. Focal point, optical balance, grouping styles and depth all play a large part in the overall appearance of your retail windows.
Additionally, we've outlined 5 key window display props that are ideal for creating a standout shop window, regardless of your budget. These include plinths, poster holders and digital screens. You should now understand the primary reasons these make great props for retail window displays, as well as how to use them effectively.
Check out our next article for insights into outdoor signs and other ways to attract customers outdoors.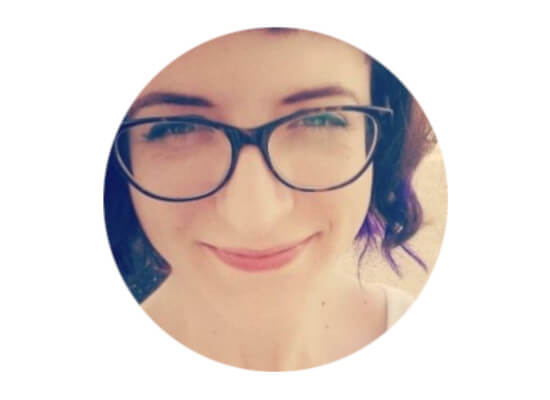 Kira Swales
Kira Swales is a copywriter for UK POS. Kira has nine years' experience in e-commerce and copywriting, with a background in retail. She enjoys researching topics in depth in order to provide readers with the latest information on point of sale merchandising. Read more of her comprehensive guides in our
Knowledge Hub
.
References
1. Oh and Petrie, 'How do storefront window displays influence entering decisions of clothing stores?', Journal of Retailing and Consumer Services, Vol 19 (2012), pp. 27-35.
2. Morgan, Tony, 'Visual Merchandising: Window and in-store displays for retail', (London: Laurence King Publishing Ltd, 2016) p.68.