Acrylic Standoff Signs and Poster Panels
Acrylic Standoff Signs and Acrylic Office Signs
What are standoff signs?
Acrylic standoff signs use aluminium wall-mount standoffs to attach poster panels or acrylic plaques to walls or doors. They're used for a wide range of purposes, including office signs, directional signage, and large acrylic standoff poster panel displays.
Standoff signs and plaques can be mounted to doors or walls. Signs which have graphics printed directly on the panel can be used outdoors. Signs which require paper inserts are only suitable for use indoors.
Does my business need an acrylic standoff poster panel?
Acrylic business signs provide a stylishly minimalist and professional finish for your promotional posters. The frameless standoff style looks more official and attractive than a flat adhesive poster holder. The smooth finish is easy to clean, keeping your graphics looking their best.
Are the standoffs only available in silver?
No, we can supply standoff mounts in many colours. You can purchase additional standoffs for your acrylic standoff poster separately, or contact our sales team if you would like a different colour than those listed.
What is the best standoff poster kit you supply?
Looking for a superior poster kit with a deluxe appearance? Check out our LED Illuminated Poster Kit for a lit up wall mounted poster with satin anodised standoffs. This product is mains powered with a concealed 3m cable.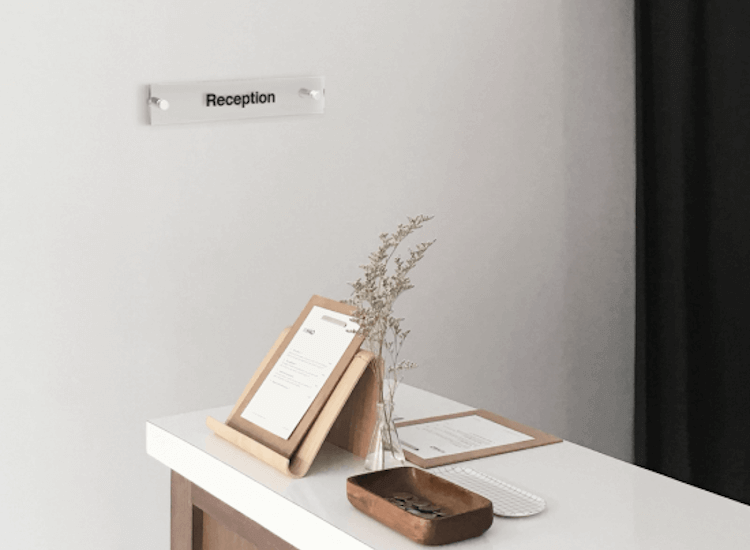 Can I get custom printed business signs?
Yes, at UK POS we print and brand our products right here at our manufacturing facilities in Stockport. Many of our custom acrylic signs are available with high quality edge to edge printing. A standoff poster is fantastic for printing with promotional posters, company branding or motivational text.
When you purchase one of our branded acrylic office signs, we'll send you templates to give to your designer. Alternatively, you can add your own text or artwork using our online drawing app. We'll then professionally print your acrylic panel and send it to you a few days later.
How do I add graphics to my acrylic office sign?
The simplest office signs simply require a paper insert. For these models, simply print your graphics and slide it into the sign. The higher-end wall signs have the graphics printed directly onto the back of the panel.