Flexible Display Wallets and Tagging Accessories
Flexible Display Wallets and Tagging Accessories
What are flexible display wallets for?
Flexible display wallets are a great way to add prices, promotions or spec to awkward to label products. Some are supplied with adhesive, while others are designed for use with a tie attachment. Manufactured in clear PVC, they provide a professional, flexible and versatile display solution for many industries.
Flexible wallets are commonly used by furniture retailers to label large appliances, such as fridges and washing machines, or couches and beds. They will also be found in garden centres attached to outdoor furniture, lawn mowers and many more larger items.
Do I need product tags and tagging accessories to attach my flexible display wallets?
Some of our PVC wallets feature a hole punched out, or a metal eyelet, allowing you to tag the products with a kimble gun, ball chain or Secur-A-Tie. Others can be fixed using adhesive tape or pads, or are pre-supplied with self adhesive strips so you can stick your price labels and product information directly onto the product, or onto the wall or shelving beside it.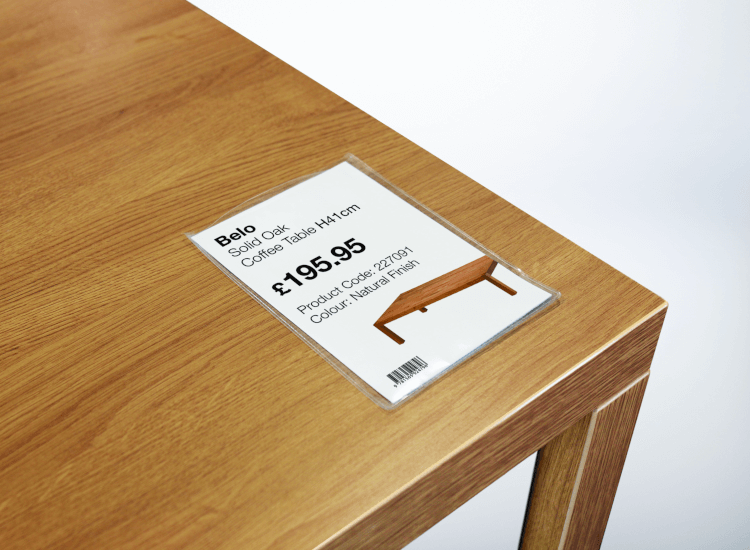 What size of product tags and label wallets do you supply?
As well as being available with or without adhesive and eyelets, our flexible display wallets are available in A7 – A3 sizes, with bespoke options available on request. We have many tag options available, which all vary in length.