Shelf Management Pusher Systems
Retail Shelf Management Pusher Systems
What are self levelling shelf management systems?
Shelf management systems are designed to help save time for you and your staff. Retail shelf pushers ensure your shelves are fully stocked and neatly arranged at all times. This auto feed design means that staff can reduce time spent rearranging shelves, while maximising product visibility and accessibility.
What do I need to set up product pushers on my shelves?
At UK POS, we have all the components you require to set up your shelf management systems in retail stores and display a wide range of products. To build your own shelf pusher system kit, you will need:
While the component parts for a comprehensive shelf management system are available separately, for maximum convenience you may wish to invest in one of our shelf management system kits.
These kits have been designed to make your life easier by keeping products at the front of the shelf. UK POS provides you with everything you need to get started, all in one place. For a professional and organised retail business, order a selection of product pushers now, and get them on next day delivery.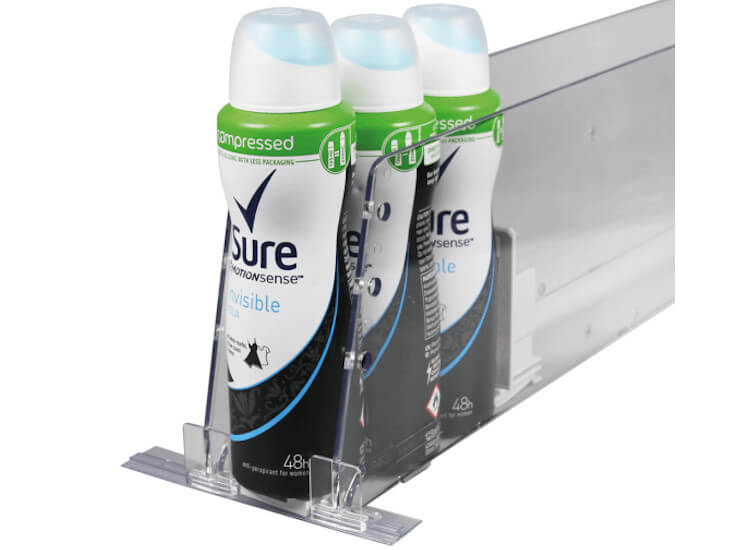 What type of product is a shelf management pusher system normally used for?
Effective shelf management systems are ideal for products that need to be front facing, ranging from spices and cigarette packets to confectionary, deodorant, cans and drinks bottles, as they are available to suit products of various sizes and weights.
We have both fast and slow rolling product pusher kits of various widths and strengths, so you can find a self leveling shelf system to suit your product range. Pair your kits with shelf edge strips that display prices and promotions below.