Dump Bins For Retail
What are dump bins?
Point of sale dump bins are floor standing or counter standing open-top containers that are typically used in retail to display promotional products in key areas.
Dump bins let you present impulse buys or promoted items to customers in areas where they'll linger or pass through. They're a tried-and-tested way to increase your sales and encourage customers to buy items they probably didn't intend to buy before entering.
What are the dump bins made of?
Our metal wire dump bins are an extremely popular choice among high street retailers. They're durable but lightweight enough to move by hand. Wooden crates are a more natural looking alternative to dump bins. They're popular in cafes, health food shops and certain garment retailers due to their rustic quality.
Countertop dump bins and display tubs are generally manufactured from clear acrylic to increase the visibility of items around tills and in other key areas, making them extra shiny and appealing.
Where should I position my retail dump bins?
We recommend experimenting and moving your dump bins around until you find the perfect spot. They're particularly good for using around aisles and in areas where customers queue. Get the product and the placement right and you could find your sales rocket.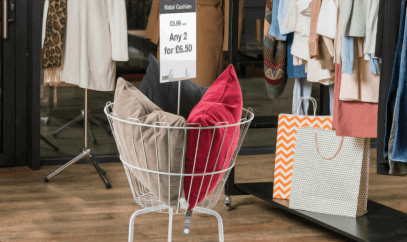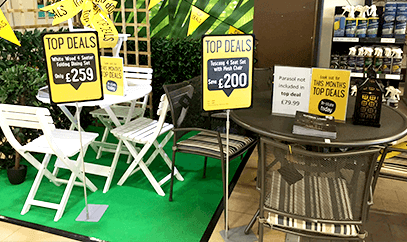 Guide to the essential point of sale displays for retailers
Retail stores are filled with chances to maximise sales - check out our buying guide for retailers to learn more
How can I display retail signage on my dump bins?
There are a number of methods for displaying signs and showcards on retail dump bins. We supply SuperGrip Basket Card Holders, which are similar to our standard SuperGrip Card Holders but they feature a loop which hooks onto wire dump bins and grabs onto your display card.
For dump bin signage which is raised up to grab attention from far off, try using a Basket Showcard Holder. It is height adjustable so that you can place it as low down or high up as you want. These Basket Showcard Holders are available in a wide range of colours and sizes to suit your posters.
What should I put in my dump bin?
Dump bins are typically either floor standing or counter standing. The wire floor standing dump bins are great for food, drink and toys, which can tempt anyone who popped to the shop to buy milk or bread.
Retail dump bins are also great for any medium-sized products such as gloves, socks, slippers or soft furnishings. The counter standing dump bins are perfect for smaller items, from snacks to makeup.