Standoff Fixings
What are stand off fixings?
Stand off fixings, also called sign locators, are aluminium mounts that screw to your wall or ceiling to allow you to attach an acrylic sign, either through holes drilled in the corners or by gripping the edge or sides of the acrylic. Standoff fixings look very professional and stylish, yet are actually very inexpensive to buy.
How do you use standoff screws?
Firstly, the body of the standoff fixing needs to be screwed into your wall. Once this in place, you simply put your acrylic sheet(s) between the edges of the standoff screws and then tighten the grip to hold the acrylic securely in place.
How do I add my artwork or text?
There are two ways to add your text or artwork to an acrylic standoff sign. The most common way is to sandwich a printed paper poster between the two sheets of acrylic and secure these using your stand off fixings. Alternatively, for smaller signs and high-end, permanent designs we can have your text or artwork printed directly onto a single acrylic sheet.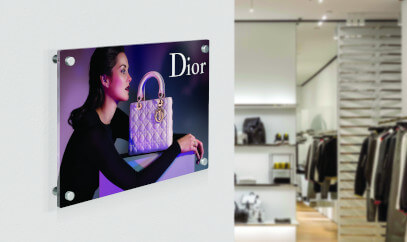 Standoff screws are ideal for high-quality poster displays, and they're available in various colours, sizes and styles.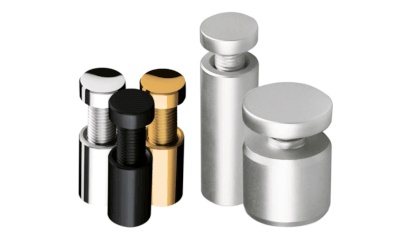 Standoff fixings look professional and stylish.
What size picture standoffs should I use?
Picture standoffs generally look best when their size is in proportion to the acrylic being displayed, so larger acrylic sheets tend to look better with bigger standoffs. We make our standoffs in a wide range of sizes and colours to suit the look you're trying to achieve.
What styles of acrylic standoff are available?
Acrylic standoffs come in three main types: through-hole, edge or side-grip. Through-hole standoffs are attached to the wall and the acrylic sheets sit onto the standoffs via holes drilled in the acrylic sheet. Edge standoffs are attached to the wall and grip the sides of the acrylic panel, without the need to drill any holes, while side-grip standoffs attach to either the wall or ceiling and attach to just one side of the sign to hold it out at 90° rather than holding it against the wall.
Do I need drilled acrylic when using standoff sign locators?
While some of our standoff screws do require holes of the right size drilled in the acrylic panels we also produce edge standoffs that grip the edges of the panels. Edge standoffs don't require any drilling, so all you need to create an acrylic standoff sign are 2-4 edge standoffs and 1-2 sheets of acrylic.