Freestanding Menu and Sign Holders
Freestanding sign, print and menu holders for counter signage
What are freestanding sign, print and menu holders used for?
From affordable, low-cost solutions, to the most modern LED displays, our extensive range of table sign holders are the ideal way to showcase promotions and product information as part of your shelf, window or counter signage display.
What type of freestanding sign holders do you supply?
Our freestanding sign holders stand on counters, tabletops and shelving. We also supply floor standing models, which are a great choice for attracting attention. You can place them outside in good weather, as well as in doorways or around a store to alert customers to an offer from a distance.
Tabletop signage is convenient as you can pick it up and reposition it to wherever you need it to be. We make them in a range of materials including acrylic, PVC, styrene and stainless steel.
What sizes of counter signage display are there?
Our table sign holders range from A3 to A8 so, no matter what kind of sign you're trying to display in your cafe, restaurant or retail store, you'll be able to do so in a tidy and professional manner.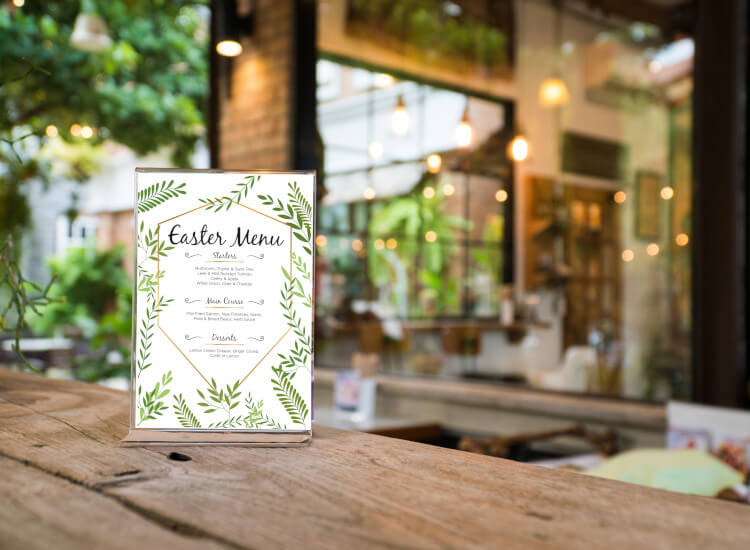 Tabletop sign holders and menu holders are convenient and stylish
What type of free standing sign holders will I need for my restaurant?
Tabletop menu holders are a popular low effort investment for keeping menus and tables tidy, and they are available in a huge range of styles to suit your business.
If you have a dimly-lit venue, our LED illuminated sign and menu holders are a great choice as they add a warm, inviting glow. You can choose to leave a wooden menu box free standing on a table, or screw it into a wall. Alternatively, flat-pack table talkers are a good choice for pop-up restaurants and markets.