Acrylic Standoff Posters, Signs and Fixings
Acrylic standoff posters, signs and fixings
Why choose acrylic standoff posters and signs?
Acrylic standoff posters and door signs are a professional and modern looking option for your important information and promotions. Professional acrylic business signs have a sturdier and more permanent feel than adhesive PVC poster holders. They fix directly into the wall using stylish wall mount stand off fixings. Our high quality sign standoffs come in a range of sizes and colours for a unique display.
How do I use standoff signs and posters?
We stock a standoff door sign featuring a pocket to slide your graphic into. We also have standoff door signs that are pre-printed with standard directional messages, such as 'reception' or 'toilets'.
The majority of our standoff signs are designed to have your graphics digitally printed directly onto the acrylic panel. We can supply the custom acrylic signs blank so you can print onto them yourself. However, as we manufacture acrylic signage in the UK, we can print your custom artwork onto the acrylic panel for you.
How do I get customised standoff signs?
If you order prints online, you'll receive an email explaining how to upload your artwork. Once your design is approved, most items will arrive in 2-3 days.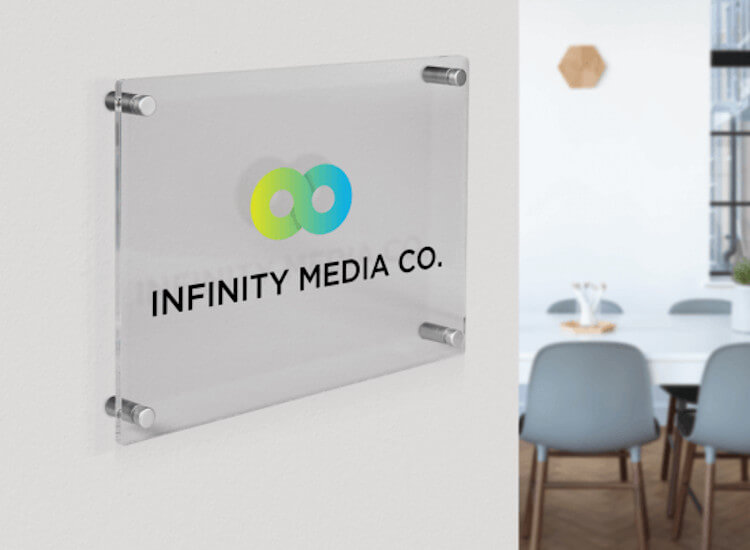 Do you supply leaflet holders or information boards in this standoff style?
Our wall mounted information board is designed to hold an A2 sized poster. It also has five separate leaflet holders (three 1/3 A4 and two A5 leaflet holders in portrait orientation). Display your most memorable information on the poster and allow customers to take a leaflet with them for further details.
Our convenient and modern acrylic poster is ideal for use in a variety of locations, from car showrooms to tourist centres.