Display Crates, Boxes and Cubes
Display Crates, Boxes and Cubes
Where are display boxes, cubes and crates used?
Point of sale display boxes, crates and cubes can be placed anywhere around retail stores. They help to build eye catching visual merchandising displays that make your products look attractive and encourage add-on sales.
Place strategically around your business in areas where customers are likely to be browsing. This could include spaces around higher priced items or by the checkout.
What can products can I put into acrylic display cases and wooden crates?
Merchandising crates and cubes are perfect for when you have lots of smaller products which can be displayed together.
Merchandising display cubes are more commonly used for supplying garments, accessories and homeware. You can choose between displaying your items either inside the acrylic display cubes or on top of them. The cubes can be stacked to create a stylish display. Our high quality display boxes are available with different finishes to suit different types of merchandising display and company branding.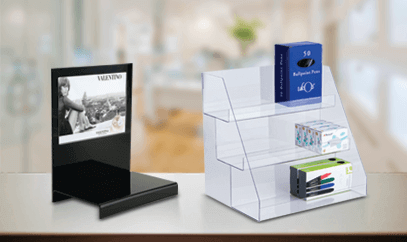 Acrylic display stands buying guide
Learn how to use acrylic displays to showcase your products.
What type of display crates and cubes are right for my business?
The style of display cubes, crates or merchandising tubs that you use depends on the style of your business. In the food and hospitality industry, natural materials are preferred, such as wooden display crates and wicker baskets.