Printed Banners and Banner Stands
Banners and Banner Stands
What are the benefits of printed banner advertising?
Banner advertising is very eye-catching, and our high quality printed PVC banners are available in a variety of single or double sided options. A double sided banner maximises advertising space and ensures that your message can be seen by people travelling in either direction. The PVC and vinyl banners are easy to transport, making them a great choice for promoting and providing information at trade shows, sporting events, and open days.
What are the easiest PVC banners to use?
The quickest and easiest PVC banners to use are our range of roller banner stands, which are available with or without bespoke printed graphics. They're available in a range of sizes and feature a matt coating to ensure they photograph well. We have variations for both indoor and outdoor use, so you have an option for every occasion. Use these quick and easy banner solutions to catch the eye of customers and guests.
What are the printed banners made from?
We supply printed PVC banners with most of our banner stands, however we also supply a rigid foamex option, designed for use with our steel banner stands.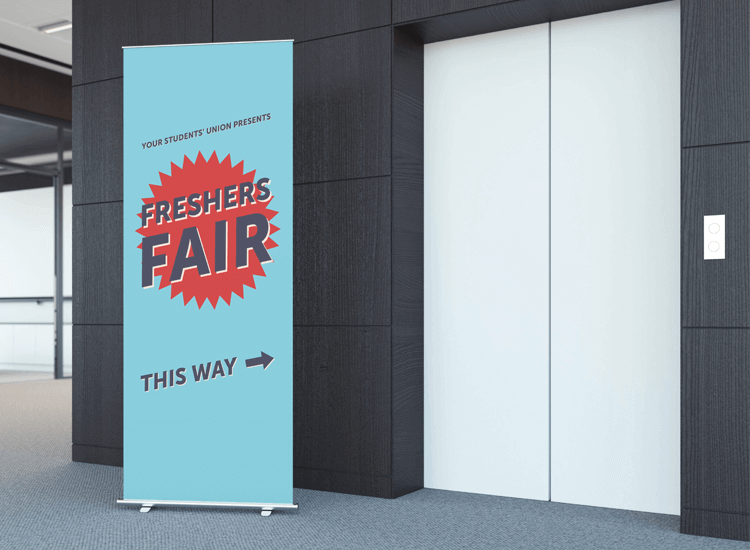 Custom printed banners are ideal for a range of industries. Our banner kits make a quick & easy display banner solution.
Do you supply printed banners and banner stands for restaurants and cafes?
If you are looking for display banners to surround your outdoor seating, try our horizontal printed cafe banners. These add a professional touch and comfortable ambience to cafes, bars, pubs, restaurants and more.
Our vertical banners and banner stands, on the other hand, are designed for use indoors, making them ideal for retail, hospitality and education settings.