Vinyl Floor Stickers UK
Why do I need floor signage?
Vinyl Floor Stickers are a great way to implement clear directional or instructional signage in your retail store. Clear, highly visible signage helps customers and staff understand your messages in-store and facilitate an enjoyable, safe shopping experience.
How do I attach the vinyl floor stickers?
Each of our vinyl floor decals has a self-adhesive backing. Simply peel off the backing and apply directly to smooth, clean floor surfaces. There is no need to use any other adhesives or tape to secure the graphics. Place around checkout areas, heavily congested parts of the store, high traffic areas, and entrances to the store in order to maximise the reach of your social distancing messaging.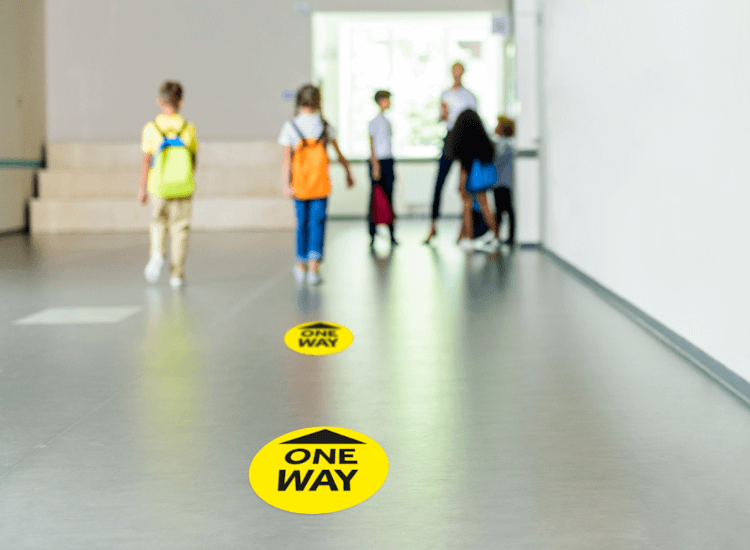 What pre-printed floor sticker designs do you supply?
For your convenience, we have professionally-designed adhesive vinyl floor signs to encourage social distancing for you to choose from, which include:
'One Way'
'Please Stand Apart 2m'
'Please Stand Two Trolley Lengths Apart'
'Please Stand Behind This Line'
Our selection of anti slip vinyl floor graphics are designed with various social distancing messages in mind, making it easy for you to quickly update the safety signs and safety regulations within your business if necessary.
Can I have my own designs on the printed floor graphics?
As well as our pre-designed graphics, you can also choose to use your own designs on bespoke floor stickers, which we will print for you. Bespoke floor stickers are ideal for use in larger shops, such as supermarkets and homeware stores, where customers may need more assistance in navigating around the premises.