Suggestion and Ballot Boxes
Metal, Wooden, Cardboard and Acrylic Ballot Boxes and Suggestion Boxes
What is a ballot box?
Ballot boxes are a great way to collect valuable customer feedback, votes and competition entries in a stylish and professional manner.
With optional locks available, people using acrylic ballot boxes can be confident their information will remain secure and confidential, while branding options mean this product will increase brand awareness.
We can create bespoke secret ballot boxes to your exact specification and design, and even add your company branding for extra advertising.
Are suggestion boxes a good idea?
Suggestion boxes are great for gathering feedback from colleagues, clients and customers in workplaces, including shops and public venues. Gathering feedback using suggestion boxes helps to make people feel heard and helps to improve your business.
Can I buy lockable suggestion boxes?
We stock many choices of lockable suggestion box. We have them in clear acrylic, white plastic, wood and metal, in freestanding, wall-mounting and tabletop varieties. Our lockable ballot boxes come with two keys.
Can they be used as donation boxes, aka charity collection boxes?
Yes, many of these are ideal for use as donation boxes or charity collection boxes. Use lockable donation boxes to keep the contents secure. Options with a header or poster holder are ideal, as they allow you to promote your campaign and ask for donations.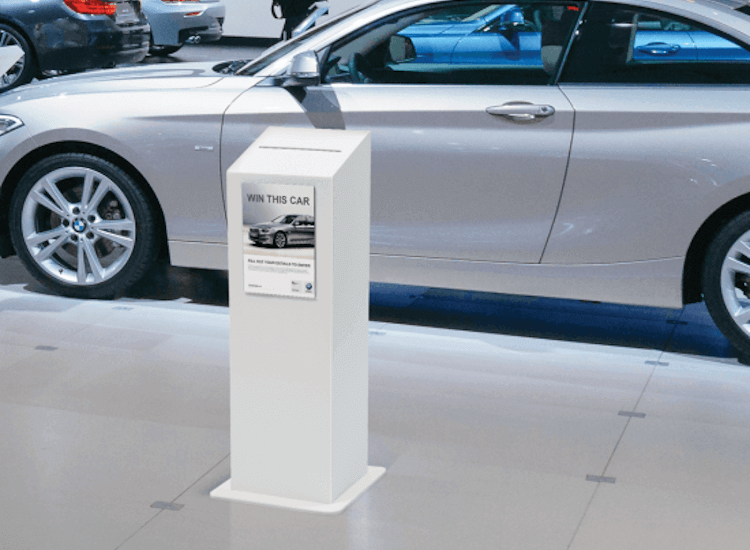 Use as a competition entry box to gather customer details
How can my acrylic ballot boxes get more votes or donations?
To maximise the number of votes or donations you collect, we recommend promoting your box with supporting signage. Some of our donation and voting boxes come with a built-in header or poster holder. You can utilise this space to provide eye catching graphics or supporting information.
You may also be able to increase the number of votes, notes or donations by displaying alerts and calls-to-action in snap frames or poster holders nearby.
How can I ensure the boxes suit my décor?
We stock units in a variety of styles, including clear acrylic, wooden, cardboard, metal and more. Choose a colour or material that matches with other fittings in your venue to create a cohesive theme. White boxes are popular as they suit most surroundings.