Our best selling point of sale display products
Browse through UK POS bestsellers and our most popular POS products, used for maximising the effectiveness of visual merchandising and marketing efforts at the point of sale. These best selling POS display items are all designed to make your business more attractive, functional, professional and easy to navigate.
Snap frames
Popular items for point of sale advertising include our snap frame poster holders and our counter standing leaflet holders. Snap frames are such a versatile product as every business will need to display signage at some point. They are available in a large range of sizes and colours so you are bound to find one that fits in with the decor of your business.
Leaflet holders
Both countertop and wall mounted leaflet holders are highly popular as they reduce mess, saving space and making your literature more appealing to customers. Providing customers with leaflets and brochures that they can take home with them ensures that your business stays in the customer's memory, making them more likely to return or recommend your services.
Pavement signs
A pavement sign is the best way to alert people to a new business or promotion before they have entered your retail stores. We supply pavement signs in a wide variety of styles and colours, including wooden chalkboards, weatherproof pavement signs and A boards with easy snap frame poster holders.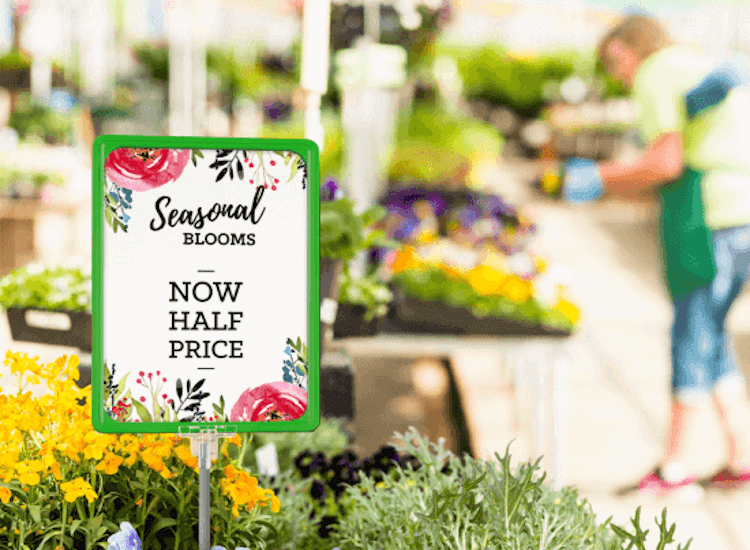 Data strips
Data strips ensure your product displays are clearly labelled and easy to navigate. We supply data strips for scanner rails in a variety of styles, however our Flat Shelf Data Strips are a bestseller due to their versatile design with convenient adhesive strips attached to the reverse. They're ideal for making sure your prices and product information stand out in your point of sale displays.
Sign holders
Our range of best selling sign holders includes showcard stands, tabletop menu holders and poster sleeves. They are available in many sizes, from huge A0 frames to smaller countertop sizes. They are ideal for use in businesses that need to regularly update their messages, such as opening times, promotions and menus.