Merchandising Display Hooks
Merchandising Display Hooks
What type of merchandising display hook do I need?
We sell merchandising hooks for display on slatwall, gridwall and pegboard, as well as quickstick style retail hooks. The type you will need for use in your business depends on what type of display panels you are using.
If your products are small and lightweight a plastic hook should suffice, however, metal merchandising hooks may be stronger and more able to withstand the weight of heavier products.
Why should I use merchandising display hooks?
Displaying your products on hooks is a great way to save space and stack multiple smaller products neatly in front of eachother for easy dispensing.
Using these hooks can help to create a point of sale which is fully reconfigurable whenever you feel the need to update your display.
What if I don't have slatwall, gridwall or pegboard?
If you don't have standard panels to use with merchandising hooks, there will still be a solution. Plastic multipurpose hooks simply clip onto the top of freestanding display units. QuickStick hooks are for use on cardboard displays, featuring spikes that pierce and grip into your display board.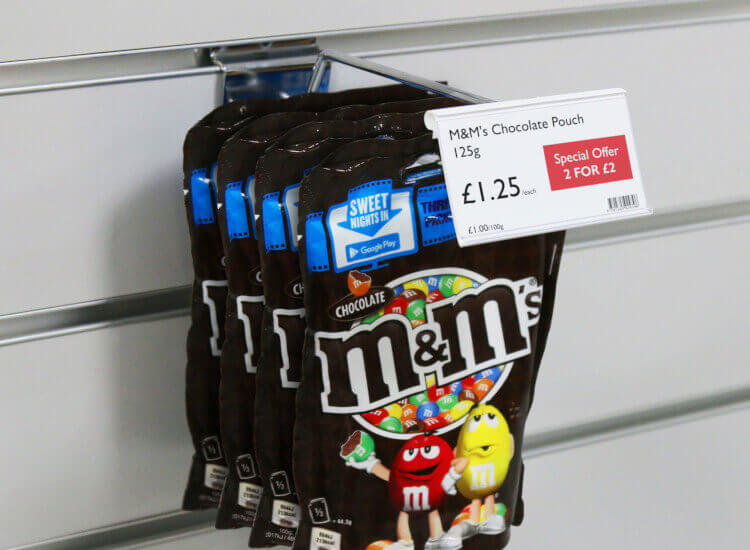 What type of merchandising hook can I use to display garments?
The best form of POS display for fashion garments is slatwall. Slatwall panels can be used with very heavy duty hooks and garment rails, which are incredibly easy to slot in and use like any regular clothes rail.
Merchandising hooks tend to be a little small for garments, however we have plenty of hook-on garment rails to suit your slatwall and gridwall. Just check out our clothes rail category for many more garment display options.