Window poster holders and window clings
Does my business need a window display poster holder?
If you are looking for a professional and cost effective way to compel potential consumers to enter your store, then a window poster holder could be one of the best forms of point of sale for you to use. A window display can direct attention to offers before the customer has even set foot in the premises.
Window posters can also be used in corporate environments to display material such as company policies, safety notices and directional information.
What types of window poster holder are there?
We supply a number of different types of poster holder for window display. Self cling poster holders are a form of static cling signs and don't require any extras, but simply attach to your window using a static cling effect, allowing you to create window clings from any prints. We also supply various adhesives for a more secure poster fixing. A chalkboard window display is a good option if you need to change your promotional signage at a moments notice, as the chalkboard can be wiped clean, rewritten and reattached instantly.
You can attach any poster to a window without even having a poster holder or sleeve, by using our suction cup with bulldog clip. This is a useful tool for any business with a window to have, as you can quickly attach any signage that you like by simply adhering the suction cup to the window, and attaching your graphics using the bulldog clip.
What size window poster holders are available?
We stock a range of sizes of poster holders for your window display, including A1, A2, A3 and A4. For alternative options of window poster adhesion, check out our range of Suction Cups and Hooks which are available in various styles.
Additionally, as we manufacture most of our products onsite, we may be able to create a bespoke size for you - just contact us to discuss your requirements.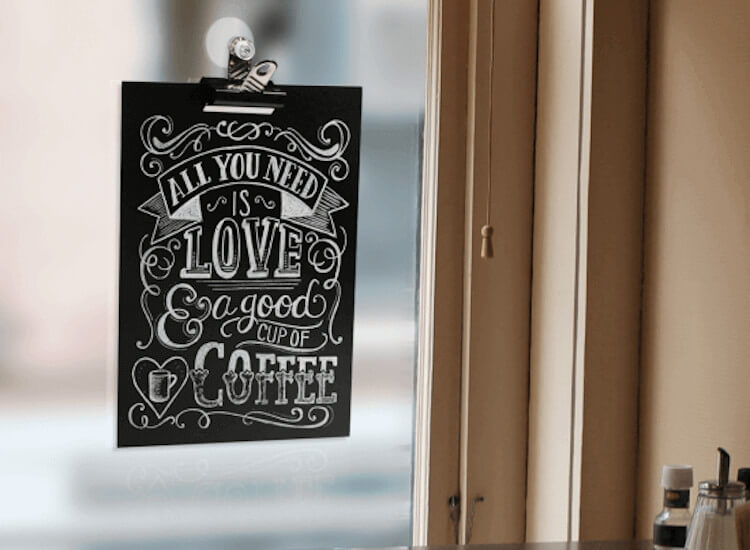 What are my options for a more permanent or illuminated window display?
For a more securely fixed window display with a stylish and professional appearance, you may wish to look at our Cable and Rod Display category.
Cable and rod displays are becoming increasingly popular, particularly for estate agents and hair and beauty salons. This is due to their ability to showcase multiple attractive images at once, encouraging passing customers to browse.
Cable and rod window displays make the most of the space between your floor and ceiling, giving you the ability to display all of your best images and promotions at the front of house. Our LED illuminated display kits go one step further, making your business stand out against your competitors with an eye-catching and highly professional illuminated multi-poster window display.
A digital alternative to window posters and rod displays, are our digital window poster screens. They have a high-brightness display with anti-blackening technology that appears vibrant, even in direct sunlight.