Dump Bins, Shopping Baskets and Food Dispensers
Dump Bins, Shopping Baskets and Food Dispensers
What are the benefits of retail display bins?
Retail display bins are a great way for retailers to present products to customers to highlight offers or encourage impulse buys. They're available in all shapes and sizes to suit products of different sizes and different locations. Promotional dump bins can really help increase your all-important average order value.
Where should I put promotional dump bins?
It is worth experimenting with different locations until you find what works best in your shop. However, retail display bins tend to work in areas where customers linger. If customers tend to queue in a particular area, placing promotional dump bins and display tubs there with items they can't resist (like snacks and accessories) can really boost sales of these products.
Can retail baskets handle heavy loads?
Yes, modern plastic shopping baskets are very strong. For heavier loads, you might want a wheeled shopping basket. These can be carried like regular shop baskets, but also have pull-out handles that allow you to pull them around. Wheelie baskets like these are great if you have older clientele or if you sell heavier items. You'll often find customers buy more if it's easier for them to carry, too.
Which retail baskets should I use in my shop?
For most shops, stacking baskets are the preferred option. These stack into each other allowing you to store them away neatly without taking up too much room. However, their modern appearance may not suit every store. For more rustic shops, like farm shops, delis and similar businesses, a wicker basket can fit in far better with your store theme.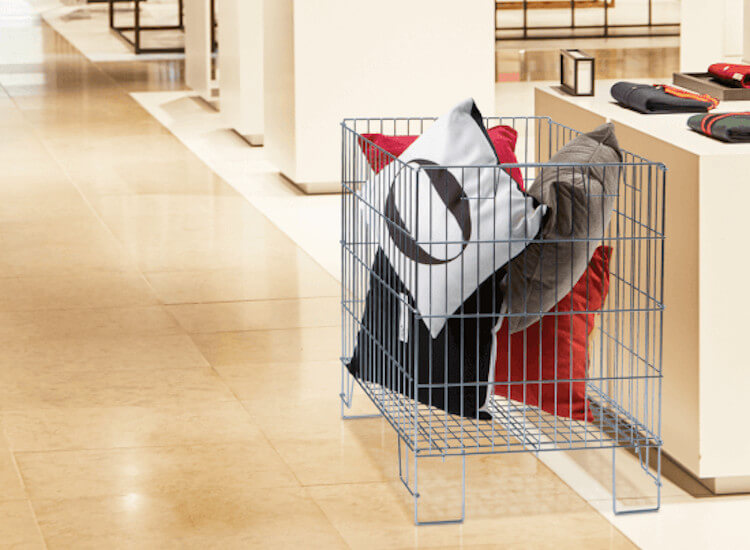 Place dump bins in high-traffic areas around your shop
Do you have any retail display bins for food merchandising?
Yes, we now stock merchandisers made of wood and wire which are ideal for meal deal merchandising. Their narrow depth and adjustable height makes them perfect for placing alongside fridges, for example for storing crisp packets next to chilled drinks and sandwiches.
We also offer zero waste food dispensers for unpackaged or plastic-free shopping. These include Scoop Bin Food Dispensers which allow customers to scoop out their products and Gravity Dispensers, which are lever operated and ideal for dispensing dried food.
While the 'weigh and save' is far from being a new concept, it's currently having a resurgence in popularity, with an increasing amount of retailers and consumers turning to eco-friendly responsible retail practices.