Summer Retail Displays and Summer Promotion Ideas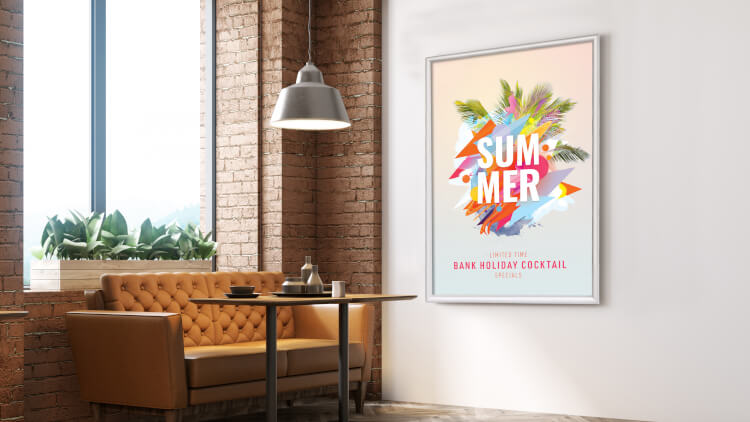 Summer is a boom period for businesses, especially for those located in popular UK holiday resorts. Take advantage of the increased foot traffic that summer brings and increase sales using our POS essentials for summer retail displays.
Summer shop displays to grab attention from passersby
Outdoor signs are the first point of contact that many customers will have with your business. Clear, simple messaging is the key to grabbing attention and driving people inside.
Pavement signs are ideal for use by all types of business, whether you run a clothes shop, bakery, hotel or restaurant. A boards, forecourt signs and swing signs, are all double sided, so that your messages can be seen from many angles. The placement of these boards on a pavement also makes them difficult to ignore. This means that your displays will encourage passersby to enter from both directions.
As well as pavement signs, there are other signs that you can place outside or at the entrance to your business. Easels are great for holding large chalkboards and poster boards that display your promotional messages or attractive, high quality graphics. These will intrigue passersby and encourage them to head inside to check out your summer promotion. They're also lightweight and can also be folded away easily - perfect for smaller companies.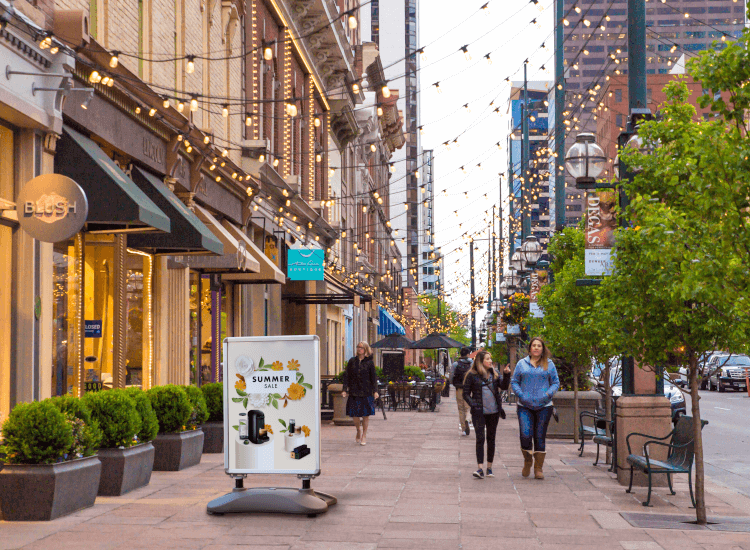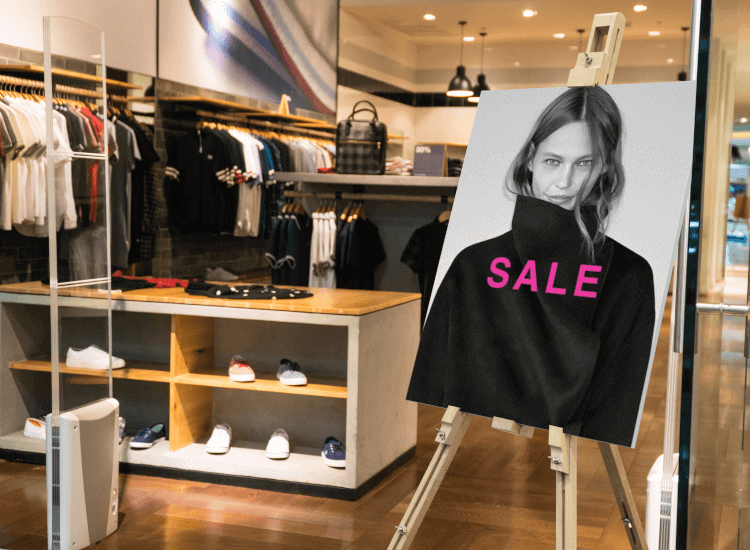 "24% of people said they have immediately visited a business because of an outdoor ad message."- The Arbitron National In-Car Study [1].
Summer shop window display ideas
Window signs are also very useful for drawing the attention of passersby. They come in many different styles to suit your store. Large format fabric tension banner systems are great for displaying bigger graphics. Many are available with LED backlights to ensure that your graphics can be seen clearly both day and night.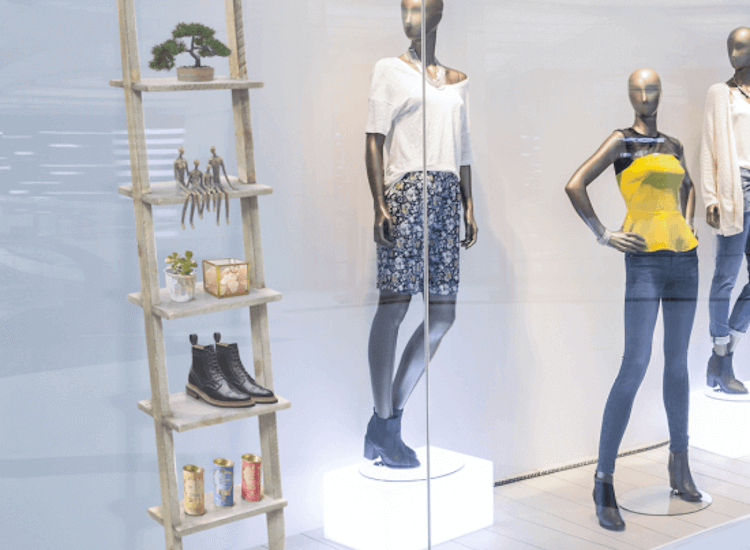 Summer window displays can be used to display a selection of your products, as well as promotional messages. Use eye-catching display stands such as wooden ladders, pedestals and wire risers to elevate and showcase promotional items.
Windows are a great place to promote a sale, product launch or seasonal ranges. Summer promotion ideas include picnic hampers, BBQ bundles, and Father's Day gift selections.
For more eye-catching summer window displays, consider adding a digital screen display to your shop windows. Our High Brightness Display Screen is specially designed to have a crisp and clear display, even in direct sunlight. This makes it ideal for use in summer.
Summer sale sign supplies
Once customers are inside your store, continue using clear signage throughout. Draw attention to the summer retail displays within the store and to any specific offers.
Overhead signs are perfect for helping customers find the section of your store they want. They can be seen from a distance and from most areas of your store.
They're often used in larger stores, such as supermarkets and DIY stores. Our pre-printed SALE overhead arrow sign can also be useful for smaller retailer, too. They help to direct customers entering your store to the area where your sale items are.
Use bright inserts in freestanding sign holders to draw attention to your summer retail displays. Design your own sale signs, or use pre-printed tickets that allow you to write prices directly onto the poster.
We also stock 'Was and Now' Sale Tickets. They're designed to be hung from a clothes hanger, or tagged onto your items for individual pricing.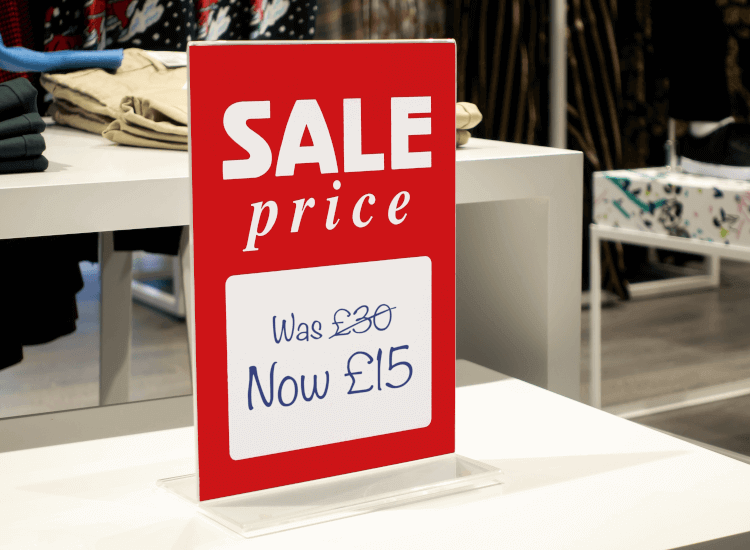 'Sign changes generally had significant, positive impacts on sales, number of transactions and profits'- The Signage Foundation [2].
Create space-saving and attractive product displays for your summer sales with a merchandising stand. They give you the option to stack your products upwards, rather than along a shelf. This provides more free space on the shop floor and draws the eye.
For a more rustic style of display, use a Wooden Display Ladder as a stylish shelving unit. Prop them up against a wall or at the end of an aisle to give you more vertical space for smaller items, such as folded clothing, ornaments and accessories. Use your countertop space to create a unique merchandising display with a variety of boxes and bridges.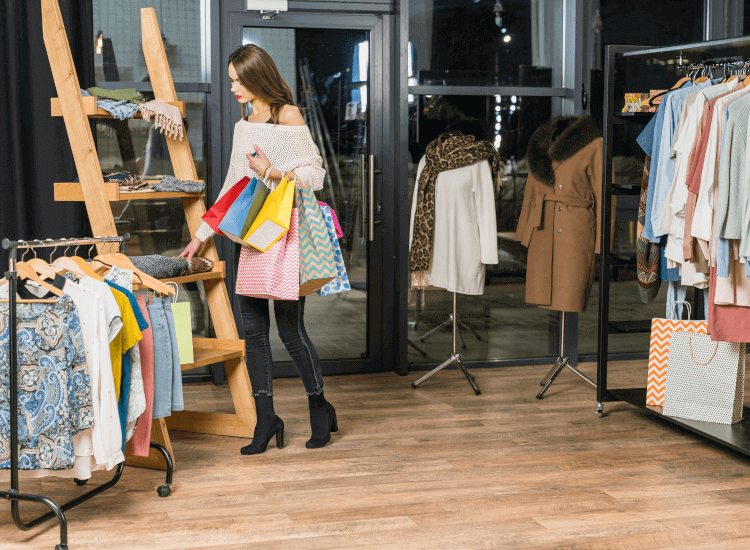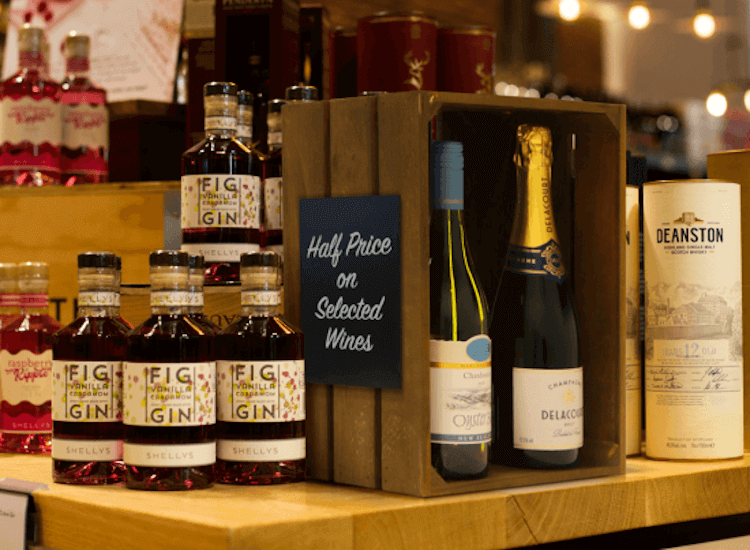 Literally elevating key products or heavily discounted sale items alongside your countertop signage makes them very hard for customers to miss. Use dump bins and small tubs next to your displays. Cross-merchandising encourages impulse purchases of your smaller items and accessories.
Hotels, pubs and restaurants in top UK destinations will be full of tourists and locals alike this summer. This increased footfall presents a great opportunity for hospitality businesses to boost sales. Make sure that your business is ready to take full advantage of this by using effective summer promotion supplies.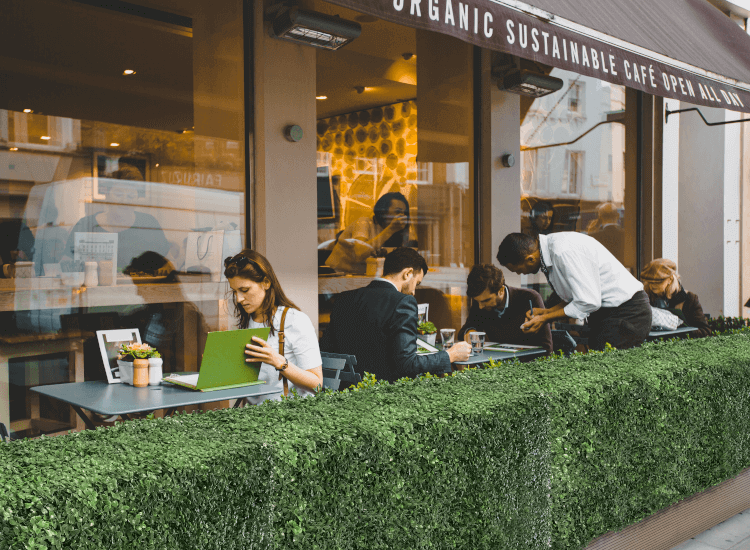 Create welcoming outdoor areas
The warmer weather means that a lot of customers will appreciate an outdoor area for dining, drinking and socialising.
Our café barriers can be used to cordon off areas for seating, while also allowing you to advertise your brand to tourists passing by. They're a fantastic advertising tool for restaurants, cafes and pubs alike.
Alternatively, artificial hedge panels work wonderfully as a modern way to border off seating areas. They're visually striking and require next to no maintenance! They have been coated with a special UV-resistant finish, resulting in a vibrant display all year round.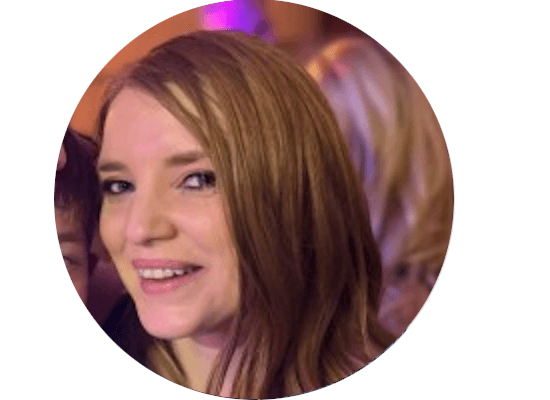 Alysha Bennett
Alysha is a copywriter at UK POS, with experience working in B2B and B2C companies, as well as with charities. She has been researching consumer and retail trends to assist retailers in implementing effective point of sale materials into their own businesses for eight years.
References
1. Diane Williams, 'The Arbitron National In-Car Study' (2009), Arbitron, p.14.
2. Economics Center, University of Cincinnati, 'The Economic Value of On-Premise Signage' (August 2012), Signage Foundation, Inc.