How To Create Digital Signage Content And Increase Sales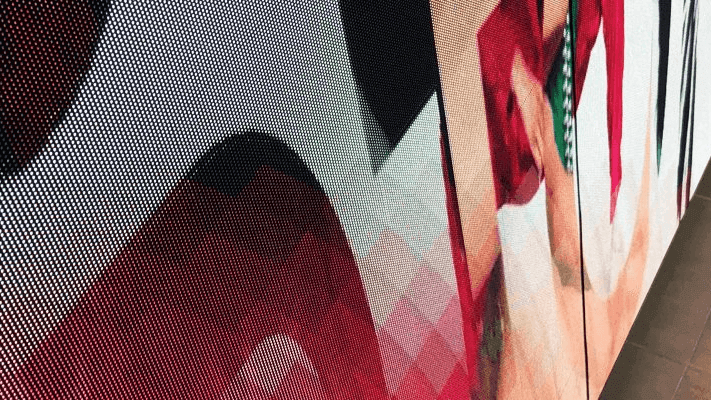 How to create digital signage content with our top digital display board ideas
Our previous article explains the ways in which digital advertising screens can be more effective than printed media. Now, we're giving you real-world examples of what and how to display in order to attract and motivate your customers. You'll also learn about the three main types of display location, and how to use them to your advantage.
What is digital signage?
Digital signage is a form of poster display that uses computerised technology instead of printed signs. Usually this type of signage uses LED or LCD screens to display high definition images and videos.
Digital signs are often used in stadiums and corporate buildings to display branding messages. As discussed in part one, in-store digital signage is a fantastic choice for advertising in retail stores, hotels and restaurants.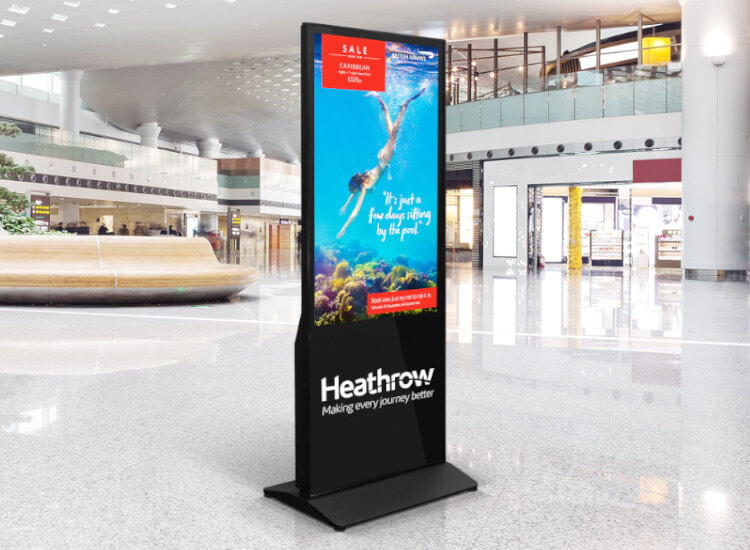 How to create digital signage content: 7 key points to take away
Make your digital content relevant to the situation at hand.
Use video content where possible, as it's more effective at connecting with customers.
Remember that video content reduces your customers' price sensitivity - great for promoting pricey product launches!
Include informative content that includes pricing to increase sales.
Keep digital video content under 15 seconds long, but not so fast paced that it's confusing.
Use digital displays in unconventional locations to make them more memorable.
Display digital content at points of wait, such as in queuing areas to create positive waiting experiences.
Seeing is shopping: What to display on digital signs
Digital signs can increase in-store spending [1]. But what do customers respond to on digital display signs?
When designing content for digital sign boards, consider the task at hand for your customers and tailor your ads to be relevant.
When a customer relates to an advertisement, it feels more personal, which influences their ability to recall the advertisement at a later date.
'68% of customers say that digital signage would make them more likely to buy advertised products'

- POPAI (2022)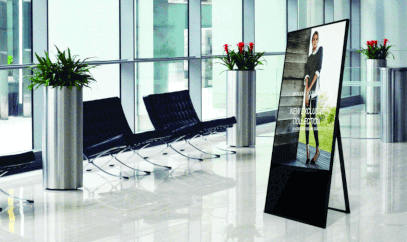 One report confirmed that shoppers respond best to messages that relate to their current mission and needs [2].
So, for example, in a food court location, businesses should show graphics of delicious food or of people eating. Alternatively, a clothing retailer may wish to display images and video which shows their target market actively participating in clothes shopping.
This is in contrast to displays which might only show heavy branding with logos and irrelevant images. Additionally, adapting the content to the theme and décor of your business can enhance the atmosphere, creating a more positive customer experience.
Retailers can quickly update their promotional messages using digital displays, or even set them to play in a repeating cycle. Experts recommend adjusting ads to fit the different customers at different times of day, which is simple with digital displays.
For example, 'price-sensitive seniors may be shopping on a Tuesday morning, while the 4pm to 6pm dinner rush is made up of hurried shoppers, more focused on meals and convenience' [3]. Therefore, show different promotions on your display boards at different times, to ensure your messages are reaching their target groups.
Digital display ideas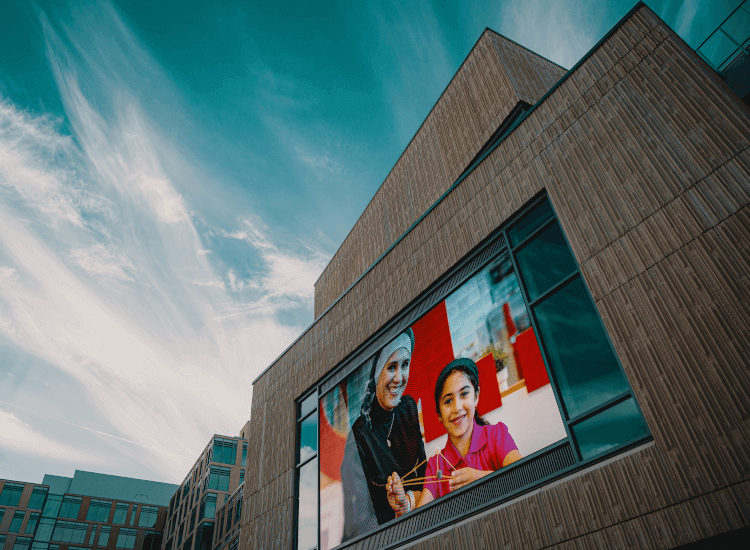 Studies have found that digital video signage helps to connect with customers emotionally.
The increased emotional connection created by digital video signage actually reduces price sensitivity in customers and encourages them to spend more [4].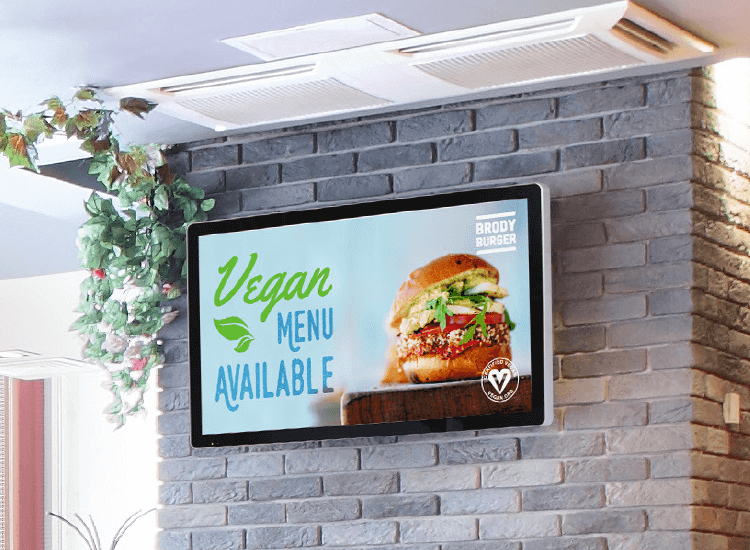 Messages which present informative, price-promotional content are likely to increase sales, whereas using uninformative content can actually decrease sales.
Ensure that content is informative, as this element is crucial to convert viewers into buyers.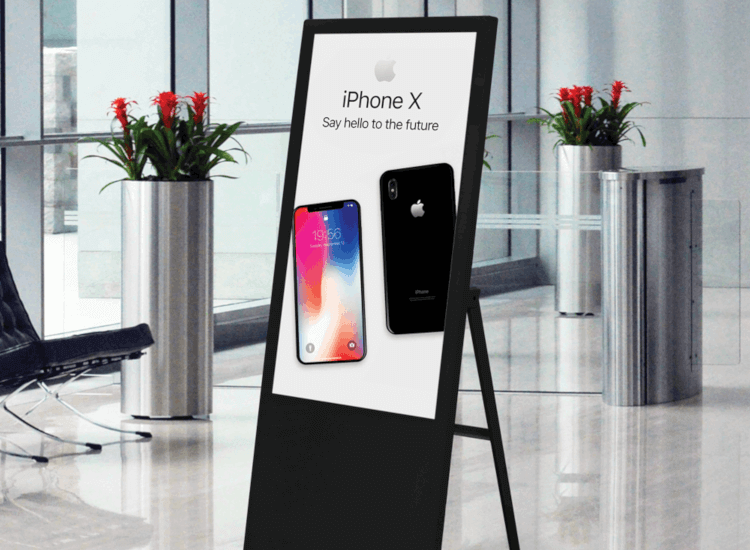 Ensure that content is high quality, colourful, and brand-appropriate. Keep video under 15 seconds long or risk losing your customers' attention.
Avoid making the content too fast-paced or intense, as this can lead to negative reactions and discourage people from engaging.
Location matters: Where to use digital display boards
When planning digital advertising campaigns, 'location is more important than content' [5]. One study found that digital display boards are noticed more often when placed in an unconventional location. This relates to our earlier point regarding 'display blindness', and strengthens the argument against overwhelming customers with too much signage.
Interestingly, the type of store that you're displaying signs and posters in can affect their effectiveness. Experts found that digital displays can increase sales in large stores and hypermarkets, but can decrease sales in small businesses [6].
Understand the difference between the three main types of display location below, and which is the most effective for your purpose. You can then cater your choice of display to the different areas.
Point of Transit (POT)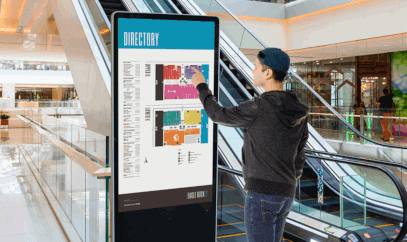 Customers pass by points of transit, such as in corridors or on escalators where they may be open to influence from signs.
Point of Wait (POW)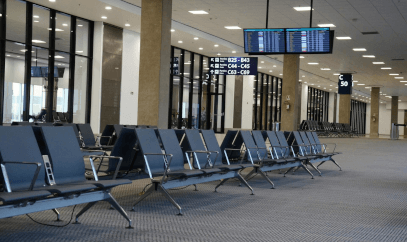 Points of wait include tills, queues, tables and waiting rooms, where signage could entertain and distract.
Point of Sale (POS)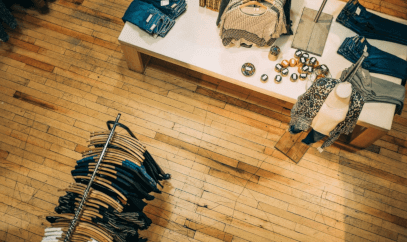 POS refers to the location of retail transactions, such as a checkout area. A point of sale can include a POW and/or a POT.
Although digital display boards used in waiting areas increase attention and sales more (Bauer p.11), digital posters at a point of transit are valuable too. In places that customers travel through, they're open to influence over their next steps. Used here, digital boards can increase footfall and inspire customers to check out certain items or ranges.
One study found that digital signage can make waiting a more enjoyable experience for customers [7]. Another found that perceived wait times were reduced by 35% when digital signage was used [8].
Therefore, at a point of wait, such as a queue, use calm or entertaining messages to help keep the customer in a positive and relaxed emotional state. This will distract them from their wait and improve how they feel about your business.
"Perceived wait times were reduced by 35% when digital signage was used"- Nielsen (2015)
While buying and installing digital displays does require a large initial output, there's a significant return on investment. Long term, they will save you costs and gain your customers, especially when compared to the life cycle of printed signs. We've outlined how the benefits increase when the signage is used effectively, with the right messages and in the right locations. Check out our full range of Digini digital screens to see how your business could benefit from displaying digital signage content.
View

View

View
« Digital content VS printed signs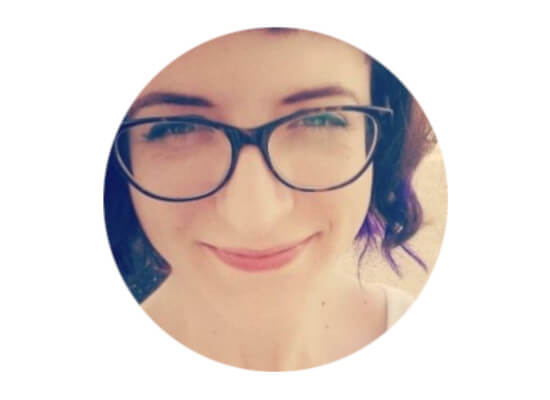 Kira Swales
Kira Swales is a copywriter for UK POS. Kira has nine years' experience in e-commerce and copywriting, with a background in retail. She enjoys researching topics in depth in order to provide readers with the latest information on point of sale merchandising. Read more of her comprehensive guides in our
Knowledge Hub
.
References
1. 'Digital screens in Ireland Shopper Investigation', POPAI, In-store Insights (December 2022), Issue 52, pp 5-11.
2. Burke, 'Behavioral Effects of Digital Signage', Journal of Advertising Research (2009), Vol. 49, pp. 180-185.
3. Gwen Morrison, 'Retail media: a catalyst for shopper marketing', in Shopper Marketing: How to increase purchase decisions at the point of sale, ed. by Markus Ståhlberg and Ville Maila (London: Kogan Page, 2010), pp. 90-91.
4. Roggeveen et al., 'Insights from In-store Experiments', Review of Marketing Research: Shopper Marketing and The Role on In-store Marketing, Vol. 11 (2014), pp. 127-146 https://doi.org/10.1108/S1548-643520140000011005 [accessed 4th September 2019].
5. Bauer et al., 'The Business with Digital Signage for Advertising', LNISO (2016), pp. 1-17 https://doi.org/10.1007/978-3-319-28907-6_19 [accessed 4th September 2019].
6. Roggeveen et al., 'The Future of Retailing, Journal of Retailing 93 (2017) https://doi.org/10.1016/j.jretai.2016.12.008 [accessed 4th September 2019].
7. Garaus and Wagner, 'Let me entertain you – Increasing overall store satisfaction through digital signage in retail waiting areas', Journal of Retailing and Consumer Services, Vol 47 (2019), pp. 331-338 https://doi.org/10.1016/j.jretconser.2018.12.008 [accessed 4th September 2019].
8. Williams, Nielsen Digital Billboard Study (2015), https://oaaa.org/Portals/0/Webinars/pdf/Nielsen%20OAAA%20Digital%20Billboard%20Study%202015.pdf [accessed 4th September 2019].
9. Roggeveen et al., 'Do Digital Displays Enhance Sales? Role of Retail Format and Message Content', Journal of Retailing (2015), https://doi.org/10.1016/j.jretai.2015.08.001 [accessed 4th September 2019].