Signs and Sign Holders
What styles of sign holders are there?
Whether you're looking for affordable low cost sign solutions, door signs, freestanding menu holders or for the latest LED display to showcase stunning printed graphics, our extensive range of sign, print and menu holders will have the perfect product for you.
What locations are they made for?
Our holders are suitable for a whole range of uses and locations. Whether you want to update your wall and window displays, add prices to your deli counter, or simply add tabletop menu holders to your restaurant, there is a style of ticket holder, menu holder, card grip, stand, or poster holder for every business.
Do you sell a budget plastic sign holder?
Order multi faced menu holders, poster holders and ticket holders from as little as 10p. Made from high quality acrylic, Perspex, styrene and PVC; we have many plastic options for established businesses and brand new startups alike.
Which type of sign holders do you supply?
UK POS manufacture freestanding, magnetic, self adhesive, counter standing, wall mounted, window mounted and ceiling suspended poster holders in single, double and multi sided options.
With so many types of poster holder available you are bound to find something to suit your needs. If you need advice on which type of product you should be using, just contact us to discuss your requirements.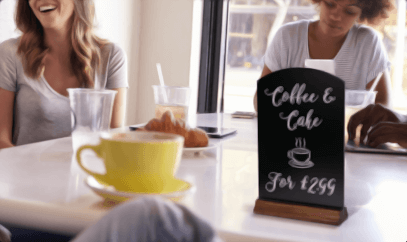 Menu holders buying guide
Menu sign holders are essential for keeping your business neat, tidy and professional. They make it easier for your customer to see all your information.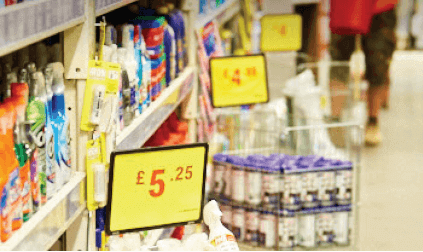 How to increase impulse buying
There are various aspects of your store that you can utilise to make impulse buys more likely, including store atmosphere and promotional signage.
Can I get custom sizes made?
We manufacture all of our products right here in the UK to all standard paper sizes. We can also manufacture bespoke pieces to your chosen specifications. All of our off the shelf print holders are available for next day delivery.
Do you supply a multipurpose sign holder?
Our most popular sign holders are our snap frame poster holders due to their versatility. Available in most sizes and colours, they can be used for a range of applications from displaying health and safety information to displaying advertising graphics.
Snap frames are so easy and convenient to use, and they are also available in fire resistant and tamper resistant varieties for use in vulnerable areas.