Hospitality Supplies for Hotel, Restaurant, Bar and Coffee Shop Displays
Aren't POS displays just for retail?
The hospitality industry includes restaurants, pubs, hotels, bars and cafes, which can all require just as many POS accessories as retail to ensure a certain level of professionalism and functionality in hospitality displays. Whether you need a wooden condiment holder or simply restaurant table signs, here at UK POS you will find a large selection of hospitality accessories to suit your restaurant, pub, hotel, bar or café.
How can I neatly display a small list of prices or information?
With their vintage and easy to update design, peg letter boards and felt letter boards are demonstrating a resurgence of popularity. With their neat and tidy appearance, they look fabulous in cafes, tearooms, community centres and more. For a more creative option you can always choose one of our many chalkboard products such as an A board or snap frame chalkboard, which can be updated with graphics.
Which tabletop supplies are hospitality essentials?
If you have a hospitality based business, such as a restaurant or café, there are various essential hospitality accessories for keeping your tables tidy, efficient and professional. For example, a wooden condiment caddy helps to keep tables tidy and reduce the workload of waiting staff. Restaurant table numbers and reserved signs ensure that staff and customers can quickly identify which tables are which.
If you don't see the hospitality supplies you require for your restaurant signs or cafe countertop displays, please do contact us - we're always happy to help!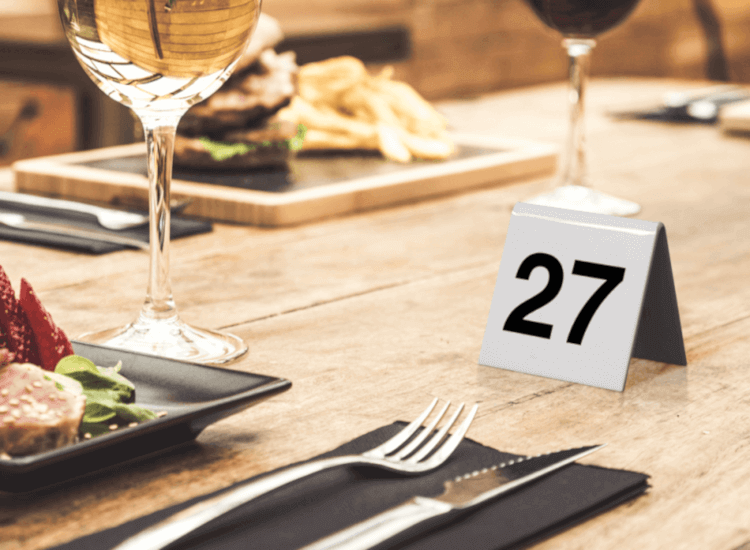 POS stands for use in hospitality displays, perfect for restaurants, pubs and cafes.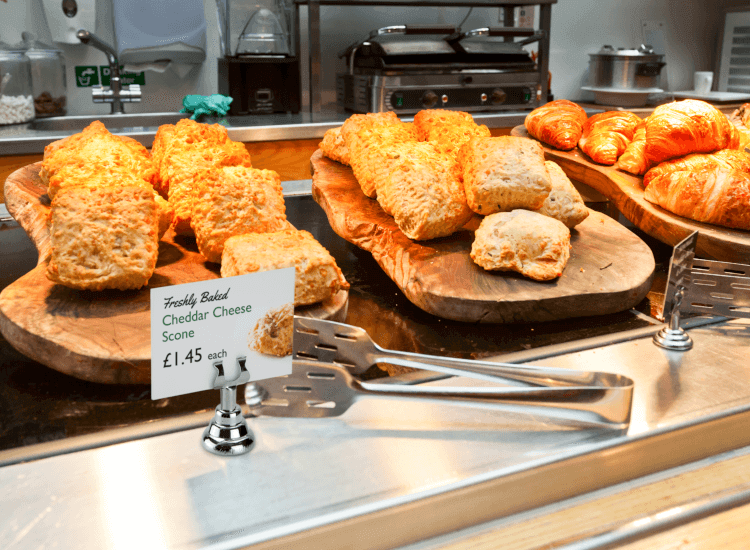 Display information using our hospitality supplies to achieve an attractive deli or coffee shop display
Could I use display baskets and crates in my cafe or leisure facilities?
For hospitality accessories that are bang on trend, look no further. Wicker baskets and wooden crates have proven to be a highly fashionable choice of material for point of sale accessories in hospitality displays.
These natural materials are popular among cafes restaurants, pubs and bars, and tie in thematically with our chalkboards and accessories. Natural materials are also well suited to hotels, spas and health food suppliers as they enhance an atmosphere of health, relaxation and environmental friendliness.
Wicker display baskets are a good choice for presenting products such as fruit, bread rolls, crisps, or even cosmetic products in hotel or coffee shop displays. For a larger and more sturdy option there are wooden display crates. The theme can be carried throughout your business, with wooden menu holders, easels and sign holders all looking great together.
How can I create cohesive décor and branding in my point of sale hospitality displays?
When investing in POS display items for the hospitality industry, it is helpful to consider what kind of theme and atmosphere you are trying to achieve. Do you want a chic, modern and minimalist feel? If so, you may wish to stick to metal, acrylic and other glossy products.
Conversely, if you want your venue to have a vintage or shabby chic appearance, wooden products and chalkboard can add a rustic, homely feel. Use products made from similar materials to make sure the décor feels cohesive throughout your hospitality displays, whether in cafes, restaurants, bars or hotels.