How To Get Rid Of Your Old Inventory In-Store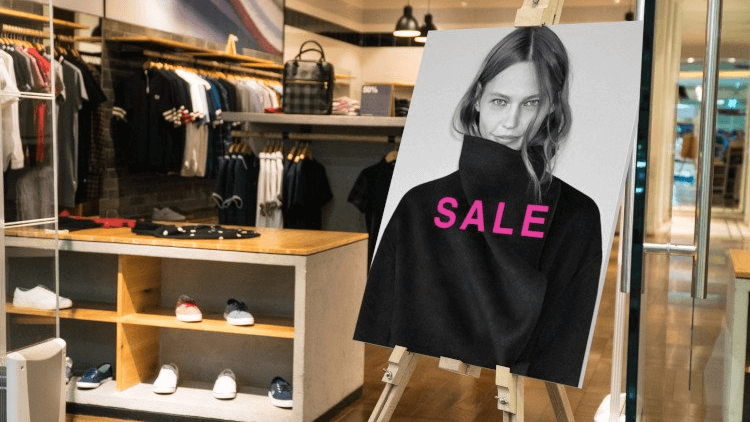 At the end of a season, event or holiday, many retailers will find themselves left with excess stock on their hands. While having plenty of stock can be a good thing, having too much stock that you have to clear can lead to losing vital space in your stockroom or warehouse, and not being able to give enough attention to promoting other products and areas of your business. The most common reasons for excess inventory are:
You ordered too much
There's a lack of demand
The product is not high quality
The product is too common and has no USP
So, with all these factors to consider, how can you creatively sell excess inventory to make way for the newest, in-season items in store?
Top 5 ways to sell excess inventory in store
If you're looking for inspiration on how to get rid of old inventory, try implementing our top 5 tips:
1. Cross-sell alongside in-season stock
It's likely that your newer, in-season stock will be closely related to your excess stock, whether that's because it can be used in the same way or is a previous model of a new product. Try to sell off your excess stock by displaying them next to products they can be used alongside in order to increase the chance of purchase. For example, if your excess stock consists of kettles, you should place these next to the kitchenware they are compatible with.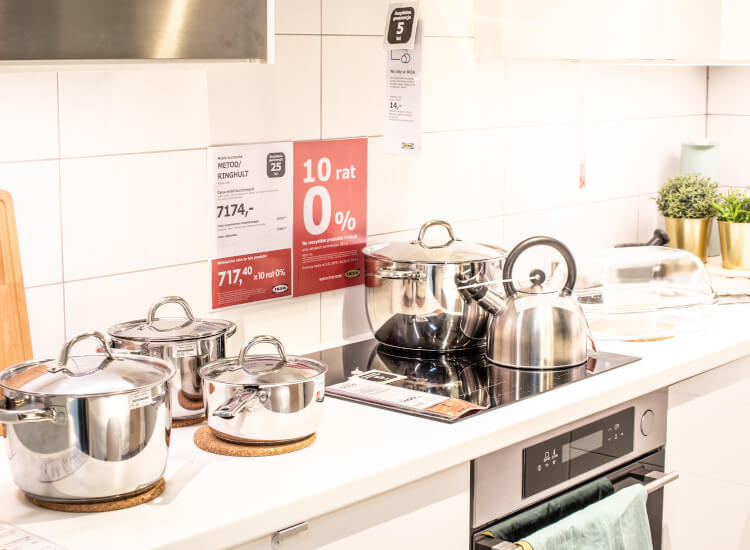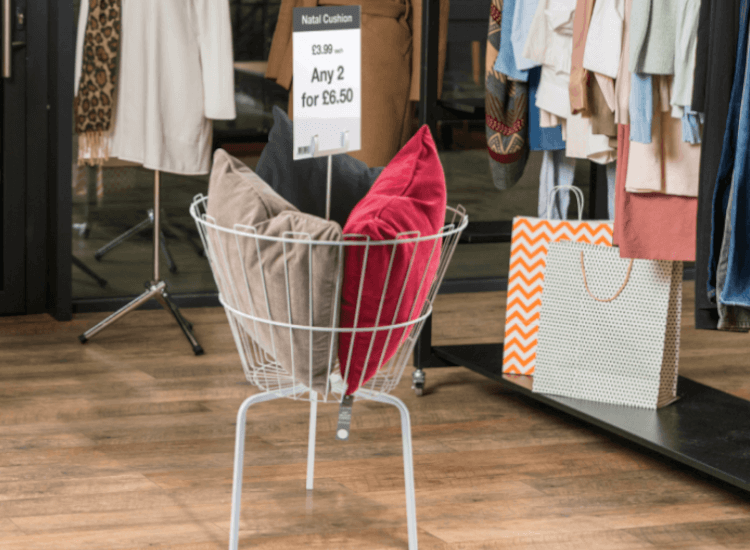 2. Use dump bins and end caps to encourage impulse buys
Dump bins and end caps are great for attracting customer attention to special offers and curated product displays.
Place dump bins and end caps in the areas of your store that have the highest footfall. This will maximise impulse purchases of your overstock.
3. Display your excess stock in multiple areas around the store
When you think of sales in retail, most people would envisage a section of the store dedicated to displaying this stock. While this approach does help customers find the best deals, it does reduce the likelihood of impulse purchases by browsing customers and will not be seen at all by people not looking for bargains.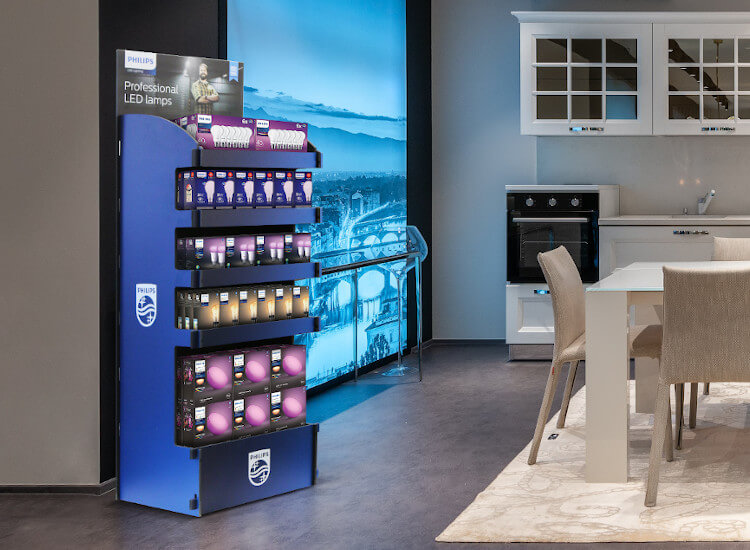 By placing your excess stock at various points around your store, including the window display, back of the store and on aisle end caps, you are maximising the chances of them being noticed and added to customers' baskets.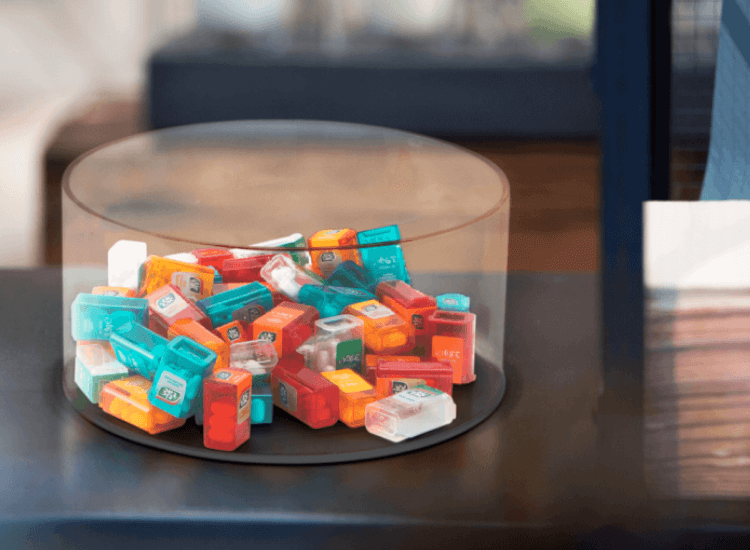 4. Offer as 'freebies' or incentives
This is a great idea for getting rid of your low value items, while also boosting sales for your in-season product lines. Offering a product from your excess stock at a discounted or free price if customers spend over a certain amount of money or a certain product. This means that you can promote your newest items while also clearing your excess inventory.
5. Heavily discount the items
If all else fails, you can always heavily discount your items to make them more appealing.
Start off by discounting at around 30%, then lower further if required. Sales are a proven way to attract customers, but be careful not to overuse them as they will lose their allure.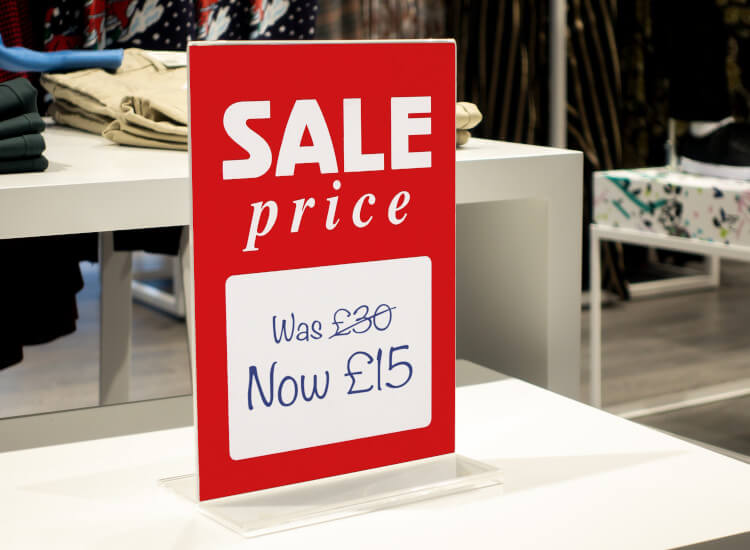 "84.8% of Brits admit to splurging on impulse purchases in store."- Finder.com [1].
Essential POS for selling old inventory
Now you've got an idea of how to sell excess inventory to customers, you'll need the perfect display units and signage to get them noticed!
Dump bins
Dump bins are used to present your promotional and discounted items in areas where there is high footfall, in order to maximise the chance of them being put in the baskets of customers passing by. They are a tried-and-tested way of encouraging customers to make impulse purchases and increase your average order value.
Dump bins come in all shapes and sizes, from freestanding baskets to countertop tubs. Areas to place them for maximum customer engagement are by checkouts, at the end of aisles and at the entrance to your store.
Sale signs and posters
The best way to draw attention to heavily-discounted items is with some bright red sale signage. Our range of pre-printed posters, hanging signs and inserts are ideal if you want a quick and easy way to catch the eye of passing customers. As well as providing greater visibility for your sale areas, some of our posters have spaces for you to write before and after prices, so customers can easily see the savings to be made on individual items.
Countertop stands
Countertop displays are ideal for promoting a range of similar sale products together in a professional manner, that looks more premium than sale items displayed in dump bins. They are perfect for displaying more high-end excess inventory, such as technology or jewellery. Like dump bins, countertop stands come in many different shapes and sizes, including tiered acrylic stands, wicker baskets stands, plinths and display cases.
Freestanding display units (FSDUs)
Highlight key sale items in a hard-to-ignore way by using freestanding display units. These units can be branded to allow you to display items in a professional manner while promoting brand awareness, and are often made from sustainable, recyclable materials such as cardboard and wood. Place at the end of your aisles for maximum visibility. Research shows that placing FDSUs at the end of aisles has a positive effect on sales and plays a great role in supporting price promotions [2].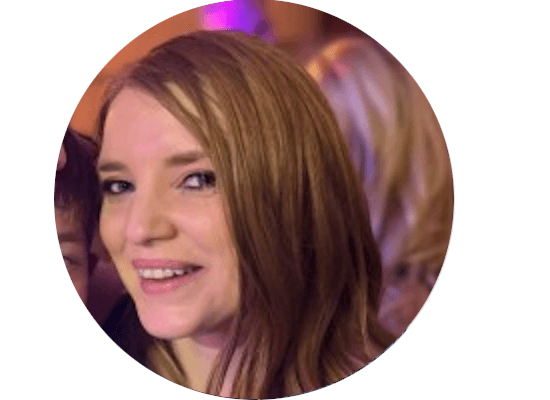 Alysha Bennett
Alysha is a copywriter at UK POS, with experience working in B2B and B2C companies, as well as with charities. She has been researching consumer and retail trends to assist retailers in implementing effective point of sale materials into their own businesses for eight years.
References
1. Georgia-Rose Johnson, Impulse buying, Finder, April 2020, https://www.finder.com/uk/impulse-buying [accessed July 2021].
2. Alvaro Garrido-Morgado and Oscar Gonzalez-Benito, 'Merchandising at the point of sale: differential effect of end of aisle and island', Business Research Quarterly (2015), Vol. 18, p57-67.