Cable and Rod Display Kits
Rod and Cable Display Kits and Systems
What are rod and cable display kits?
Rod and cable display kits are pre-configured cable display kits and rod display kits to allow you to suspend poster pockets on your walls or in your window. The cable and rod display systems include all of the components you need to create a striking window or wall display and are used by thousands of estate agents across the UK.
Why use a cable display kit?
Cable display systems let you make use of your window space to create window displays that are visible from both sides. They're easy to install and we offer a wide range of variations to take posters of all sizes and orientations. They can be attached to the floor, ceiling or wall and look really professional.
Can I use a mixture of poster pockets?
All rod and cable display systems are supplied with pockets of your chosen size and orientation. You will often see rod and cable display systems featuring several kits side by side, giving you the option to show a mixture of pocket sizes and orientations. Add extra poster holders and leaflet holders to expand your displays as you wish.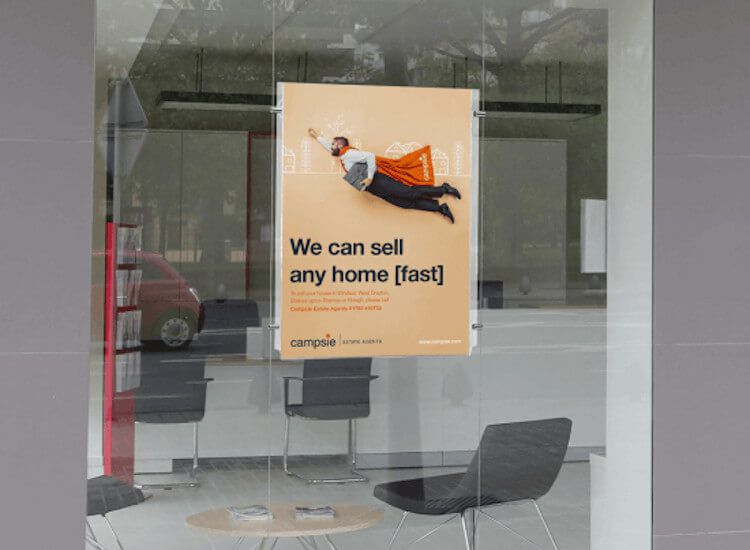 Why choose a rod display system?
A rod display system uses a threaded stainless steel rod rather than a thin steel cable, so they're stronger and more resilient. Just as easy to install, our rod display kits can be wall mounted or attached to the floor or ceiling in front of your window.
The rod display system supports floor-to-ceiling heights of up to 3m and can easily be cut down to size using a hacksaw for the perfect fit.