Clip strips and fixings
What are clip strips for?
Clip strips, otherwise known as hang strips, are used to maximise storage and display space at shelf edges. They are popular for use in supermarkets to display lightweight items such as confectionary and cosmetics, as well as in pubs and bars as a crisp display hanger.
What types of clip strip are available?
For lightweight items, we supply plastic display strips in single and double duty variations. For slightly heavier items, using a metal clip strip may be a more reliable alternative as they are made with zinc plated steel which is a more durable and heavy duty option.
Many of these metal and plastic merchandising strips are available optionally with or without a header space to attach your branding or price stickers.
Why use clip strips for retail?
Shelf edge clips for merchandising strips, aka EPOS clips, are a neat and secure way to clip a merchandising strip onto the front channel of your scanner rail. Each strip features a number of clips for hanging individual packs of snacks and accessories directly next to related products to encourage cross-selling.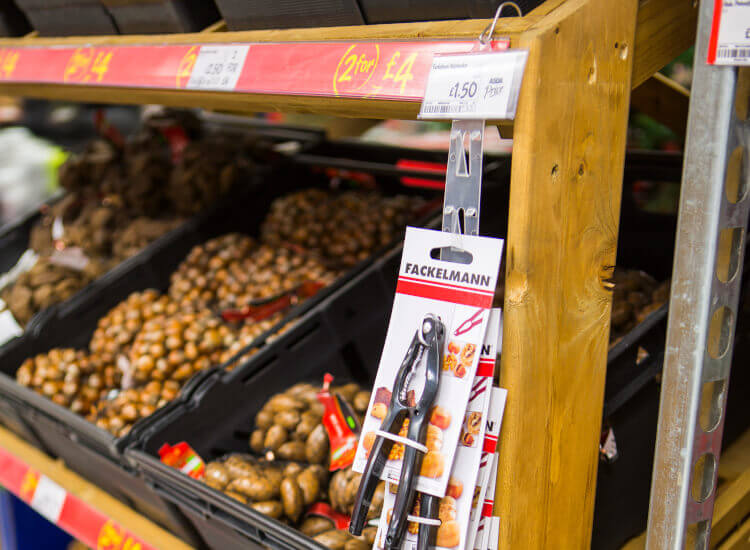 Shelf merchandising strip attached using a crimped S hook.
How to I attach clip strips to my shelf?
Some of our clips strips are made with an inbuilt hook to hang from your shelving. For others, we supply S hooks which can be used to suspend your clip strip from standard wire shelving or data strips. These are available as either a metal or plastic S hook to suit your clip strip style. A crimped S hook is an even more secure option for hang strips as the crimped design provides a tighter grip. We also stock plastic shelf clips to attach your clip strips to data strips and racking.