POS Counter Displays and Small Display Stands
Why is a countertop merchandise display important?
An effective merchandising display presents your products in the best possible light. This is essential for attracting the buying public in order to boost your retail sales and promote impulse purchases. Our countertop display units come in a variety of shapes and sizes to suit any industry.
What do I need for a countertop visual merchandising display?
There are so many types of eye catching counter display units it can be hard to know where to start, but at UK POS, we supply something for everyone. Whether you need clear product risers, wire racks, rustic retail display trays or clear tubs and containers, we will have a solution to suit your retail environment.
We also stock a number of product-specific POS counter top displays to improve your customers' shopping experiences. These include shoe display bridges, book stands, or e-cigarette holders. Even if you have an awkward-to-display product, we may well have just the thing for you!
Can I fix my POS counter display in place?
Yes, many of our visual merchandising units can be screwed into place on your retail counters. Alternatively, we do supply various forms of high strength adhesive tapes and pads which can be used to secure almost any shelf display unit, including stands, trays, racks and risers.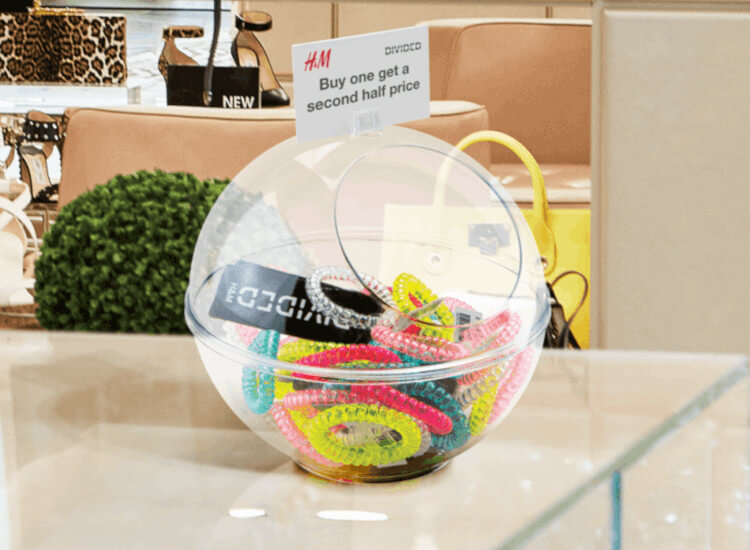 Use shop counter top display units for a variety of products
What materials should I choose for my POS counter display?
For a rustic, homely point of sale display, use wood or wicker trays and display cases, alongside chalkboard signage and labels. For a high-end, luxury appearance, you could use crystal-clear polished acrylic or metal display racks and counter display stands to give a focal point to your display.
If you need something that can be deconstructed and easily transported, such as for pop ups, trade shows and markets, choose one of our flat-pack designs. Check out our guide to market stall and craft fair displays for display ideas and helpful advice.