Aisle sign holders
Why does my business need aisle sign holders?
Aisle fin holders, sign fixtures and banner hangers provide a highly visible form of point of sale advertising with a professional appearance, ideal for retailers such as supermarkets and department stores.
If you're a large retailer, chances are that your customers are entering your shop with a clear shopping list in mind. Make their shopping experience easier by clearly sign posting your ranges. As well as being useful for navigation purposes, supermarket signs are a surefire way to draw the eye to deals, offers or product information throughout a store.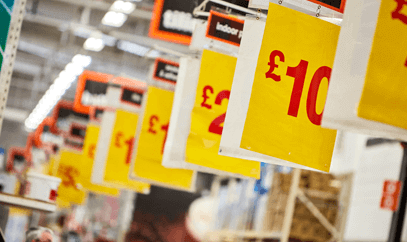 Point of sale displays for supermarkets
Aisles, shelves, counters, ceilings and walls all offer potential advertising space for your store.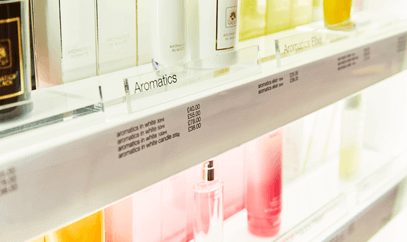 Point of sale displays for retail shelving
There are numerous ways to optimise sales opportunities in retail, simply by using shelf attachments.
What types of aisle sign do you offer?
We have aisle signs in both small and large sizes to suit any size of store. Our Magnetic Banner Hanger is the easiest to install, as it has a strong magnetic arm that attaches to the top or underside of your retail shelves. Our fin holders and sign fixtures have fixings that slot or screw into the breaks in the aisle.
What is an aisle fin holder?
An aisle fin holder (also known as an aisle interrupter, aisle violator and aisle invader) is a banner that is slotted vertically in the middle of shopping aisles to break up the long displays into distinct ranges. These aisle signs help customers locate the product they are looking for and also offer a great place to display special offers that apply to that range.
What can I display on my aisle sign or aisle fin?
An aisle sign is most commonly used to mark the locations of each range of products on one aisle to help customers quickly find what they are looking for. However you can also use your banners to promote related ranges, promote new products and display special offers.
What size banners can the banner hangers hold and are they included with these fixings?
Banners are not included, you will need to purchase printed banners to attach to your aisle sign holders separately. Many of our banner hangers are telescopic, so they can extend to accommodate banners of various widths. It also depends how high the banner arm is fitted, as to the length of banner it can support.