Shopping Baskets
How can I keep my supermarket baskets tidy?
A simple way to keep your baskets neat and tidy is to use a basket stacker. Our metal basket stackers have wheels on the bottom, making it easy for you to move large stacks of baskets all at once. Our set of 5 wicker carry baskets is supplied complete with a wooden stand for you to keep by your entrance or till.
Should I use plastic or wicker carry baskets?
The basket style you choose should depend on the style of your business. Supermarkets, hardware stores, outlets and anywhere selling heavy or potentially messy products may wish to choose a plastic basket for practicality, or even a shopping basket on wheels. A plastic grocery basket may be considered more heavy duty and easy to clean than our wicker options.
Wicker carry baskets are popular for businesses such as natural cosmetics shops and health food stores. They can even be used for visual merchandising displays, such as balls of yarn or groceries. Wicker display baskets are popular for use in cafes and bakeries to display edible goods.
Do you stock a basket on wheels?
While we don't currently stock shopping trolleys, if you require an alternative that is more accessible for use with heavy products or by those with mobility issues, we do stock a wheeled shopping basket. It works exactly as it sounds, as a basket on wheels.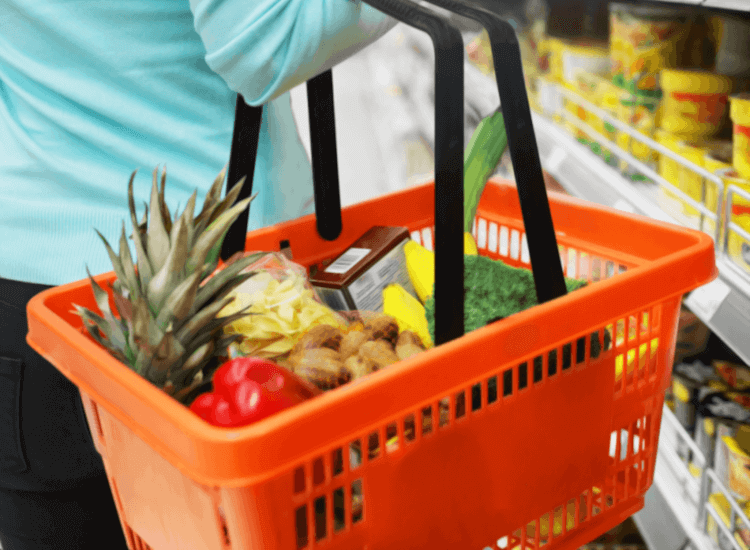 Are the supermarket baskets available in any other colours?
The wicker carry basket is only available with a natural finish, however our plastic grocery basket and basket on wheels are available in a choice of four different colours: red, black, blue and green. This allows you the option to choose a colour to suit the design of your business.
Are all your plastic and wicker carry baskets stackable?
Yes, each grocery basket is fully stackable, and we do supply a basket stacker for our standard retail baskets. We also stock display baskets which are not stackable as their design is based on aesthetics for visual merchandising, rather than shopper practicality.