Lowest price guarantee
As the UK's number one point of sale display manufacturer, it is our goal to offer all of our customers the best prices across all of our products.
As we design and manufacture our products ourselves right here in the UK, we are able to cut out the middle man to save you money. This means our prices are already low, but should you come across a product as high in quality as ours at a lower price, we will match it.
To tell us about the product and price you have found, get in touch with us today!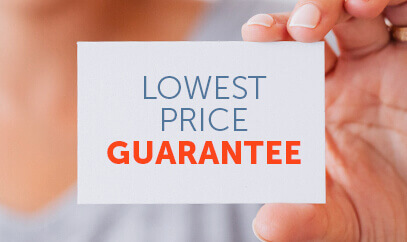 1. Our lowest price guarantee applies to the UK and Ireland only.
2. Competing private sellers and auction sites do not qualify.
3. The product must be brand new. Lowest price guarantee will not apply against products that are used or damaged.
4. Lowest price guarantee applies to the total cost of an identical or equivalent quality product including delivery charges, VAT and any applicable processing charges.
5. Competitors must have UK or Ireland registered websites or stores selling products in £ sterling or Euros for distribution within the UK or Ireland.
6. The competitor product must be in stock and available for immediate collection/dispatch.
7. Lowest Price Guarantee offers will be valid for 24 hours from the time the offer is made.
8. Where necessary, we reserve the right to limit the lowest price guarantee offer to one item per customer, particularly in cases where we believe that products are being purchased for resale rather than personal or company use.
9. Our lowest price guarantee cannot be used in conjunction with any other discount, promotion or voucher code.
10. Competitor prices will need to be fully verified by our team. Responses to applications will be via email within 48 hours from time of submission.
11. Lowest price guarantee offers made are at the discretion of UK Point of Sale Group Ltd.
12. Any lowest price guarantee on non-standard items is made at the discretion of UK Point of Sale Group Ltd.
13. Lowest price guarantee requests must be made before purchase. Claims cannot be honoured after purchase.