Digital Advertising Screens
Digital Advertising Screens
What are digital signage displays?
Advertising screens are a modern type of digital signage screen that allows you to show vibrant digital displays of still images, slideshows, videos or presentations around your business. They're much more eye-catching than conventional signage and add a premium feel to any setting.
What are the advantages of digital screen advertising?
There are many reasons why your business should invest in digital advertising screens:
They make it easy for you to update your display regularly by simply uploading from a USB.
Digital screens engage customers more than traditional printed media.
You can set your displays to run at certain times of the day to target specific customers.
Digital displays involving videos and moving images lead to your business being perceived as modern and sophisticated by customers.
The addition of digital advertising screens in-store leads to a customer's perceived wait time dropping, giving them a more positive view of your brand overall.
What forms of digital screens are available?
Our range currently includes freestanding and wall mounted digital displays in digital totem, digital A board and digital screen format. These wall mounted digital posters and vertical freestanding digital screens take up little room for their screen size. This gives you lots of impact without getting in the way of your customers.
How are your digital advertising displays powered?
Our digital retail advertising screens are all mains powered units for indoor use only and are provided with a 2m cable.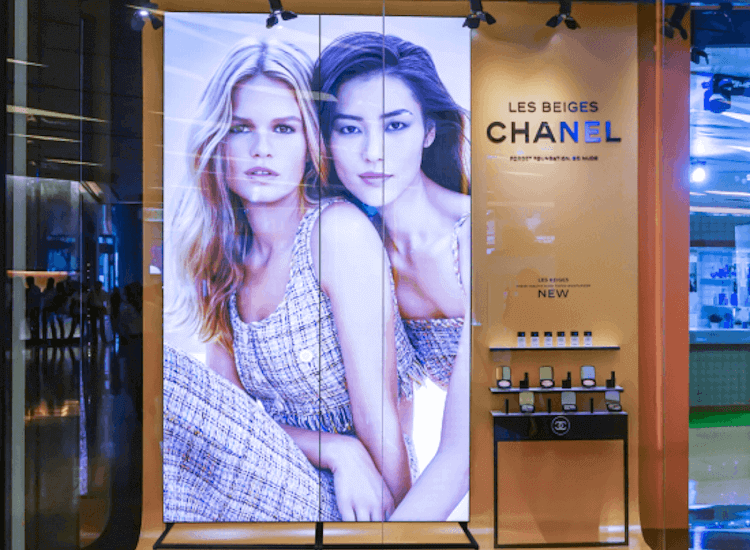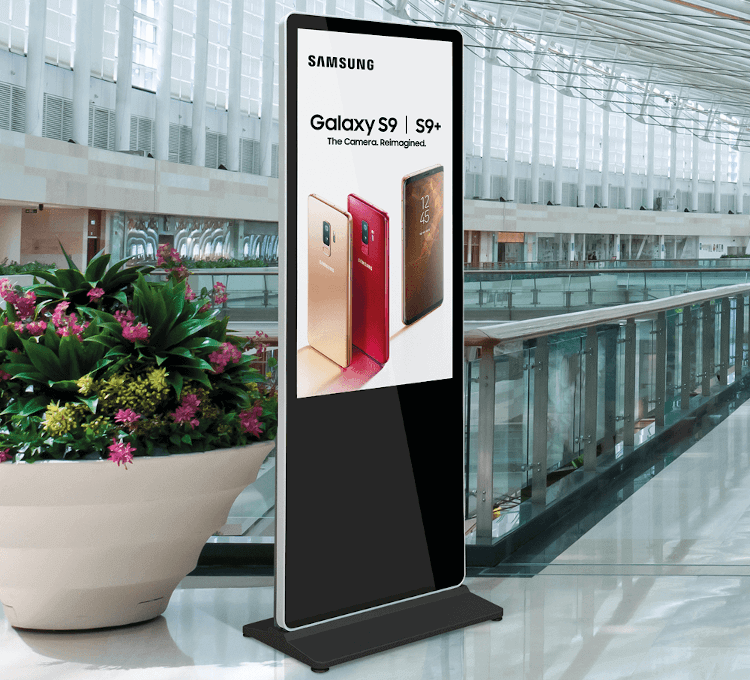 Where can I use a digital advertising board?
Our customers are using digital signage displays in a wide range of places. They're ideal for use in receptions, lobbies, conference halls, exhibitions and within department stores.
Advertising screens are suitable for indoor use only but look great in virtually any location.
How do digital retail displays work?
Digital displays are essentially large screens that play your chosen media. Choose from video, stills, slideshow formats, or even a mixture of the three. Start by preparing images of the right size, orientation and resolution on your Mac or PC. Then, simply transfer the files to a USB stick and plug it into the digital display.
From here, you can configure whether to show a slideshow of images or play a video. You can even show both at once via a split-screen view on your digital screens.
We also have android advertising display screens available, which allow you to download and run your choice of apps.
What features do digital display screens have?
Our digital display screens are fitted with USB ports for file transfer, as well as internal storage to hold your presentations. They can play a variety of media files, from images to videos. The majority even have speakers and full HD screens, too. Each screen varies, so make sure to check the specifications before you buy.