Flexible Display Wallets, Pockets and Sleeves
Flexible Display Wallets and Adhesive Plastic Pockets for Price Displays
What are flexible display wallets for?
Flexible wallets open along one or two sides to allow you to insert a price label, ticket or sheet of product information. These pockets look professional and help protect paper from dust, moisture and damage.
What orientations are available?
Most flexible PVC wallets are either landscape or portrait with an opening on one side. They can often be used in any orientation, providing you keep the open end facing upwards so your signs don't fall out.
What size flexible PVC wallets do you make?
We produce our flexible PVC wallets in a wide range of shapes and sizes to suit every use. These range from A6 ticket wallets for displaying prices right up to A4 flexible pockets for showing off product information sheets.
Do you stock adhesive plastic pockets?
Yes, our range of adhesive plastic pockets makes it easier for you to set up your pricing and information displays. They are ideal for labeling large or awkward items and can be display in both portrait and landscape orientations. One side of your adhesive PVC wallet can be stuck to your chosen surface, leaving an opening to slide your labels or graphics in and out.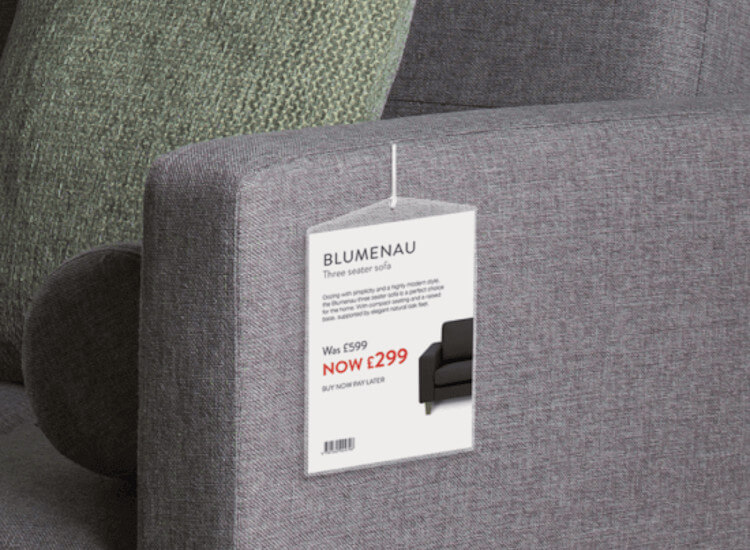 How can I attach non-adhesive ticket wallets to my products?
Ticket wallets and plastic leaflet wallets can be attached in many ways, depending on the size of the wallet and the type of product.
Larger flexible PVC wallets can be attached with adhesive tape or adhesive pads, magnetic tape or hook and loop fasteners. Smaller flexible wallets can be attached using a wide range of tags. Adhesive plastic sleeves attach directly to your walls, counters and items using their sticky backings.