LED and Illuminated Signs
LED Signs, Illuminated Light Boxes and Electronic Scrollers
What is a lightbox frame?
LED light boxes and frames use low energy bulbs to illuminate your posters. This makes them stand out far better than a regular poster, with images that look as sharp as an HD image on a computer screen. An illuminated light box is extremely eye-catching, modern, professional and works brilliantly in both brightly lit stores and darker areas.
Why use an LED click frame?
An LED click frame is an easy to use and yet highly effective form of poster display. The LED click frame simply clicks open and shut to release or hold your backlit sign, making poster changeovers quick and easy for any staff members.
LED poster holders enhance the image of any business, from restaurants to department stores, providing a stylish and upmarket appearance. We supply these in a wide range of colours and styles, meaning we are bound to have an LED poster holder to suit you. Buy today for next day delivery.
Where can I use LED poster frames?
We manufacture LED poster frames that can be used both indoors and outdoors. Our range includes wall mounted frames of various sizes, as well as smaller illuminated frames, right up to huge floor standing LED light boxes and illuminated totems.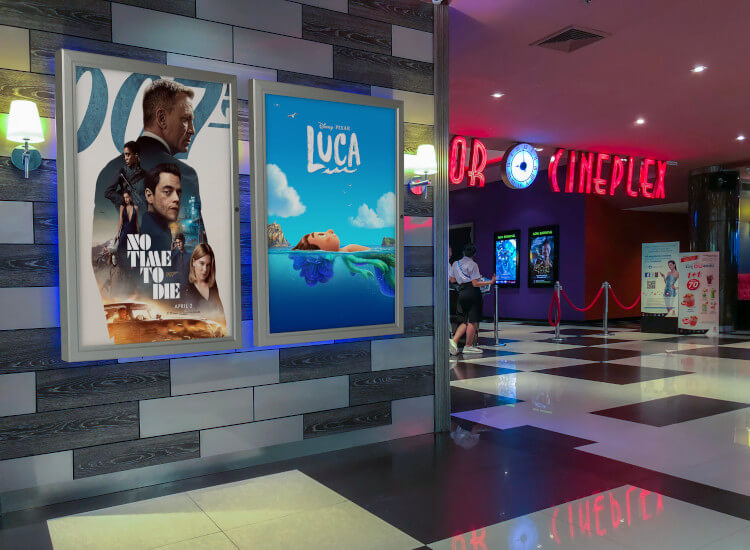 Do I need electronic signage?
LED displays are a modern and attention-grabbing way to present messages to your customers and to attract visitors into your business, and they make a great alternative to neon signs. They can be used to illuminate dark corners, or draw the eye to various areas inside your establishment.
LED displays are also ideal for use in businesses which are open at night as a brightly lit window display is a quick way for people on the street to recognise that your business is present and open.
What kinds of illuminated signs do you carry?
We stock a range of different LED displays for business. These include LED neon signs such as a neon open sign which is available in either an oval or a rectangle shape and has a vibrant glowing effect.
We also stock programmable LED shop signs which are available in various sizes and with either multicolour or white LEDs. Programmable LED displays allow the user maximum flexibility over the messaging they choose to display.
What could I display on my programmable LED signs?
If you want to display prices, event times or just an "Open" message, this is relatively straightforward on these LED displays. To keep your customers engaged, consider displaying fun, quirky messages about things pertaining to your industry, such as relevant jokes, puns and trivia.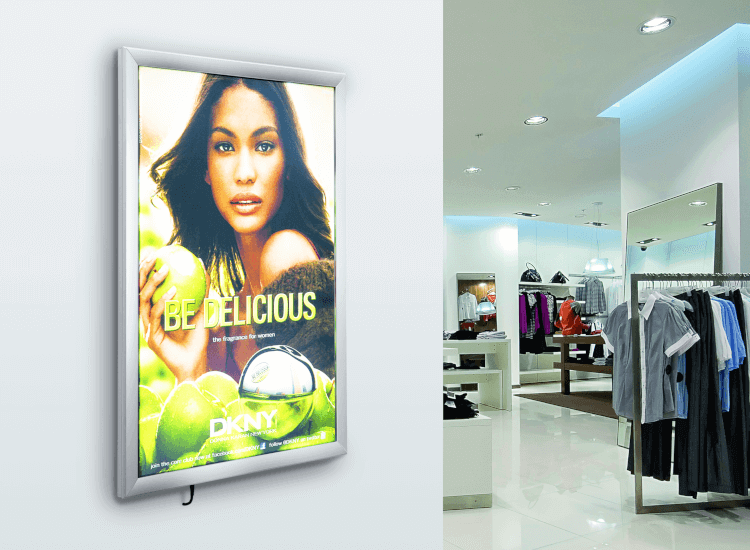 View our LED POS displays buying guide
Not limited to LED light boxes and poster frames, our LED product range also includes door and window signs, scrolling displays and more. Our LED POS displays buying guide walks you through our wide selection of LED products, helping you to make the right choice.
How are these advertising light boxes powered?
All of our led light boxes are mains powered and come with a small 12V power pack that you'll need to plug in near the frame. Cable lengths are typically around 1-2m, so they're generally very simple to install and you won't usually need an electrician.
What posters should I use in an illuminated poster frame?
Some of our illuminated poster frames and LED light boxes can be used with standard poster paper. However, for the ultimate clarity and brightness we highly recommend printing your artwork onto special backlit transparencies, such as Duratrans.
Where can I get backlit posters?
We stock a range of backlit posters and can print these for you with your custom artwork. You can either upload your artwork when you buy your frame and we'll print your custom posters, or you can buy your custom printed backlit LED display posters separately.
Where should I use LED displays?
LED neon signs are particularly popular in bars, takeaways and convenience stores as they can attract attention on the darkest nights even from far away. An LED open sign window display makes your business look vibrant and inviting.
LED signage is also great for use in leisure and hospitality settings or even nightclubs, to display messages such as event information, useful reminders, or even just fun messaging. All of our LED signs are suitable for hanging in windows or against walls, so you can display your illuminated signs wherever you want.
How does the electronic signage work?
All of our electronic signs are mains powered with discreet power cables, and you can amend the messages on your programmable signs using a USB memory stick.