Retailers' Guide To Christmas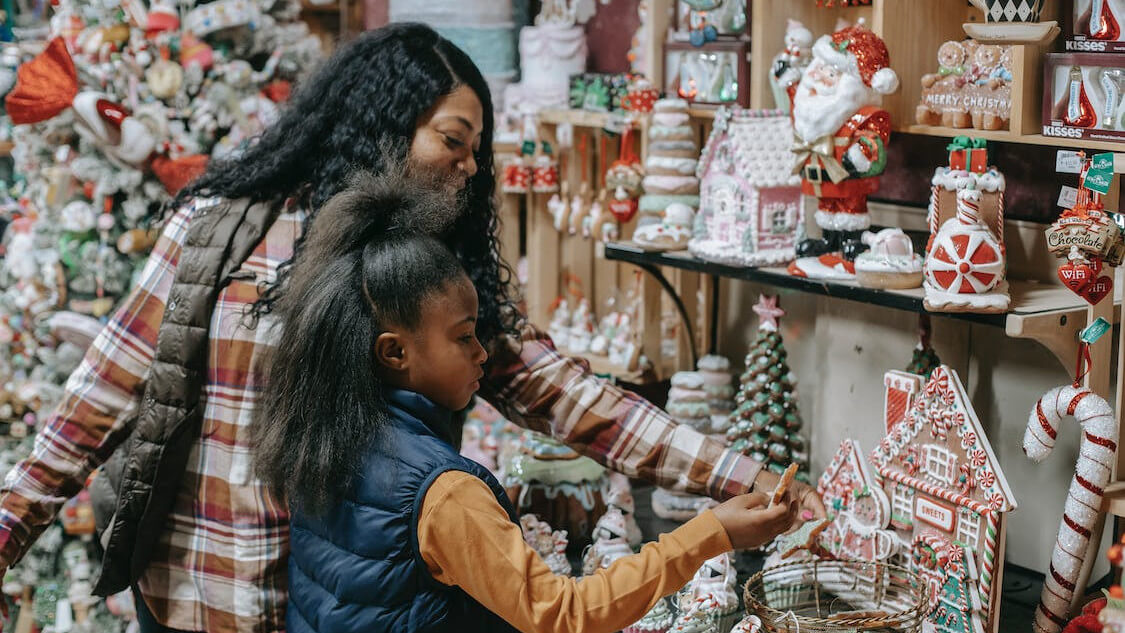 There's a reason that the Christmas period is known as the 'Golden Quarter' in retail. This peak season is the ideal time to really enhance your sales figures for the year. Of course, just being in business isn't enough though - you need to stand out against your competitors and do everything you can to turn heads and convert customers.
While many businesses turn their attention to online retail, the in-store experience is still of massive importance, especially in the run up to Christmas. In fact, 19% of customers are still last-minute shopping on Christmas Eve [1]. Failing to invest in visual merchandising and marketing during this time could be your downfall!
How can I increase my Christmas sales?
Traditional POS displays have a timeless appeal. Using them for your Christmas retail campaigns will help to boost sales. Using poster stands indoors, and pavement signs outside, will help draw existing and new customers into your premises, towards your promotions, and encourage them to make add-on purchases or choose upsell options.
Think carefully about your Christmas window display and what products you wish to feature in order to entice passersby. You might want to flex your creativity and draw a festive scene with some liquid chalk marker pens, or place some seasonal props onto display plinths and pedestals.
Indoors, use rustic chalkboard signage for some items, such as bread, wine, cheese and handmade goods, and glossy high-end signage for others, such as perfume, cashmere jumpers or shoes, to appeal to different customer needs and encourage impulse buys.
Use portable FSDUs (free standing display units) and reconfigurable displays such as slatwall or gridwall. Not only do these allow you to keep your displays looking fresh for the new season, they also make it easy for you to rearrange the store layout as and when required. With portable or reconfigurable POS displays, if you find that an area of the store is getting too crowded, you can then simply change it as you see fit.
Did you know that Christmas gift shoppers tend to spend more time in-store, and make more impulse buys than regular shoppers [2]? This is a key reason why it's important for your Christmas pavement signage and window displays to draw them in to your business. Department store windows and Christmas markets are famed for their ability to do this, often via the use of 'retailtainment' [3].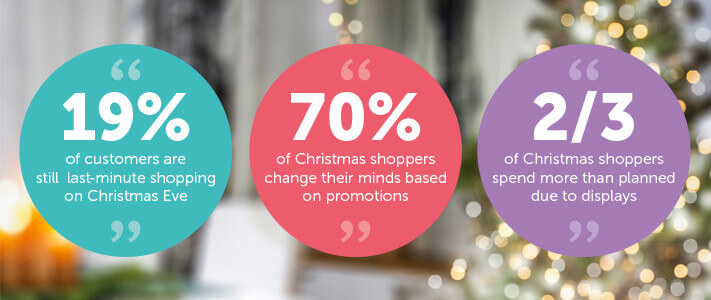 What is retailtainment?
Retailtainment is a combination of retail and entertainment. Visitors to your shop are more likely to enter and make purchases when they're being entertained, and Christmas displays are a particularly fun way to do this.
If you sell toys or decorations, make sure you consider the needs of the children who are being dragged around your store by stressed-out parents. Turning your shop into a place of playfulness, rather than just purchasing, will be an easy win. The marketing and PR manager for children's toy shop The Entertainer explains that '[t]he child being more important than the adult' is a core part of their Christmas retail strategy [4].
Food retail displays at Christmas
70% of Christmas shoppers change their minds based on promotions, and 2/3 of Christmas shoppers reported spending more than planned due to POP displays [5].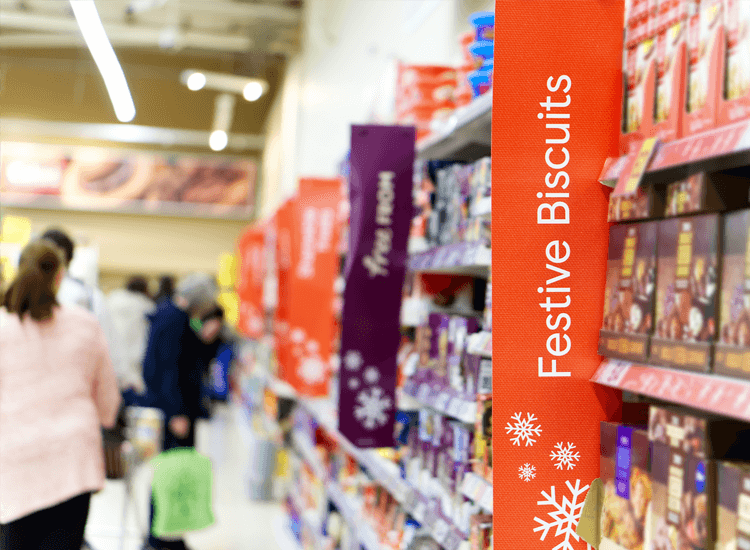 Traditional POS displays, such as end-of-aisle FSDU's, are always a great way to boost sales of particular lines, but these are particularly useful at Christmas, when shoppers may be more under pressure and in a rush to get things right, and quickly. Create product bundles to place in prominent locations. The convenience of being able to access everything in one place will make your products seem all the more appealing!
Additionally, overhead signage is an ideal choice as, even in a more crowded or rushed scenario, your customers can find out where they are and where they need to be with a quick glance. Most supermarkets and department stores tend to have standard overhead aisle signs to point customers in the right direction. Why not give them some extra help with their Christmas shopping, by adding temporary overhead signage to point out your Christmas promotions? This is not only extra in-store advertising for your shop, it actually provides value for your customers by making their lives easier.
Christmas promotion ideas for retail
Supermarkets ought to consider various types of family sizes and make sure to cater to all. Promote range of smaller meal deals, half-size bottles of wine and champagne, and smaller packs of Christmas crackers and table settings for smaller families, alongside larger quantities for big families and parties.
On the approach to Christmas, supermarkets and other food retailers must consider what products their customers will likely want to buy together as part of their big Christmas shop. Clever cross-merchandising at Christmas can really boost sales and AOV.
5 product bundling ideas for cross-merchandising at Christmas:
Wine with boxes of Christmas crackers - these items tend to be used at around the same time on Christmas day.
Arrange board games and boxes of chocolates beside each other, for an indulgent dose of family fun.
Fruits and crackers with cheese selections - food from different aisles may go hand in hand, bundle these on aisle ends.
Place hats, scarves and gloves near slippers and hot water bottles. They are thematically linked, and all make great gifts.
Add convenient options for gift wrapping, ribbons and sticky tape near to common gift options, for the last-minute shopper.
'Bundling products together for one simple delivery gives retailers the chance both to sell more items and to create efficiencies.'

- George MacDonald, Retail Week (September 2020) [6].
Fashion and homeware retail at Christmas
The onslaught of Christmas parties means that these sectors should see a burst of sales on the run-up to Christmas, since clothing and accessories make such popular gifts. Provide extra assistance to your customers where possible to make purchase decisions easier for them.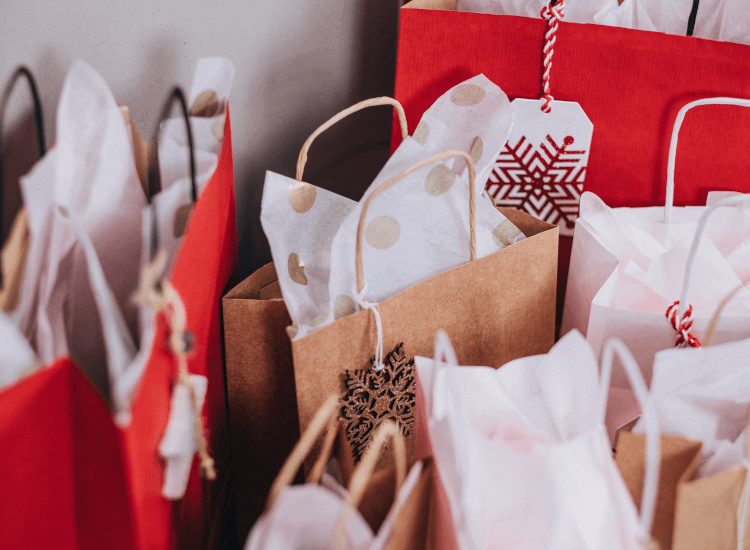 One option is to offer gift wrapping. You could even offer a choice to ship direct from your store to the gift recipient. Options like these will be welcomed by busy shoppers.
Having good queuing systems is an important concern at this busy time of year. Having an organised and spacious area for queuing is important, but you should still choose to use this area to display smaller items for add-on purchases. This is an easy way to boost your profits by increasing the average value of each purchase.
Christmas display ideas for retail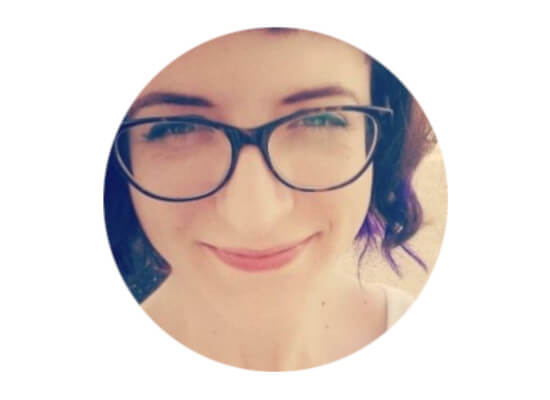 Kira Swales
Kira Swales is a copywriter for UK POS. Kira has nine years' experience in e-commerce and copywriting, with a background in retail. She enjoys researching topics in depth in order to provide readers with the latest information on point of sale merchandising. Read more of her comprehensive guides in our
Knowledge Hub
.
References
1. Lange, Rosengren and Blom, 'Store-window creativity's impact on shopper behaviour', Journal of Business Research, Vol 69 (2016), p. 1018.
2. Small, Nicola 'Behavioral Effects of Digital Signage', 'Christmas Cut Through: The Importance of Disruptive POS' [Retail Experience Conference 2019] POPAI.
3. Nathalie Lemarchand, translated by Oliver Waine, 'Christmas markets and department-store window displays: examples of retailtainment' (2014), Metropolitics [accessed 13 October 2022].
4. Gritt, Katie, 'The Wonder of Christmas: Creating Engagement and Excitement In-Store' [Shopper Seminar 2017] POPAI.
5. 'Retail at Christmas 2021/2022', The British Retail Consortium, cited in 'In-store Insights', Issue 53 (April 2023), POPAI.
6. MacDonald, George, 'Christmas time, Covid tests and wine? Retailers must adapt for a taxing Golden Quarter', RetailWeek, 21 September 2020, https://www.retail-week.com/opinion/christmas-time-covid-tests-and-wine-retailers-must-adapt-for-a-taxing-golden-quarter/7035802.article?authent=1 [accessed 24 September 2020].