Cable and Rod Displays
Cable and Rod Displays are the ideal way to create modern and effective wall or window displays. They are most commonly found in estate agents window displays but are perfect for a variety of industries.
Cable and Rod Displays can be mounted from floor to ceiling or attached to a wall, making them very versatile. Depending on the model you go for, our Cable and Rod Displays let you attach acrylic poster pockets to either solid metal rods or steel wires.
They're available in various sizes, which include both portrait and landscape poster pockets made from high quality acrylic, and take all sizes of paper including A0, A1, A2, A3 and A4.
If you want a really eye catching display, these Cable and Rod Displays can also be used with LED illuminated posters which help your window display stand out after dark all year round.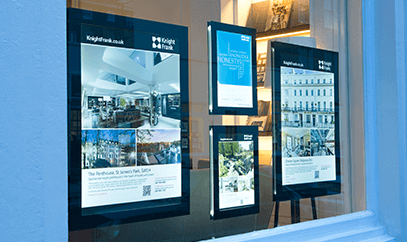 Window displays buying guide
A window display is visible to passing trade 24/7 so needs to be optimised to achieve maximum results. A well thought out window display can help boost your footfall and turn passers-by into customers.
Cable window displays for expert displays
You can customise your display kits with leaflet dispensers or acrylic cubes to help create a more dynamic and interactive visual display.
Available in a variety of formats from A0 – A4
Our Cable and Rod Display Kits are available in a variety of combinations. Customise your number of posters, the size of your pockets and the orientation.
Kits are available in A0, A1, A2, A3 and A4 sizes in portrait or landscape. Poster holder options range from two to nine pockets in one unit.
LED Cable Display Kits create round the clock advertising
Brighten up your display with LEDs for round the clock advertising all year. Your display will be visible after hours and all through winter in the darker afternoons and mornings.
Cable and Rod Displays delivered next day
All of our in stock displays are despatched on the same day and delivered the next day when ordered by 5pm, so order your cable window display now ready for installation tomorrow!