Cable and Rod Displays
Cable and rod display systems are the ideal way to create modern and effective wall or window displays. They are most commonly found in letting agency window displays but are perfect for a variety of industries.
Window display cable systems can be mounted from floor to ceiling or attached to a wall, making them very versatile. Depending on the model you go for, our multi poster displays let you attach acrylic poster pockets to either solid metal rods or steel wires.
Our retail poster display systems are available in various sizes, which include both portrait and landscape poster pockets made from high quality acrylic, and take all sizes of paper including A0, A1, A2, A3 and A4.
What are cable and rod display systems?
These display units let you present posters and other information using your walls or shop windows. They've become the industry standard shop window display for estate agents and are hugely popular with hairdressers too.
What are the differences between cable display systems and rod display systems?
Rod displays use rigid stainless steel rods as the base structure of the display, while cable displays use steel wire cables which are more flexible.
How do window display cable systems work?
Window display cable systems use a pair of steel cables to suspend poster pockets vertically either within your shop window or against your wall. The bottom of the cables fix to your floor while the tops attach to the ceiling. The cables are then tightened and the poster pockets are attached using stand off locators which screw tight onto the cable. A hanging window display is much easier to install than it looks.
How do rod display systems work?
Rod display systems use a stainless steel threaded rod instead of a steel cable. The stainless steel threaded rods are usually around 1.5m in length and can be screwed together to allow you to install the rod display system in a room up to 3m in height. The rods can be cut to height using a hacksaw if required.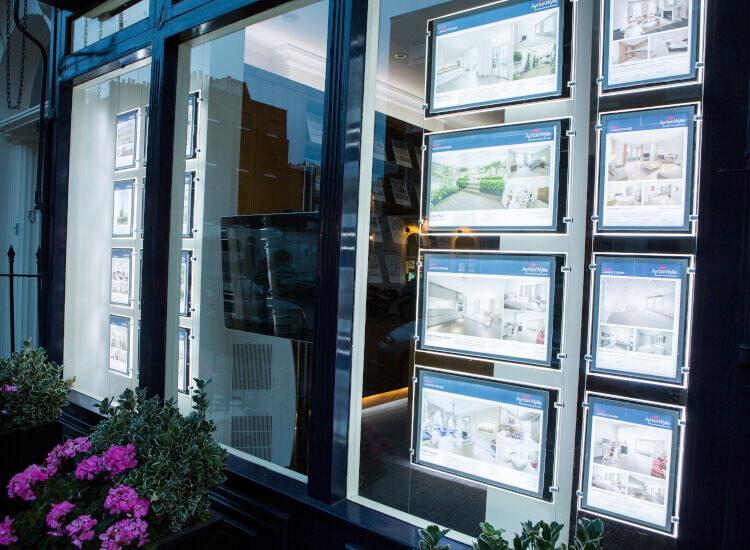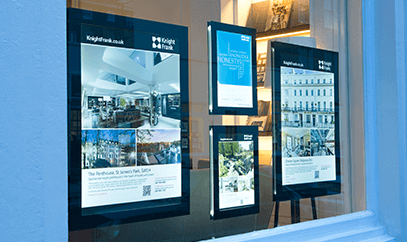 The outside of a business is the first impression most customers get, and this often dictates whether or not they will enter. Therefore, window displays are a key concern of retailers.
What are the benefits of using a window display hanging system?
The main advantage is that they let you make use of your window and wall space to display information that would otherwise be hard to present. Estate agents and hairdressers need to show off lots of information on their properties and service, and our window display cable systems and rod systems make it easy. As these shop window displays are double sided, you can let potential customers view content from both inside and outside your business.
What accessories are available for my wire hanging display systems?
As well as double-sided acrylic poster pockets into which you can insert your posters, we also manufacture leaflet holders to suit cable and rod displays, plus a huge range of vertical grips and multi-angle grips to make installation easy in virtually any setting.
Do you supply an LED window display hanging system?
Yes, we have different options of LED window display cable kit on offer. These are considered the most effective displays for estate agents as they stand out so well. When combined with our special backlit poster paper they produce a vibrant image that is sharper than a computer screen.
What size poster pockets can I add to my window display hanging system?
Window poster display systems can be used with posters of many sizes. When you buy a rod or cable poster display kit you'll need to decide what size posters you want to display and what orientation you want the posters displayed in.
We sell everything from portrait and landscape A4 (our most popular size of window display hanging system for estate agents) right up to massive A0 poster displays which are great for showcasing larger posters.