Shelf Edge Fixings and Data Strips
Shelf edge fixings and data strips
Does my business need shelf edge fixings?
For retail businesses, shelf edge sign holders, fixings and shelf management systems are an essential consideration. Retail shelving is where the majority of your products are likely to be located, and so it is important to think about how best to merchandise these in order to encourage customers to buy.
What can I use to label products on my shelves?
Shelved items sometimes need to go the extra mile to catch the eye of customers. Shelf talkers are an easy to use form of ticket holder which slot neatly into your shelf edge and can be updated with new tickets whenever you choose. We supply these with and without adhesive with different fixing styles, so you are bound to find a shelf talker to suit your needs.
How can I enhance my shelf edge strips?
Data strips for shelves can be designed specially to make your retail shelf displays more attractive to customers. We supply coloured infill strips which you can slot in to brighten and even colour code your product shelving. Additionally, we have an in-house printing team who can even make your bespoke printed shelf strips for you.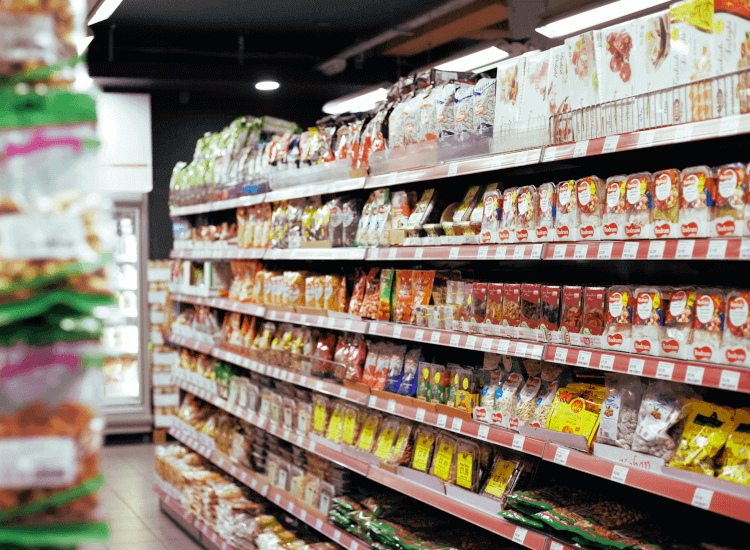 Retail shelf edge strips highlight prices and promotions.
How do I draw attention to specific products and offers?
Shelf wobblers are a great way to display special offer and sale signs right at the very edge of your shelving. They are adhesive at both ends, allowing you to attach one end to your shelving, and the other end to a promotional sign of your choice, to project beyond the shelf edge and visually jump out at passing customers so they can't miss your great deals.