Creative retail display ideas for shop windows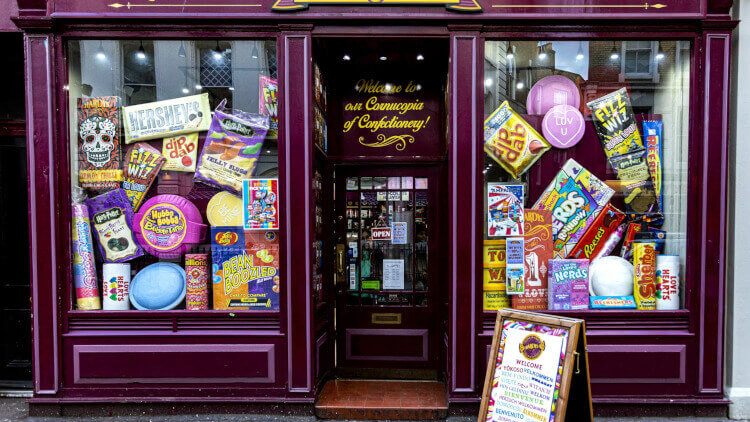 Why are window displays important?
The importance of a business's window display cannot be understated, as it is often the first impression customers will have of the store. Retailers should be proactive in investigating academic research to learn what customers respond positively to, in order to increase foot traffic.
This article discusses how windows can influence customers and how to design a storefront that draws people in. It presents key findings from academic research and provides specific guidance on how all retailers can implement an attractive storefront, regardless of budget.
By the end of this article you will be generating brand new creative window display ideas to bring to your own business.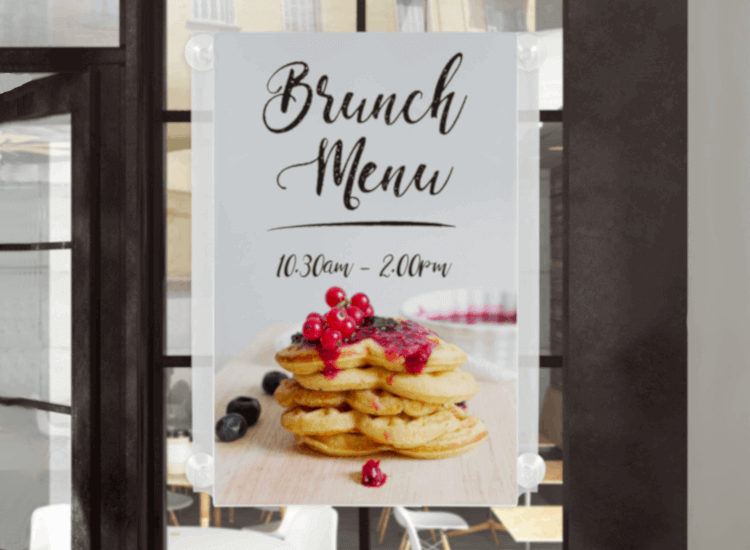 Researchers found that customers tend to respond to shop windows more like advertisements than merchandising displays, primarily using them for inspiration as well as information.
Often, retail windows motivate consumers to engage in the shopping experience rather than prompt them to buy specific products. F. Lange explained that this is due to the mental state of passing consumers, saying that 'shoppers outside a store have more abstract goals than shoppers inside a store' [1].
This means that they are more open to influence and inspiration from window dressing despite not necessarily having a specific shopping goal in mind. Retailers can use this to their advantage, by merchandising differently indoors and outdoors.
6 things to consider when planning your window display design:
What message(s) do you want to convey?
Do you want to inform or inspire?
Who is your audience and what do they want?
Where are you located and how can you stand out against competitors?
Do you have a new product range to promote or an existing range needing a boost?
Are you utilising opportunities for seasonal promotions?
Communicate information with window signs
Storefronts are a source of communication between a brand and a passerby, from which the passerby can observe and infer information. Franklin Velasco Vizcaino explained that these display types 'provide exterior cues for what a customer may find inside a store' [2]. A study by Sen et al. into clothing retailers showed that it is this communication of information via cues in the storefront that helps form the decision to enter a store [3].
Just like in TV advertising, there is a large amount of information that can be quickly conveyed via your windows. This includes factors such as the style of the store, price range, current trends, new lines, shop atmosphere and company values.
These various aspects can be condensed down to two key factors: product-related information, which is specifically about the items sold, and store-related information, such as branding and price point.
This information can be both observed from specific physical things (e.g. observing the design and fit of a product) and also inferred information (which may simply be implied without solid evidence, such as atmosphere and ethos).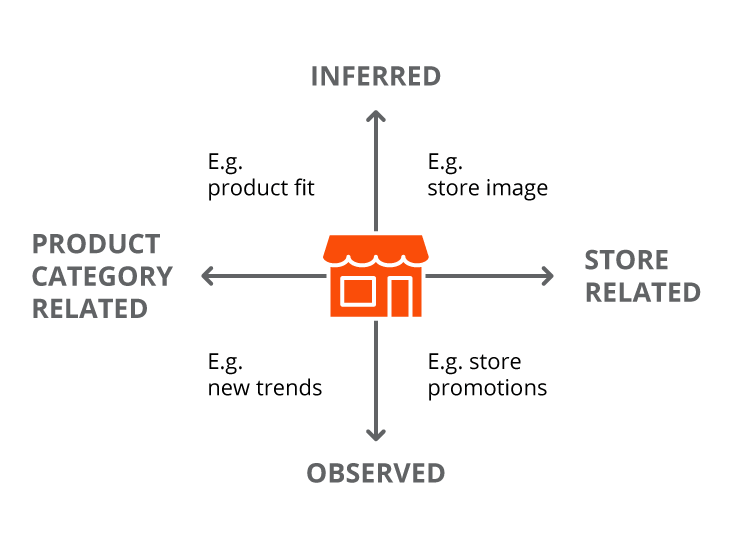 Fig. 1 based on Sen, Block and Chandran (2002)
Fig. 1 demonstrates the varying types of information acquired from window dressings. Use this to think about how you can present your displays in order to communicate as many cues as possible to potential customers.
Corporate virtue signalling and emotional appeal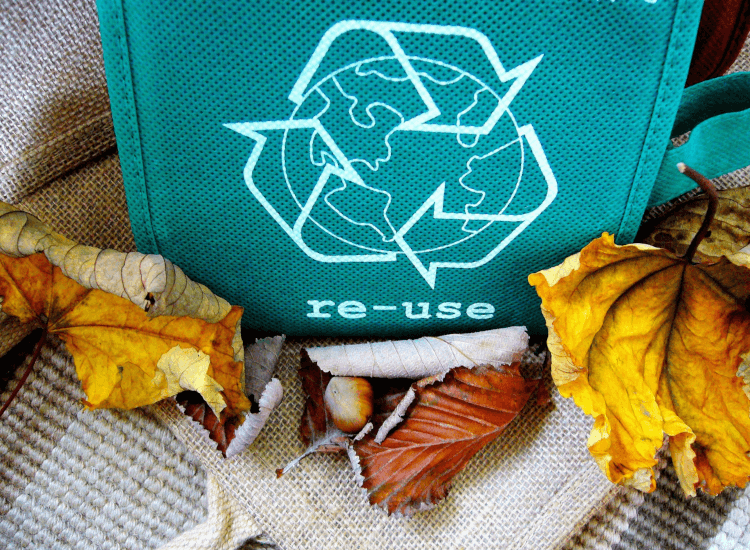 Stores can use their exterior presentation for conveying core values (sometimes referred to as 'virtue signalling'). This will appeal to customers who share these values, and also to those who would simply like to give the impression they have these values.
Cosmetic retailers, such as Lush and the Body Shop, use their storefronts to convey information about their ethos and practices. These include using fair trade ingredients, reducing packaging waste and protecting the environment.
These windows usually capitalise on sensory and emotional interaction with the customer, instead of stacking up products in a visually appealing way.
Experts suggest that 'conscious retailers' use their mission statement and values to connect with customers via shared identity, creating 'deeper emotional connections with customers by leveraging their purposes and values' [4]. This can be done in paper, online advertising and in-store. Foregrounding these directly in the window, however, is the best way to engage customers before they have even entered the premises.
A case in point is Lush's use of natural imagery in a display in their flagship Oxford Street branch [5].
The shop front design features a simple slogan in a freestanding poster holder, with a punchy take-home message focusing on their mission statement. Images of bees and clusters of actual cosmetic products co-ordinate with the flowers. The mission statement is surrounded by mechanical flowers made from biodegradable plastics to grab attention even more effectively.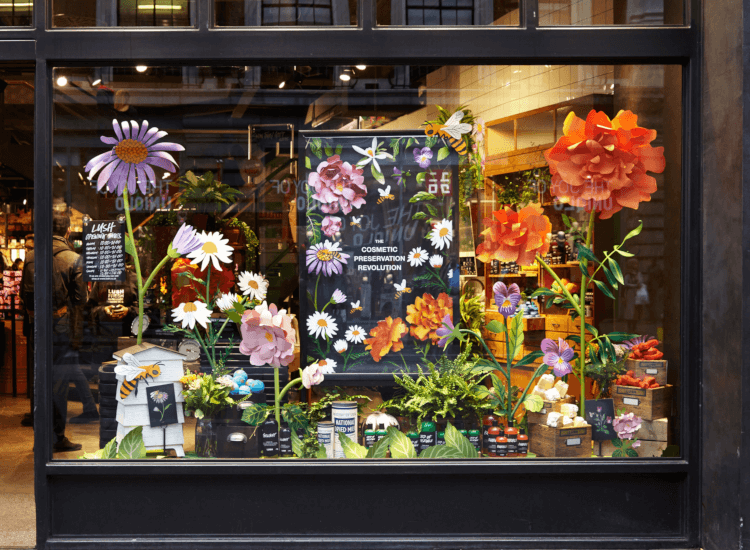 Lush window presentation by Owen Gildersleeve (2016)
This visually-appealing presentation highlights their store ethos with an emphasis on the use of natural ingredients, and conveys a relaxed and luxurious atmosphere. This is a great example as it conveys a large amount of information to the viewer in a matter of seconds and is highly inviting to Lush's target demographics.
Encourage impulse buys with window displays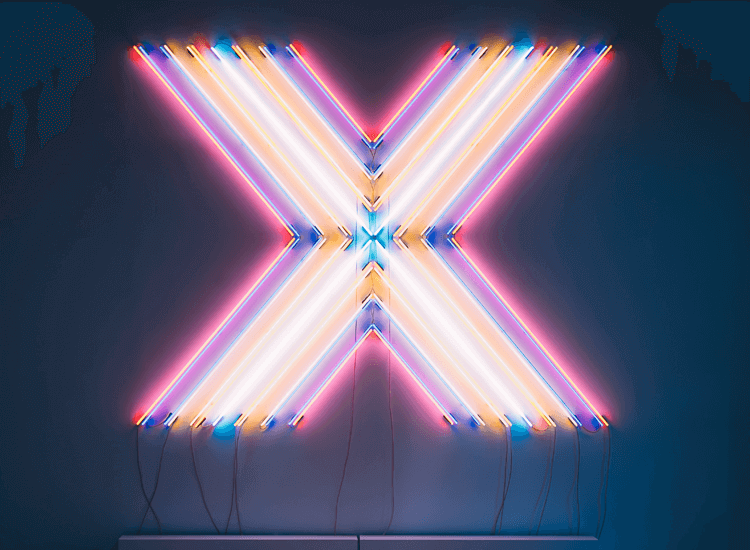 If there is one essential point that retailers should take from the research into consumer behaviour, it is that store windows can drive impulse purchases. In their UK-based study, Edwards and Shackley found that this display type will positively increase sales [6].
As discussed in the last section, it is the communication of various cues and information that provides the customer with enough information to result in approach behaviour (i.e. entering the shop and/or making a purchase). As such, business owners ought to create a concise plan regarding what initial information their customers need to know.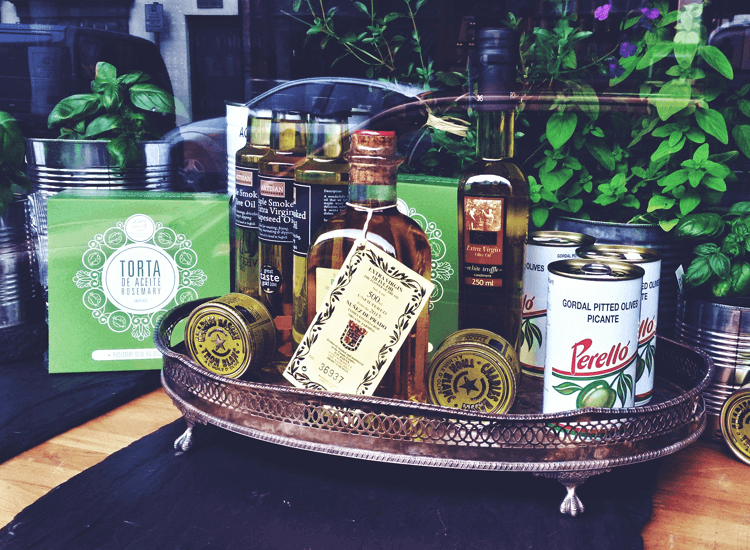 A 2015 study found that window dressing has 'the greatest positive impact on impulse buying in the specialised clothing and footwear stores'. They also suggest that this effect may differ for grocery stores 'as food buying behaviour is different from clothing buying' [7].
For example, grocery shoppers are often more driven by necessity and time constraints than clothing shoppers who are more likely to be shopping for pleasure and with fewer time constraints. Therefore, retailers in different sectors may wish to have different window merchandising styles and convey separate information in order to increase their sales.
Use context to influence
The context setting of a window is a crucial element that can influence consumers' mental imagery and arousal response which, in turn, can improve their attitude and behaviour [8]. In this case, the context not only refers to seasonal and trend-based context but also to the context of the store and the brand. This includes the industry type and the standing of that business within its industry. In short, if retailers can use their window displays to enhance relevant contexts, this can influence customers to spend.
Window merchandising for different store types

When designing a new store exterior, business owners and merchandisers must consider budget and window type, as an open window needs to be visible 360 degrees and may incur more expense. Larger stores ought to consider hiring a creative designer and window dresser as they will have invaluable expertise.
Of course, this option isn't always possible for smaller stores; however, there are multiple solutions that can be employed instead to ensure that your windows are reaching their potential. These include: examining competitor strategies, building mood boards, surveying staff and customer opinions, and assessing the point of sale products that are available to suit your displays. Take a look at our extensive product range and see how to merchandise the right way.
Types of window display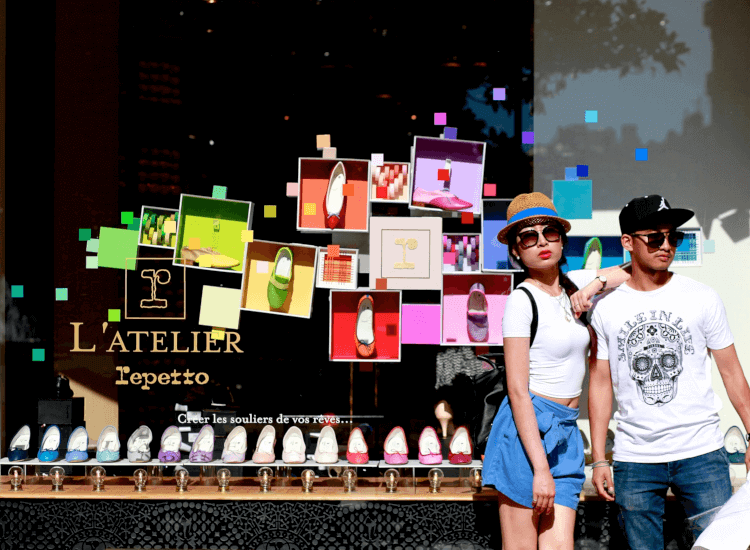 Storefronts tend to fit into two types of window presentation: artistic or merchandise-focused displays. The merchandise displays are more likely to inform whereas artistic ones inspire. Merchandise-focused displays tend to contain mainly the products, whereas artistic displays are likely to contain unusual props and abstract concepts.
These display types may appeal differently to different customers and industry types. Supermarket shoppers are often in more of a rush and target-driven. Therefore they may react more positively to a merchandise-focused display, conveying useful information such as pricing and size. Conversely, clothing or cosmetics shoppers tend to be less time-limited and more open to an artistic display which may inspire them to explore the store and products.
Environmental preference theory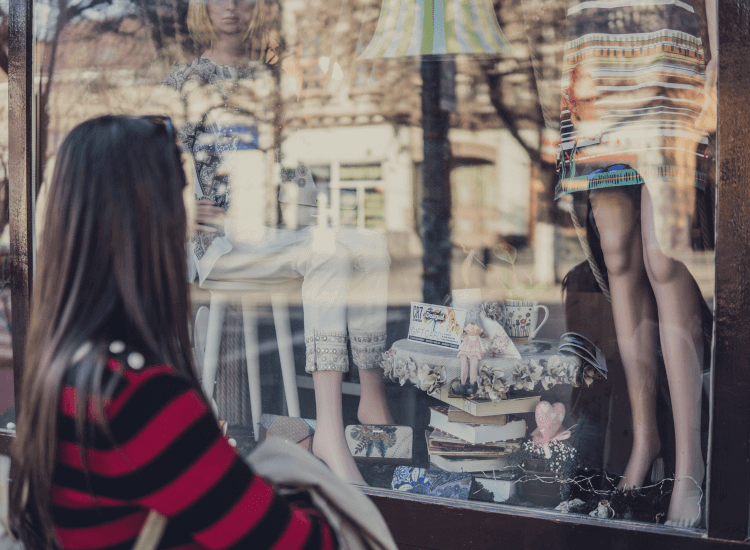 Environmental Preference Theory suggests that people either want to understand or explore an environment [9]. Oh and Petrie expand on this explanation, suggesting that display designers ought to combine visual elements that help consumers understand or inspire exploration. This should lead to an increase in approach behaviour (and a return on investment) [10].
A creative shopfront can enhance a customer's store perceptions and likelihood of store entry (Lange et al., p. 1018). Businesses should use different display styles for different types and locations of store, in order to cater to shopper motives. Luxury merchandise will be presented differently from bargain goods, and is often more spaced out like an art exhibit. Creative product displays will be used to grab attention and inspire.
Creative window display ideas
Themes and novelty will always help to create interest and make for a memorable storefront. If you are stuck for creative window display ideas, seasonally themed windows are always an easy win. Why not break with tradition and do something unconventional with the usual props and decorations, putting a twist on familiar symbols? Martin Pegler suggests playing with the unexpected to make your windows stand out against the competition. Inverting the normal usage or perspective of an item can look artistic, create humour and draw interest [11].

Or, why not try using liquid chalk pens to write or illustrate a message directly on your shop or café windows? They are easy to apply and to clean off, while being supplied in a range of colours and styles, so there's no limit to your creativity!
Price point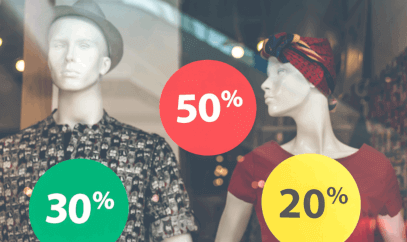 Business owners and window dressers must consider price points in relation to their display choices. Customers rely on these visual cues to build their expectations of the brand and merchandise and may be disappointed if their expectations do not match reality.
Generally speaking, customers know that displays cost money, and will expect a spaced-out display to be more expensive and artistic. Product-heavy displays will be interpreted as more affordable and informative.
Shock value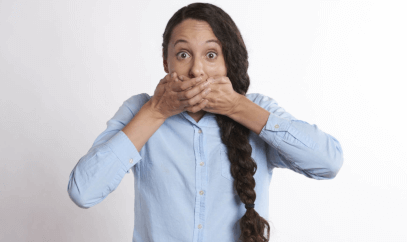 Some advertisers will go to any length to grab attention. One study investigated the impact of 'shocking' shop front displays on customer behaviour [12]. They found that a small amount of shock value may be beneficial in that it can enhance recall and could potentially create enough curiosity to prompt exploration.
This effect is not confirmed however, and the study showed that offensive or shocking displays did not have any significantly positive effect on patronage or sales and is therefore best avoided.
Interactive displays and digital screens: the storefronts of the future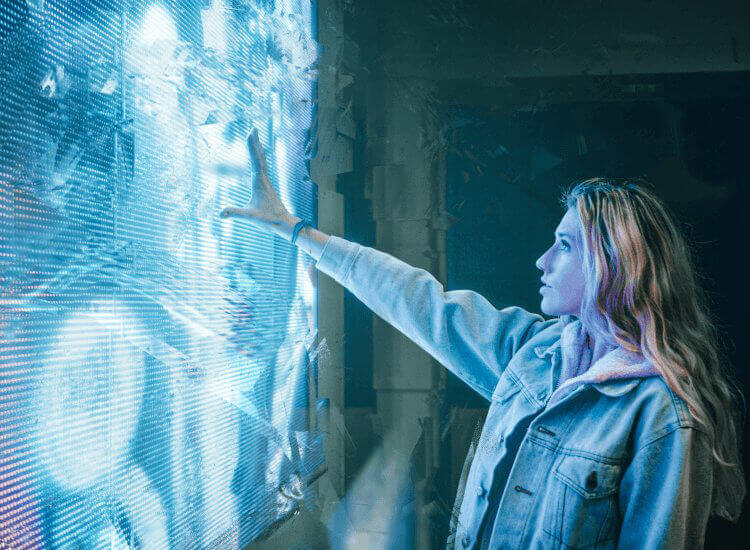 As the body of research on effective merchandising techniques grows and the popularity of e-commerce is booming, academics and businesses alike are starting to look to the future of outdoor advertising for brick-and-mortar retail companies.
Recent research into the persuasive qualities of digital signage claims that using digital window displays correctly can result in increased impulse purchases and repeat visit intentions [13].
Looking forward, interactivity seems to be a key concern for those investigating how to increase footfall in retail, with many companies investigating the possibility for technology to help create interactive window displays. Interactivity is strongly persuasive in merchandising, and digital technology is now reaching new heights of capability. One example that is gaining traction is the use of digital window displays and interactive touchscreens, which look to be one of the best investments that businesses can make for their marketing in the next few years.
Window display accessories
DDUH

Despatched in 3 - 5 days

View

DDUHS

Despatched in 3 -5 days

View

View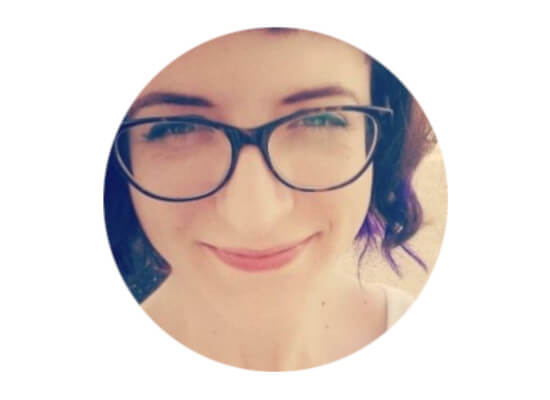 Kira Swales
Kira Swales is a copywriter for UK POS. Kira has eight years' experience in e-commerce and copywriting and a background in retail. She enjoys researching topics in depth in order to provide readers with the latest information on point of sale merchandising. Read more of her comprehensive guides in our
Knowledge Hub
.
References
1. Lange et. al, 'Store-window creativity's impact on shopper behaviour', Journal of Business Research, Vol 69 (2016), pp. 1015-1018.
2. Vizcaíno, Franklin Velasco 'Beyond window signs: Understanding the affect‐based effects of window signs on store patronage intentions', Psychology and Marketing, Vol 35 (2018), pp. 542-552.
3. Sen et al., 'Window displays and consumer shopping decisions', Journal of Retailing and Consumer Services, Vol. 19 (2012), pp. 27-35.
4. Grewal et al., 'The Future of Retailing', Journal of Retailing, Vol. 93 (2017), pp. 1-6.
5. Gildersleeve, Forsyth and Green, Lush Cosmetics Shopfront Display (2016), accessed 30 Sept 2019.
6. Edwards and Shackley, 'Measuring the Effectiveness of Retail Window Display as an Element of the Marketing Mix', International Journal of Advertising, Vol. 11 (1992), pp. 193-202.
7. Gudonavičienė and Alijošienė, 'Visual Merchandising Impact on Impulse Buying Behaviour', Procedia – Social and Behavioural Sciences Vol. 213 (2015), pp. 635-640.
8. Ti, Chihmin, 'The Effects of Window Display Setting and Background Music on Consumers' Mental Imagery, Arousal Response, Attitude, and Approach-Avoidance Behaviors', (unpublished master's thesis, Oregon State University, 2009), p.98.
9. Kaplan and Kaplan, Humanscape: Environments for People (Belmont, CA: Duxbury, 1978).
10. Oh and Petrie, 'How do storefront window displays influence entering decisions of clothing stores?', Journal of Retailing and Consumer Services, Vol 19 (2012), pp. 27-35.
11. Pegler, Martin, Visual Merchandising and Display, (New York: Fairchild Publications, Fourth Edition, 1998) p. 186.
12. Ortega-S, A, 'Effectively offending to sell: Consumer response to shocking visual merchandising presentations' (unpublished doctoral thesis, Colorado State University, 2011), p.40.
13. Bauer et al., 'Research Directions for Digital Signage Systems in Retail', Procedia Computer Science, Vol 141 (2018), pp. 503-506.