Chalkboard A Boards and Wooden A Boards
Is a Chalkboard A Board effective advertising?
Using a chalkboard pavement sign outside of your business will attract passing custom in from the street by alerting them to your presence and/or any special offers. Similarly, using them inside your business can alert customers to deals they wouldn't otherwise see.
Another benefit of A frame chalkboard advertising is that it allows you full creativity with the ability to add lots of colour or even relevant seasonal messaging or jokes. Colourful, fun and attractive displays are far more eye catching than a traditional advertisement and can express your business style.
How do I update my A frame chalkboard pavement signs?
If you're using an A frame chalkboard outdoors, we recommend that you use our liquid chalk pens, as these become water resistant after an hour of drying time. The liquid chalk is available in a wide range of colours from metallic to fluorescent to natural, as well as the traditional white chalk, giving a professional finish to your chalkboard signage.
Are the Chalkboard A Boards easy to store and transport?
Yes, all of our chalk A boards feature convenient side hinges so they can be folded up, carried around and stored away neatly and easily.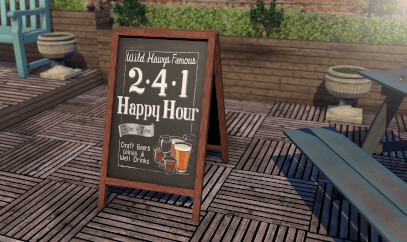 Check out our guide to POS signage for pubs and bars, and learn how to increase bar sales with wooden A boards.
Is there a multipurpose chalkboard pavement sign?
We stock a number of Chalk A Boards which are suitable for various purposes. We sell Wooden Chalk A Boards which feature a snap frame style poster holder edge, meaning that you can opt to display either a poster or your customised chalkboard.
Our wooden easels all have an option of removable chalkboard which you can display in either a portrait or a landscape orientation. They're designed with a lip at the bottom so that you can also use it to display advertising posters or canvases.