Digital Signage Vs Print Displays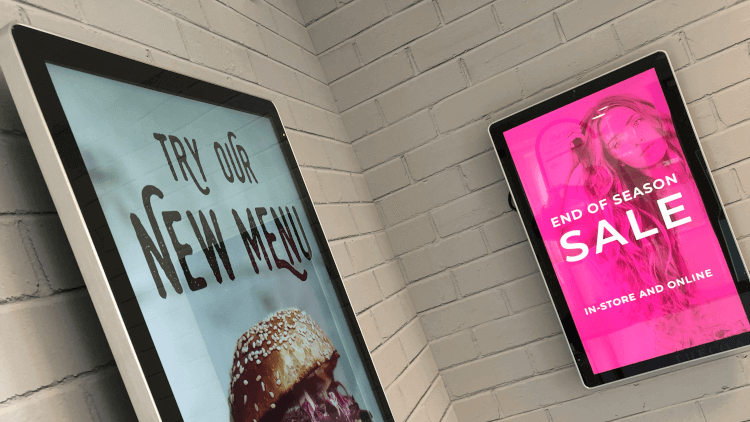 Digital signage vs print: is digital a better investment?
Most businesses know that using signage, such as posters and labels, is the quickest and easiest way to convey a message to their customers. The term "silent salesman" typically refers to the use of signs in retail, due to its ability to instantly communicate information, without the need for a staff member to be present [1].
Many companies nowadays are switching over to digital advertising screens. In fact, use of digital video advertising is expected to grow at a rate of 12.4% by 2026 [2]. But do retailers know what sort of signage they should be using, and why?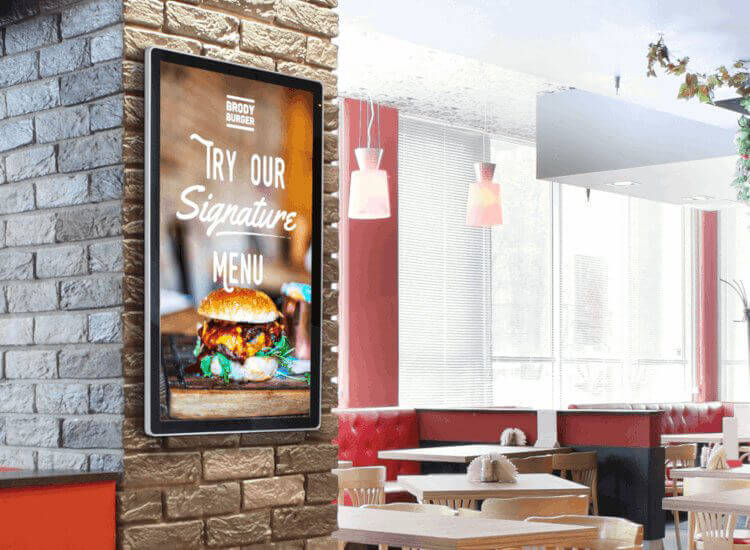 When business owners are planning new advertising campaigns, they must decide which type of signage to invest in - printed posters or digital advertising screens.
In the following article, you will uncover the latest research into why digital signage is important and how digital signage works. We talk you through why digital signage for retail may be a better investment than print, and reveal how you can use it to improve your business.
Why digital signage is important: practical benefits to business
There are plenty of practical reasons to invest in digital signage for retail rather than printed posters and other signs. Digital advertising screens are extremely versatile, as they allow users to change their displays instantly.
This is far more convenient than printed signs, which require having the designs sent to print, waiting for the printing and despatch times, and installing the display - every single time a new poster goes up! See fig. 1 below, which depicts how digital signage is able to skip past 3 of the necessary stages involved in creating printed signage [3].

In the case of companies who wish to keep their signage up to date, they will use and discard a high number of materials in the process, from manufacture, to print, to display. In this regard, digital signage could be considered to be more environmentally friendly as it produces far less waste over its lifespan. Conveniently, this is at less cost to the advertiser as they will no longer have to keep spending on signage production.
But is this enough to create a respectable return on investment (ROI)? In the following sections we outline exactly how replacing your printed posters with digital signage could increase customer footfall, spending habits, brand recall rates and more, all of which help to build that all important ROI.
How digital signage works: Keeping customers happy
Advertising isn't just about persuading the customer to buy a specific product. Using digital signage can affect your customer's or visitor's mood and perception of their surroundings.
The use of digital signage as an atmospheric tool was found to be highly effective in a 2012 study [4]. The study found that digital screens can significantly impact shopper emotions, enhancing their perception of the mall environment and increasing their spending.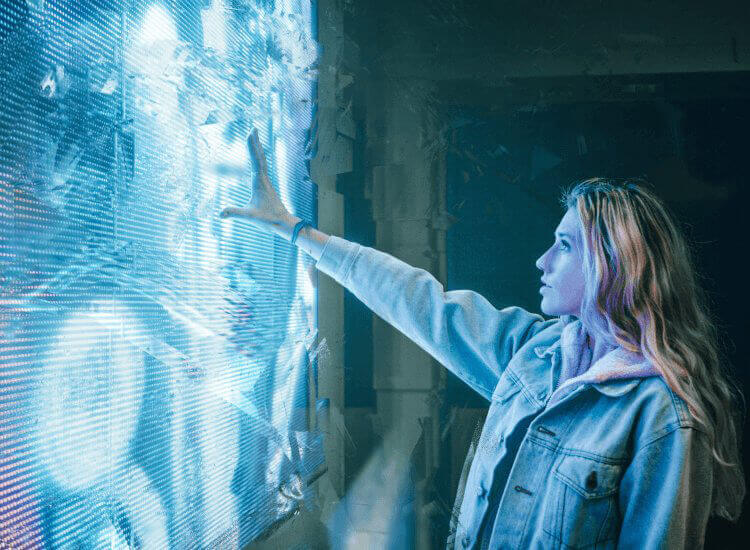 Digital signage positively impacts consumer emotions, influencing approach behaviour
The study also found that footfall increased by 6.1% after the signage was installed. Similarly, another study reported a massive 17% lift in sales after the installation of digital signage displays [5].
'Installing digital displays resulted in a 17% lift in sales' - Roggeveen et al. (2016)[5]
Digital signage that evokes emotion can have a positive effect on customers, and improve their mood. This can prompt them to act, lead to more impulse buys, and increase customer loyalty [6]. The emotional connection between viewer and signage is discussed further in our "Seeing is shopping" section in Part Two of this article, which gives tips on what you ought to display on your digital signs.
The take-home message from these studies is that digital advertising can be used to influence the mood of customers. This, in turn, can strengthen their interaction and satisfaction with a retail environment. See our flow chart infographic below.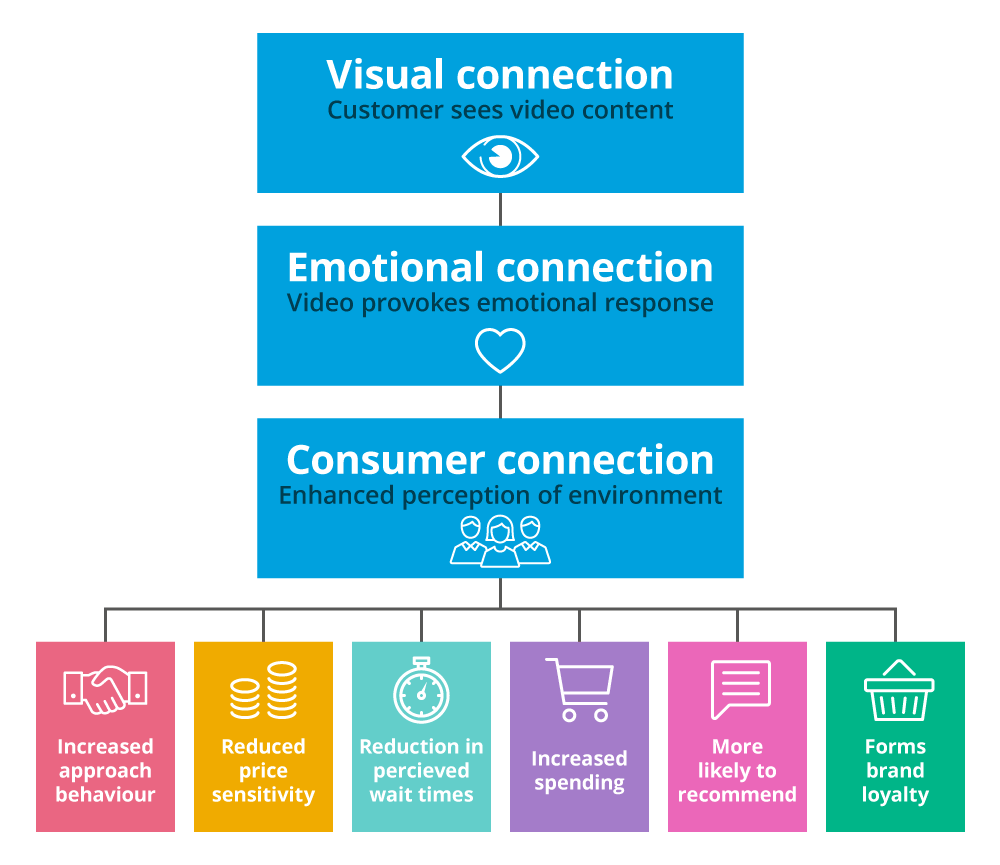 Digital signage research: More on how digital advertising works
The "display blindness" effect describes how, when a person is overwhelmed by signage, their brain dissociates and they won't retain any of the information. J Muller explained that this is an effect produced by the brain, stating that "attention is highly selective" [7].
One study on digital signage found that 75% of respondents could recall seeing a digital billboard ad in the past month, and 71% felt that digital billboards stand out more than online ads (see Fig. 3) [8].
This reinforces the previous suggestion that advertisers may wish to invest in digital advertising supplies in order to effectively capture customer attention.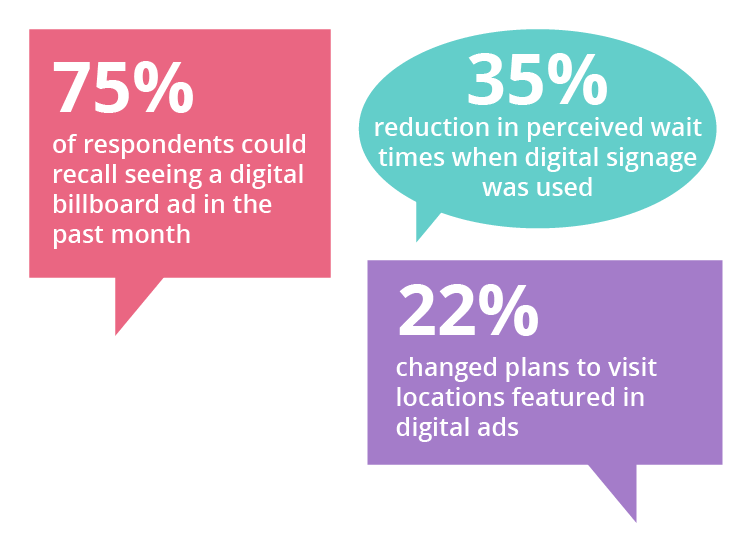 Fig. 3 based on Nielsen Digital Billboard Study 2015
'60% of shoppers find interactive touchscreens useful'

- POPAI (2022)
In a 2016 study into digital signage and advertising, Bauer et al. found that attractive digital displays with colourful images or video help to eliminate the display blindness effect. This gains more attention than traditional printed signs.
Furthermore, interactive touchscreen-based signs give a better user experience by involving the audience.
This study also demonstrated that digital signage displayed 'at eye level or positioned considerably above the head [will] draw more attention' than lower down displays and video content captures the eye longer than text.
Therefore, wall mounted digital advertising used for displaying promotional messaging can be effective at grabbing attention when they are placed high up with moving images.
There are limitations, however. Using screens incorrectly runs the risk of overwhelming customers with too much signage which will provoke display blindness. This drawback can be mediated by placing your digital signs in appropriate locations and catering content to your market.
Interactive signage has the best potential for gaining attention and being recalled
. Keeping customers involved in the experience is a huge priority for shops, and the technology is constantly advancing.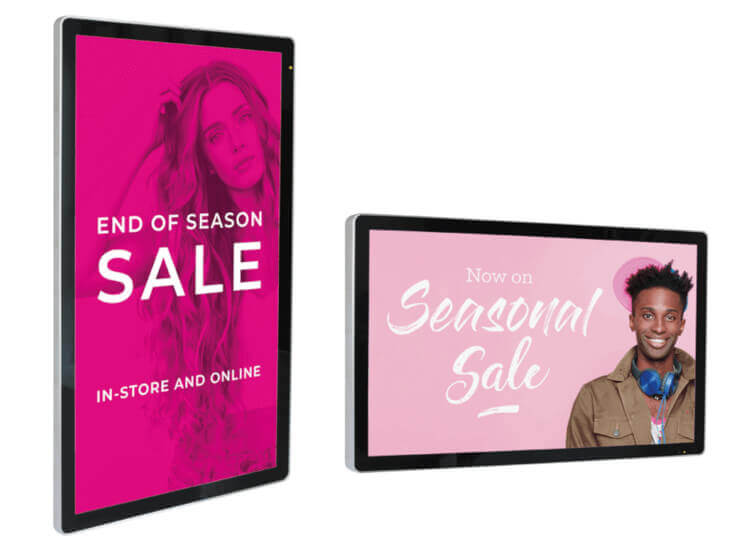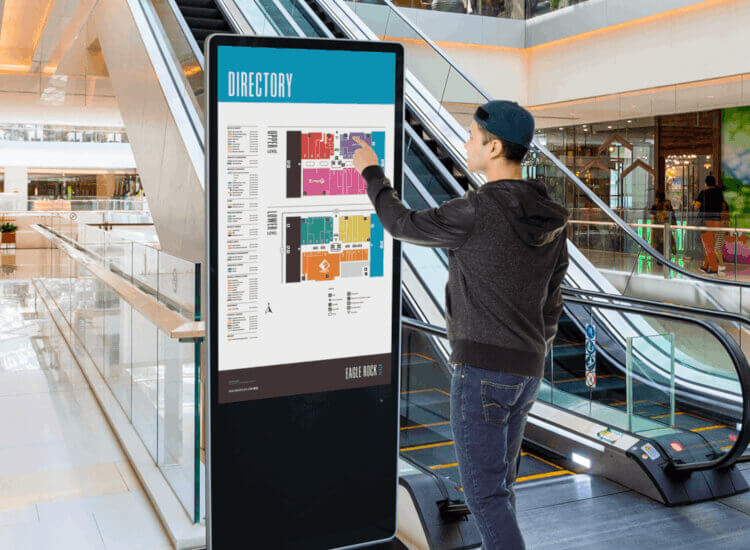 Touchscreen kiosks
Touchscreen kiosks can entertain and inform customers inside shops and in public spaces and are becoming highly popular for displaying menus, wayfinding and product selection.
Some shops are now bridging the gap between e-commerce and brick and mortar by treating their high street shops as a showroom, and allowing customers to order online in store using digital touchscreen kiosks.
Other businesses are taking interactivity to a whole other level, with some using motion and depth sensor technology such as Microsoft Kinect which enables interactive displays to engage with passersby in a huge variety of ways. This is developing into a unique field of marketing which is often called an Augmented Reality campaign, but can also be considered as a form of experiential marketing.
Interactive digital signage examples: Purina
The pet food company Purina uses innovative ways to engage new customers using digital displays. In 2012 they created an interactive digital window display which encouraged passersby to play with virtual dogs on screen. The digitally displayed canines would respond to movement, using skeletal tracking technology as a promotion for their dog food Beneful.

In 2018, to promote their Felix cat food range, they had their beloved cartoon mascot cat displayed on a digital screen in prominent public locations. The screen reflected the public below, showing the cartoon feline mischievously interacting with passersby and other ads.

In 2019, they revealed an ambitious campaign to promote their ProPlan, using what they call Street-Vet. This involves a digital kiosk providing customised health information to dog walkers - when their dogs urinate on the sign pole. These creative campaigns appear to have been very successful in engaging new customers with memorable interactive experiences, resulting in millions of people talking about them online.
Marketing campaigns such as those developed by Purina have given us some fantastic interactive signage examples, showing why digital advertising is important and how it can eliminate display blindness and engage customers in imaginative new ways. Smaller businesses, however, may need to think inventively about how they can replicate these effects on a smaller scale and budget.
Digital signage vs print displays: which is most effective?
Don't say goodbye to traditional print media just yet! Posters are still a reliable form of signage for smaller businesses. But if you want to give your advertising an extra boost, consider digital signs. engage customers, increase footfall and lift sales.
With so many messages vying for our attention every day, it's becoming easier for people to tune them out. To stand out from the crowd, businesses must get creative with their advertising and make sure their signs are eye-catching and memorable.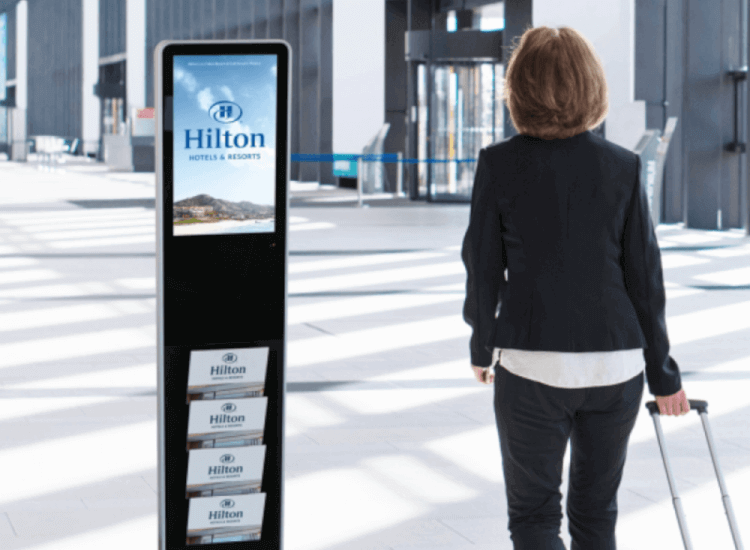 Both digital and printed signage have their strengths and weaknesses, and the best type for purpose depends on what type of retailer you are. Whatever form of POS advertising you use, make sure that you carefully consider your business type, display style and target market, to ensure that you achieve the best results and ROI.
Check out the second part to this article, Digital Display Ideas, for more insights into how digital advertising works and ideas of what to display on your digital signs to in order to get the biggest return on investment.
View

View

View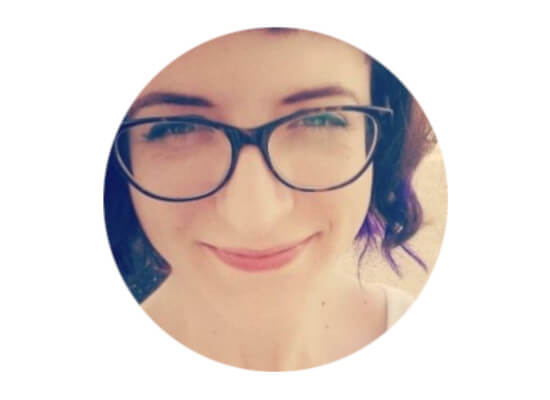 Kira Swales
Kira Swales is a copywriter for UK POS. Kira has nine years' experience in e-commerce and copywriting, with a background in retail. She enjoys researching topics in depth in order to provide readers with the latest information on point of sale merchandising. Read more of her comprehensive guides in our
Knowledge Hub
.
References
1. Kornblau, 'Packaging and supermarkets: The package in the market place', Effective Marketing Coordination (1961), pp. 296–306.
2. 'Digital out-of-home penetration in Great Britain 2020', Statista Research Department (June 2022) [accessed 09/01/2023].
3. Bauer et al., 'The Business with Digital Signage for Advertising', LNISO (2016), pp. 285-302.
4. Dennis et al., 'New insights into the impact of digital signage as a retail atmospheric tool', Journal of Consumer Behaviour, 11(6) (2012), pp. 454–466.
5. Roggeveen et al., 'Do Digital Displays Enhance Sales? Role of Retail Format and Message Content', Journal of Retailing (2016), Vol. 92, Issue 1, pp. 122-131.
6. Garaus and Wagner, 'Let me entertain you – Increasing overall store satisfaction through digital signage in retail waiting areas', Journal of Retailing and Consumer Services, Vol 47 (2019), pp. 331-338.
7. Müller et al., 'Display Blindness: The Effect of Expectations on Attention towards Digital Signage', Pervasive Computing, Lecture Notes in Computer Science (2009), vol 5538.
8. Williams, Nielsen Digital Billboard Study (2015), < https://oaaa.org/Portals/0/Webinars/pdf/Nielsen%20OAAA%20Digital%20Billboard%20Study%202015.pdf > [accessed 04/09/2019].
9. 'Digital screens in Ireland Shopper Investigation', POPAI, In-store Insights (December 2022), Issue 52, pp 5-11.