Retail Display Shop Fittings and Shop Display Stands
Retail Display Shop Fittings and Shop Display Stands
What type of shop display stands do you supply?
We supply an unbeatable range of retail displays, from freestanding display stands and gondolas that your customer can walk around, to wall mounted displays, to countertop display stands and shelving. These shop fittings aren't necessarily just for retail environments either, and can be used by pretty much any business to enhance their decor.
Whether you want to make your products feel accessible and easy to pick up, or to make them seem luxuriously expensive, we have retail display stands and retail display shelves to suit every business, including the following 7 types of visual merchandising display:
Gridwall, slatwall and twinslot wall fixtures and gondolas
Shop counter display stands
Retail clothes rails
FSDUs (free standing display units)
Shelving
Display baskets, blocks, bridges and crates
Queue merchandising solutions
What are the most popular retail merchandising display products?
The most popular shopfittings tend to be ones that provoke impulse purchases, particularly in-queue and countertop merchandising displays. Clear acrylic display tubs and tiered shelves are ideal for this purpose, holding lots of smaller items such as sweets in a compact unit.
Freestanding shop display stands can be placed at aisle ends to create a feature out of particular product ranges, and merchandising trays can be slotted in to shelf edges to extend and highlight certain product displays. Slatwall displays are a timelessly popular choice for wall fittings, although grid mesh panels are quickly catching up, with their modern and stylish appearance.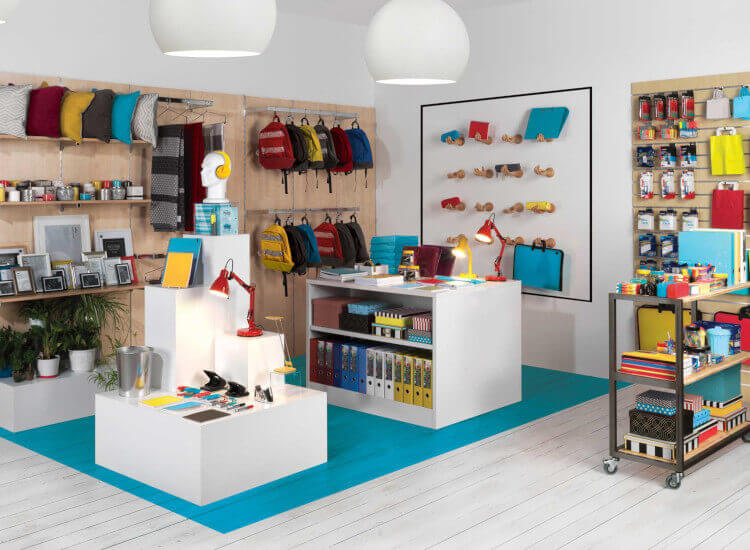 What type of shopfittings and shop display stands are right for my store?
The type of retail display shop fittings required depends on the type of shop you are fitting out. High-end designer stores may wish to attract aspirational shoppers with premium pricing. These type of shops will be best suited to classy, minimalist-looking displays which denote premium quality.
The ideal retail display stands for individual products such as jewellery, electronics or designer clothes can vary - these include product glorifier units, pedestal display stands and display plinths. For businesses such as cafes or health food shops, natural materials provide a popular shabby-chic look. Displaying your products in wooden crates and wicker trays enhances this style.
We supply many visual merchandising displays for individual or unusual products, such as our e-Cigarette holders, or our acrylic book stands. We manufacture many of our visual merchandising displays onsite right here in the UK so, if you can't see the right display solution for your needs, we may be able to make something bespoke for you.