Social Distancing and Hygiene
Hygiene products for businesses
Incorporating safe and hygienic working practices has become essential for businesses in recent years. At UK POS, we supply a complete range of hygiene products and informational signage for a variety of industries that will help your company to remain a clean environment for staff and customers alike.
Do I need workplace hygiene products?
Workplace hygiene products are always an important part of health and safety practices. Hand washing signs are useful for lavatories and kitchen areas as, unfortunately, many people do still need reminding about the importance of this basic requirement. Hygiene stations, such as automatic hand sanitiser dispensers, are particularly useful for businesses to place at entryways for visitors to use.
We also supply a massive range of professionally printed posters and signage to remind staff and visitors of your company policy. There are many other options that you may want to consider too, particularly when interacting closely with the public. Screens and face coverings help to create an instant barrier between people in places where good hygiene is essential, such as hospitals, doctors' offices and pharmacies.
Ways to improve hygiene at work
Use cough and sneeze barriers. Using sneeze barriers will help to prevent the transmission of infections between staff and customers.
Use directional signage and floor stickers. This helps to ensure that people know where they can't go and in which direction they should move.
Use hand washing posters. Using printed hand washing posters in bathrooms and kitchens acts as a hygiene reminder.
Provide PPE for staff. Providing shields and face masks for staff where necessary will help them to feel safer at work.
Make workplace hygiene products accessible. Incorporate hygiene stations into your workplace, particularly in busy areas and entryways. These can be freestanding, wall mounted or counter fixed.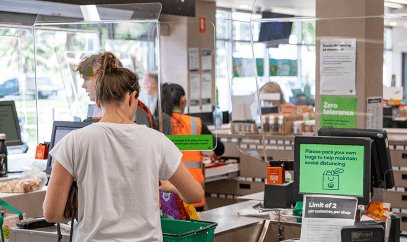 Do you supply social distancing products for retail?
Absolutely. We have a selection of checkout screens and sneeze guards to protect your cashiers when they're serving customers. We have lightweight screens which are repositionable and instantly slot together, and screens which can be screwed to your countertops for a more secure solution.
We also supply a range of printed posters and retail signage options so that you can instantly update the informational displays around your business according to any changes in your health and safety policies. These include pavement signs and informational roller banners.
Do you supply hygiene solutions for offices?
Just like in retail and hospitality environments, large office buildings will benefit from the use of hand hygiene posters and instructional social distancing signs. For reception desks, you may wish to install some hand sanitiser dispensers nearby to ensure safer interactions with the public.