Social Distancing and Hygiene
From:

Was: £5.70

Special Price £1.86

ex. VAT

From:

Was: £131.19

Special Price £69.00

ex. VAT

From:

Was: £49.00

Special Price £35.00

ex. VAT

ERB800-A

Despatched in 3-5 days

SECA4-A

Despatched in 2-3 days

WPG7A2-A

Despatched in 2-3 days

SWG2A2-A

Despatched in 2-3 days

WPG7A1-F

Despatched in 2-3 days

ERB800-B

Despatched in 3-5 days
Social Distancing Solutions and Hygiene Products for Businesses
Since the beginning of the 2020 pandemic, incorporating safe and hygienic working practices has become a priority for businesses. In order to continue doing our work in the safest way possible, we must all consider workplace hygiene procedures more than ever before.
Fortunately, at UK POS we supply a large range of hygiene products and social distancing equipment for a variety of industries, that can help your company to remain a safe and productive environment for staff and customers alike.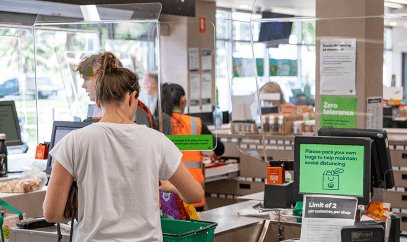 Do I need workplace hygiene products?
Even when we're not facing a pandemic, workplace hygiene products are always an important part of health and safety practices in the workplace. Hand washing signs are useful for lavatories and kitchen areas as, unfortunately, many people do still need reminding about the importance of this basic requirement. Hygiene stations, such as automatic hand sanitiser dispensers, are particularly useful for businesses to place at entryways for visitors to use.
More specific POS hygiene products are available for use when social distancing is in place, too. For a start, we supply a massive range of ready printed social distancing posters and signage to remind people of the current guidelines. There are many other options that you may want to consider too, particularly when interacting closely with the public. Our cough screens and face coverings, for example, help to create an instant barrier to protect you and your business.
Ways to improve hygiene at work
Use cough and sneeze barriers. Using sneeze barriers will help to prevent transmission of infections between staff and customers.
Use directional signage and floor stickers. This helps to ensure that people know where to go and remember to adhere to social distancing measures.
Improve your queue management. Mark out areas where visitors can wait using a queue management system such as rope or chain barriers. Highlight safe or prohibited standing and seating spaces with hazard warning tape or table signs.
Use hand washing posters. Using printed hand washing posters and social distancing signage in appropriate locations acts as a hygiene reminder.
Provide PPE for staff. Providing shields and face masks for staff will help them to feel safer at work. In businesses where staff and customers must get up close to eachother, such as in salons, you may want to hand out free masks to customers too.
Make workplace hygiene products accessible. Incorporate hygiene stations into your workplace, particularly in busy areas and entryways. These can be freestanding, wall mounted or counter fixed.
Do you supply social distancing products for retail?
Absolutely, retail is a primary focus when developing new social distancing products for the workplace. Here at UK POS we have an impressive range of acrylic checkout screens and Perspex sneeze guards to protect your cashiers when they're serving customers.
Our sneeze shields range from small counter standing screens which are repositionable and instantly slot together, to heavy duty checkout sneeze shields, which can be screwed to your countertops for a more secure solution.
Most businesses have now introduced one-way systems and 'one in one out' rules, so that customers are more able to do effective social distancing in shops. To help with this, we supply a large number of printed social distancing posters and retail signage options so that you can instantly fit out your business according to the latest guidelines whenever you need to. These even include social distancing pavement signs and informational roller banners.
What are the best social distancing solutions for offices?
Social distancing equipment such as acrylic desk dividers and pop-up privacy screens make ideal social distancing solutions for offices, as they are a quick and easy way to reduce the spread of germs between colleagues. These are available to suit a variety of business types and budgets, from premium quality Perspex screens for desks, to instant flat packed sneeze shields.
Just like in retail and hospitality environments, large office buildings will benefit from the use of hand hygiene posters and instructional social distancing signs. For reception desks, you may wish to install some hand sanitiser dispensers nearby to ensure safer interactions with the public, as well as using some form of protective barrier, such as Perspex screens or face shields.