Clothing racks, clothes rail shop fittings and garment rails
How to display clothes in retail
The way you display your clothes in store says a lot about your retail brand and how customers perceive the quality of your garments. Our range of shop display rails give you the option to showcase your clothing in a way that is both stylish and practical.
If your clothes are presented in a jumbled, thoughtless way, then this could convey to customers that your clothing is of a lower quality than it may actually be. Use our clothing rails to professionally present your clothing display to customers, or use as extra storage space.
Why should I use freestanding clothes rails?
Our heavy duty clothes rails allow customers to walk all the way around your clothing displays to get a great view of your products. You can use accessories including card holders and graphic holders to divide your retail clothes rail into sections by clothing size or colour to help your customers find the item they want much faster.
Our sturdy clothes rails are also tall enough to allow all your garments to hang down without becoming crumpled at the bottom and gathering creases - even dresses and jumpsuits!
Gridwall and slatwall mounted clothes rails
If you require a visual merchandising retail clothes display that can be reconfigured regularly, then hanging arms and rails are perfect for your needs. The rails attach to your gridwall or slatwall wall panels or freestanding displays, for a versatile and space-saving garment display solution.
Are garment rails easy to assemble?
Our freestanding garment racks don't require tools for assembly. Each piece slots together using a clip-lock system to help you easily build a secure, sturdy display frame in minutes. Our hanging rails for gridwall and slatwall feature back plates which slot directly onto your panels, so that you can set up a display instantly.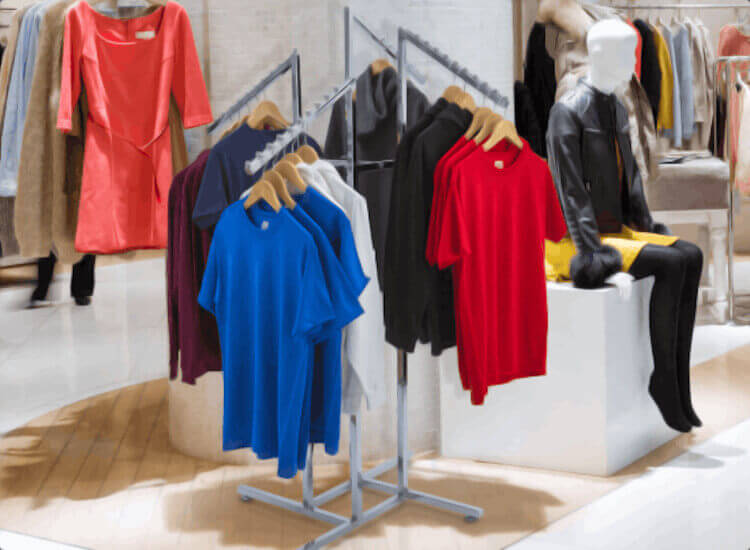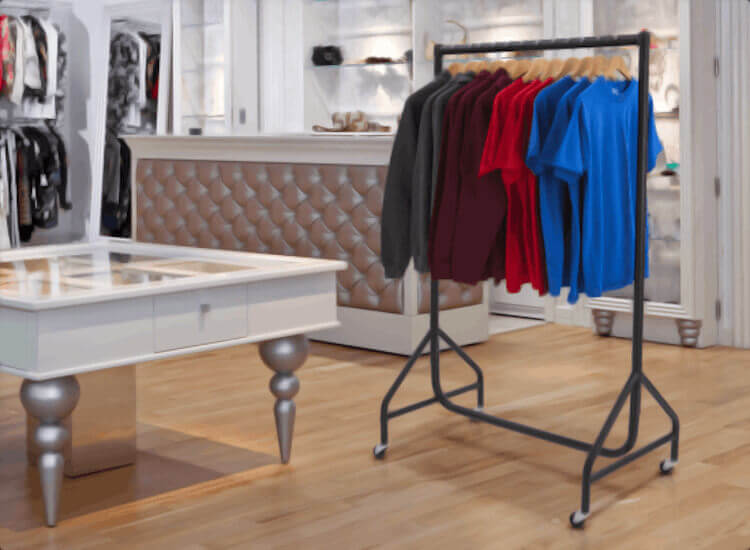 Retail clothes rail sign holders
Click above to check out our selection of sign holders for retail garment rails and clothing displays.
Heavy duty garment rails for storage
Our Heavy Duty Superior Reinforced Clothes Rail has been designed to withstand heavy usage in industrial settings. Our industrial clothes rails feature reinforced steel bars and heavy duty wheels, which allow them to hold up to 100kg in item weight without losing shape.
Fashion rails for clothing display
While wall mounted rail arms are used widely to display garments from gridwall and slatwall in retail stores, our freestanding rails provide a space for you to create extra hanging space and showcase a particular range or style of clothing in the centre of your store.
Use the clothes racks to hold sale items or create an industrial style visual merchandising display for your latest items. Our racks on wheels allow you to move your displays around your retail space easily.
Clothing display stands
In addition to wheeled freestanding clothes racks, at UK POS we also stock a range of clothing display stands for retail. These come in various options, with different amounts of rails and rail types to suit your business' needs. These include choices between 2, 3 and 4 arms with either sloped or straight designs. The other benefit of these is that the arms are adjustable in height to suit your products and available store space.
How do I display my signage and prices?
We supply a wide range of rail sign holders and other accessories for displaying prices and promotions directly on your racks. These are designed with various attachments to suit different display types. You may also wish to check out our range of product tagging supplies for attaching labels directly onto your stock.