Cafe Barrier Systems and Queue Barriers
Cafe barriers systems and queue barriers
What are cafe barriers for?
The purpose of our cafe barriers is generally to designate certain areas, such as outdoor seating for cafes and restaurants. As your cafe, restaurant and pub barriers are available with bespoke printing, they also double up as a fantastic advertising tool for outside your venue.
Add merchandising tubs, hooks or poster holders to your queue barriers to convey information or encourage impulse buys near the till.
Can I use these cafe barrier kits outside my pub or restaurant?
Our printed outdoor cafe barriers are suitable for all types of businesses, not just cafes. They are often used to create outdoor seating areas in pubs, bars and restaurants, while simultaneously offering a way to promote your business to passersby.
The printed cafe banners, or branded café barriers, are available either single or double sided. Our branded cafe barriers can be customized with your own printing, making them a great way to advertise your business outdoors in good weather conditions.
What are the benefits of using an in-queue merchandising system?
Our In-Queue Merchandising Systems are ideal for many retail settings including supermarkets, pharmacies, clothes shops and cafes. A queue barrier system helps to set the boundaries of a queueing area, while simultaneously offering opportunities to pick up any additional purchases at the point of sale. The café banners are available in various formats, easy-to-assemble, and can be extended with add-on queue accessories as required.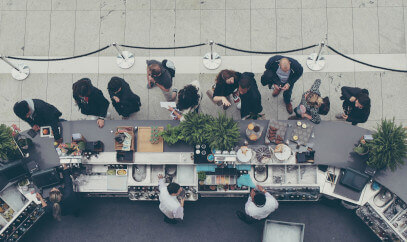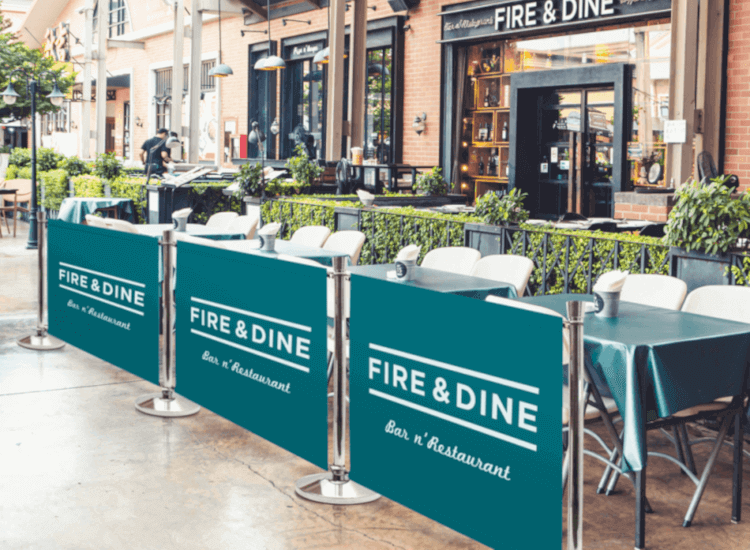 Check out our guide on how to promote a restaurant.
Where should I use retractable queue barriers?
Retractable barriers are ideal for areas where the size of the queue may vary over time, such as at clubs, meet and greets, signings, airports, and coach stations. You can extend the system by adding more black or stainless steel posts, as each one has a built-in connector belt in your choice of colour.
Guide customers into the queue by using an A4 poster holder, which are available with the kits as an optional extra. They can also be used to inform customers as they move along the line.
Which barrier system should I use at events?
Velvet or twisted rope barriers are a great choice for events where you want to create a luxurious, upmarket appearance. They are clearly recognized as a way to manage queues or create separate areas. Our high quality printed banner kits are also a great way to advertise your brand or event.
How to organise a queue
Use simple queue management solutions such as pole and chain kits to make it clear where customers or visitors should go.
Use retractable barriers to cover large or changing areas, such as for airport queue barriers.
Use twisted or velvet rope barrier kits for a more exclusive feel.
Making queue management more entertaining for your customers is more profitable for you.
Use signs and floor stickers as extra visual aids
Use queue merchandising kits to increase impulse buys in retail.