Chalkboard Signs and Hospitality POS Accessories
Chalkboard Signs and Hospitality POS Accessories
Chalkboard signs are really popular with catering businesses such as pubs, cafes, restaurants and bistros. They allow you to change your messaging easily, without the need to print a new poster.
Our range of restaurant chalkboard signs includes table top chalkboards, wall mounted blackboards, pavement signs and sandwich boards. We even have chalkboard paper inserts that you can place into a variety of poster frames.
Our great variety of hospitality accessories ranges from rustic wooden table caddies and display crates, to wooden clipboards and easels. Finally, our selection of menu folders and bill presenters can add a touch of sophistication to your food service.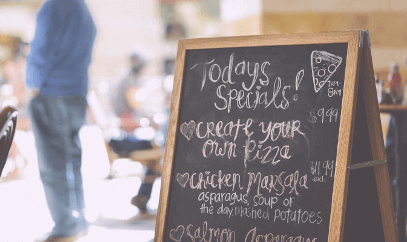 How to promote your restaurant
Increase your average number of diners and your average income by tweaking just a few things about your marketing
Where should I use chalk signs?
Blackboards are quick and easy to update and clean, making them perfect for menus and promotions. Their rustic style is highly popular in the hospitality industry.
We have wall mounted signs which are great for making your messages highly visible and attracting cust. They are great for saving you vital floor and countertop space.
For a counterstanding option, we also have tabletop signs. Why not consider using a chalkboard A board sign to attract passing customers from outside?
Which pub signage essentials will I need?
As well as our huge range of signage, we supply liquid chalk pens in a variety of colours and sizes. We also stock eraser fluid and blackboard paint, so you can update your displays.
If you are redesigning your hospitality based business, we have all of your table service and signage needs covered. From menu holders and table caddies, to wicker basket displays and table reservation signs; we've got it all.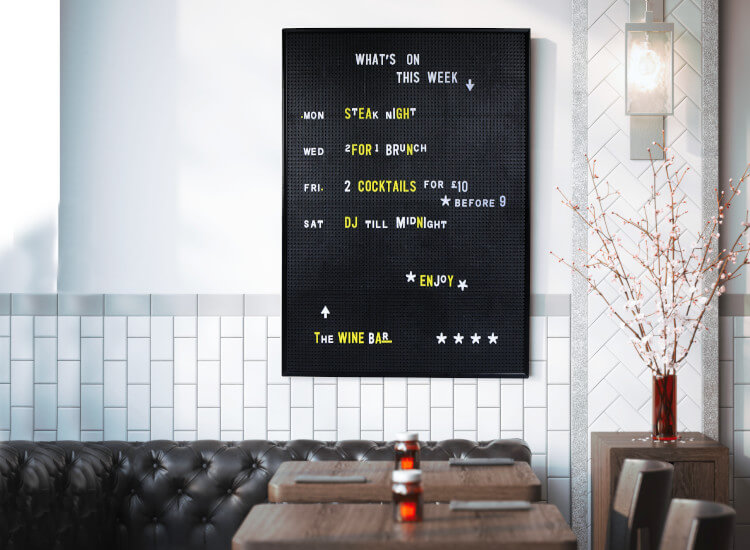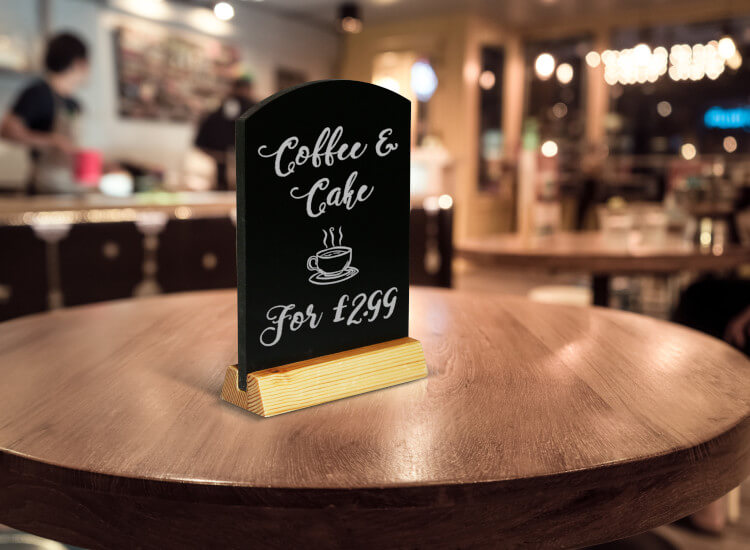 Can I get customised blackboards and wooden POS?
We can create a blackboard in any shape or style you wish, thanks to our in-house UK manufacturing team.
We can also add your company branding to your wooden framed products or directly onto the blackboard. Whether you are a retailer, spa, restaurant or cafe, our bespoke pieces are the perfect display solution.
What can I use in a cafe or bakery display?
Wicker food baskets are a popular choice for displaying baked goods in bakeries and cafes. They are available in a tiered option with a chalkboard header. For bagged food items such as crisp packets, wooden display crates are also a popular option in hospitality settings.
Themed chalkboards are another option to add a fun element to signage in bakeries and cafes. Use these signs to display drinks prices and promotions.