Floor Standing Leaflet Holders
Leaflet Display Stands
Why use a floor standing leaflet holder or magazine rack?
It is so important for any business to capture the customer's attention and encourage them to read or purchase any available literature. A well-designed and carefully-placed floor standing leaflet holder or a magazine rack can attract customers and make your literature far more appealing, acting as a low-maintenance visual merchandising display.
Can I use my magazine stand outdoors?
You should not use your floor standing brochure holder outdoors, as it is not weatherproof. Indoor or covered areas are the best places to create your floor standing literature display. Our collapsible racks would be ideal to use at a trade show or exhibition, as they are portable and can fold away.
Do you supply magazine racks with advertising space?
Some of our brochure stands are available with a header for you to insert your graphics, or we have various options of leaflet stands that feature poster frames. We also supply a Brochure and Banner Display Stand, which we can supply with a custom printed banner for you on request.
Can I get customised floor standing leaflet holders?
We can manufacture a floor standing brochure display rack in any colour or with bespoke company branding. Speak to a member of our sales team for a quote.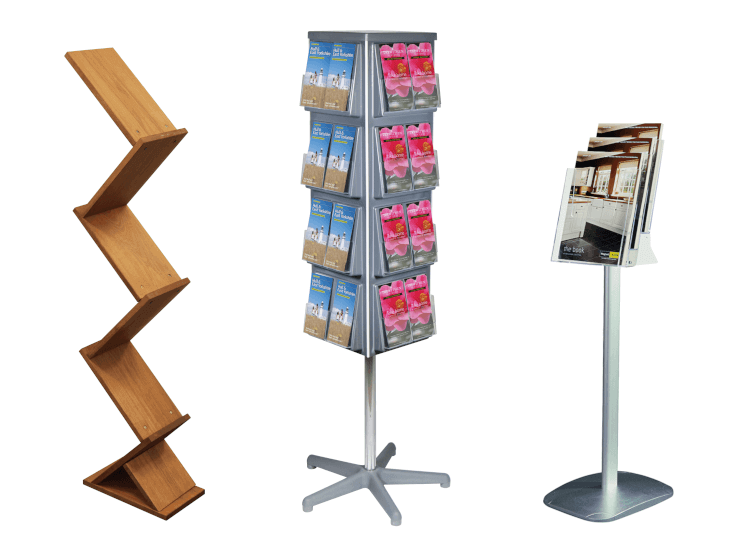 Our full range of leaflet stands and magazine racks includes something to suit every business!
What type of leaflet stand do I need?
With such a wide range of free standing leaflet holders available, there's bound to be a magazine stand to suit your needs and the design of your company. We supply single and double tier magazine stands which are a more traditional method of stacking newspapers and magazines and can hold them at an angle, making them easier to see.
At UK POS we also supply a good variety of multiple tier magazine stands, including collapsible brochure holders which are easy to fold down and transport, making them ideal for events and conferences.
A revolving magazine stand or carousel leaflet holder stand is a great way to ensure all of your leaflets, magazines or postcards can be seen at once.