Ticket and Card Holders
What are card and ticket holders?
Card and ticket holders are designed to display informational product labels and prices, as well as to highlight promotions. Some of the varieties that we supply include freestanding, clip-on, stick-in and adhesive. There is a style suitable for every industry and display, from department stores to delis.
Are the ticket and card holders repositionable?
The majority of our ticket and card holders are repositionable, being either freestanding, stick-in or clip on. Clip-on holders can be easily attached to shelves and stands, whereas freestanding models can be placed on countertops around your business.
Bottle neck ticket holders, pallet card holders and bed poster holders are all purpose built to provide a solution for those products which can be more difficult to label and they are all fully repositionable.
Our adhesive clips provide a permanent fixing point while still allowing you to swap out your cards and product labels when required, keeping your display up to date.
What if I can't find the product I'm looking for?
Here at UK POS we supply a wide variety of card and ticket holders for displaying product labels and pricing information, and there should be a solution to suit your sector. If you are looking for something specific, please contact our sales team who will be happy to advise you on the most suitable items.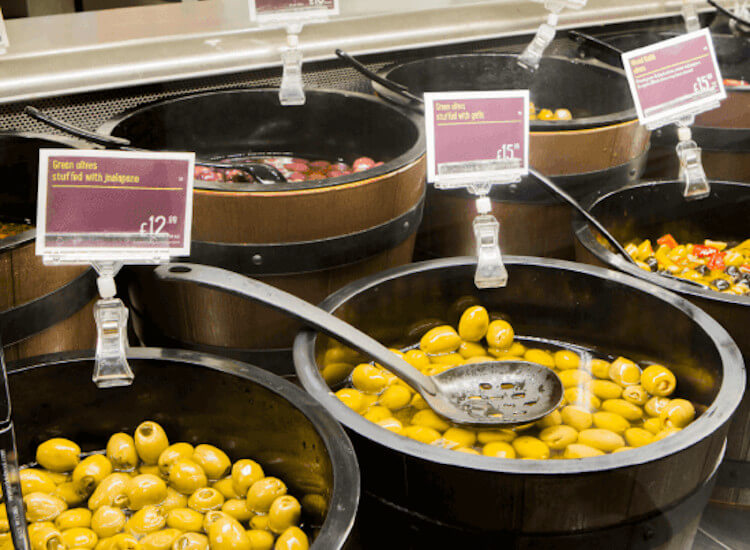 Do you supply any price ticket holders for use in delis?
There are multiple different ticket holders which are suitable for use in food retail and catering. Wire provision pins, otherwise known as butchers pins, are designed to be pinned directly into food such as meat and baked goods to display prices and information. As they are made from stainless steel they are suitable to be sterilised and re-used.
Deli ticket holder spikes and ice stick card holders can be used in the same way, sticking directly into soft foods, ice and floristry foam. For food displays kept in cabinets, deli card holders and deli ticket holders are an ideal solution which can display your food labels either within or on top of your display cabinets.