Wall Mounted Leaflet Holders
Wall mounted leaflet holders
Why choose a wall mounted leaflet holder over other types?
Mounting your leaflet dispensers on the wall is a great way to elevate your literature and give it increased visibility. A wall mounted brochure holder is the ideal point of sale solution if you want to display menus, leaflets, postcards, magazines or other paperwork in a clear, tidy and professional manner without taking up space on tabletops and counters.
What types of wallmounted leaflet holder are available?
Our extensive range of leaflet and brochure holders consists of options in acrylic, plastic, styrene and even wood. They range from 1-8 slots or tiers, giving you the option of displaying multiple different leaflets or brochures at once. They are commonly fixed to the wall by screwing in through the pre-made fixing holes in the holder, however we also have self adhesive leaflet holders available.
We stock these leaflet holders in a range of paper sizes including A5 and A4, as well as having both portrait and landscape orientations available, meaning there is bound to be an option to suit your requirements.
Can I add my company logo to the leaflet holders?
Here at UK POS we can manufacture bespoke sizing options and branded products tailored specifically to your business. We also offer next day delivery on the vast range of products that we keep in stock at our UK-based warehouse, meaning you can get the products you require delivered quickly and easily.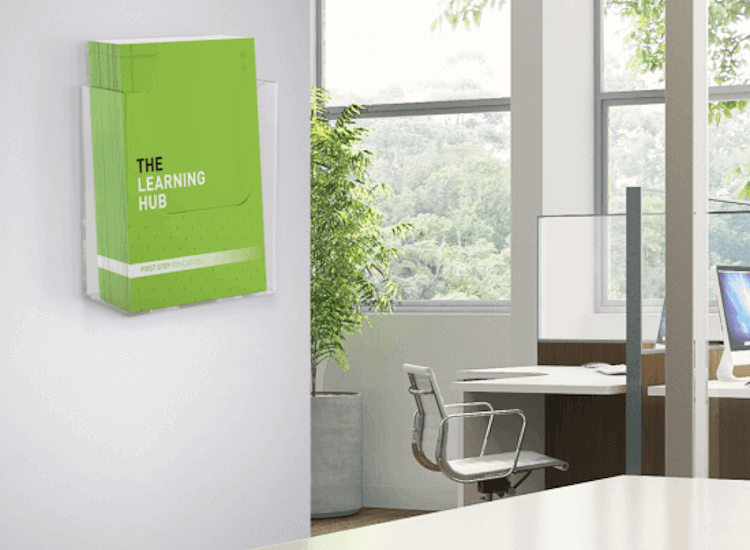 Where should I place my wallmounted leaflet dispenser?
A wall mounted leaflet holder is a great choice for areas where tabletop space is at a shortage, and work well anywhere that customers or visitors should be encouraged to interact with printed literature.
They are great for placing in doorways or waiting areas where people are likely to be passing through or milling about as they make it easier for people to pick up paperwork on their route. This makes them popular for use in doctor's and dentist's surgeries, libraries and cafes.
Do you sell an outdoor wall mounted leaflet holder?
Yes, our outdoor leaflet holders are available in four sizes (A4, A5, 1/3 A4 and business card size), and they feature a lid to help protect your leaflets, even in adverse weather.