Ceiling Hangers and Hooks
Hanging Hooks, Ceiling Hooks and Suspended Ceiling Fixings
What are ceiling hangers and fixings for?
The purpose of ceiling hangers, hooks and other ceiling fixings is to suspend point of sale display items such as posters and banners from ceilings. Signage placed overhead or at eye level has been proven to be more engaging for customers than signage placed lower down. Therefore, overhead signs are a lucrative area of focus for any business which wants their signs to be seen.
What types of ceiling fixings and hangers does UK POS stock?
We supply ceiling hanging hooks and fixings for a wide range of ceiling types. Suspended ceilings are popular in many modern businesses, and so we stock many types of ceiling clips for hanging signs that are compatible with suspended ceilings.
Magnetic hooks and magnetic ceiling hangers are for use with magnetic metal ceilings and shelving, and they allow users to fix lightweight items without having to use messy adhesives or drill holes in your ceiling.
Our adhesive ceiling hooks can be used on any ceiling type, as they come with a self adhesive backing which will adhere to any smooth, clean surface. These hanging buttons are available with square, round and oval profiles. Additionally, we have a ceiling hanger button which features a swivel eyelet, meaning that your hanging display can be effortlessly rotated.
What else will I need to hang displays from ceiling hanging hooks?
To connect your poster holders, banners or other display material to the sticky ceiling hooks, clips and hangers, you may wish to look at our double hook suspension wire, or our nylon line reel which easily ties onto plastic ceiling hooks.
What if I'm not sure which fixings I need for my suspended point of sale displays?
If you speak to a member of our sales team and explain what you are looking for they will be happy to assist wherever possible.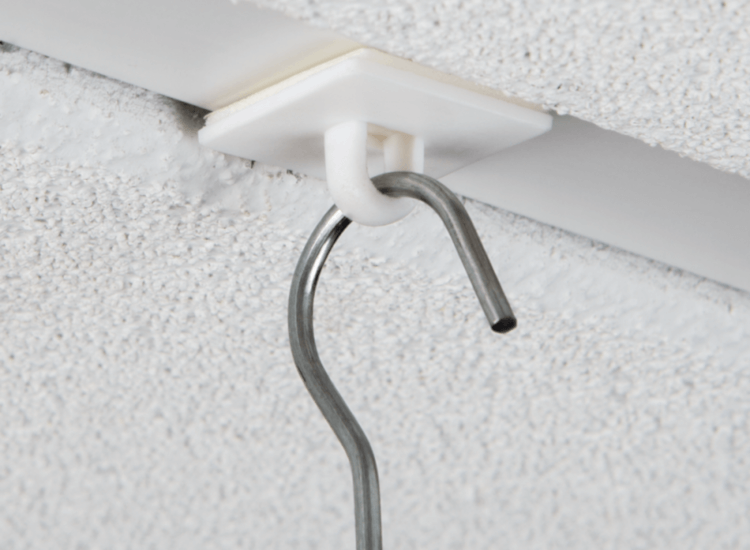 Adhesive ceiling hooks and suspended ceiling fixings are a quick and easy way to hang overhead displays.
What height can I suspend my signs at?
While we always recommend that you suspend your signs and banners at a safe, unobstructed height. Ultimately, you can choose exactly how high you want your signage to be.
When hanging your banners and posters, use nylon line reel and tie off at the length you want, or alternatively you can use extending wire hooks, which you simply need to pull out to the desired length and they will stay in place.
How do you hang a sign from a suspended ceiling?
With the right fixings, creating a ceiling hanging poster display is quick and easy. You simply need to select the appropriate shop ceiling hanging fixings and ensure you safely attach it. The ceiling clips simply clip on to the ceiling bars, whereas our hanging buttons feature self adhesive pads for an extra quick application.
Once the clips or hangers are in place, you just need to hook on your joining wire, hooks or rings, and use these to secure your poster or sign in place.
For an alternative ceiling-hung sign option, we also supply a steel sign hanging cable and grip which screws into solid ceilings.