Free Standing Display Units (FSDUs)
Free Standing Display Units (FSDU's)
What is an FSDU?
FSDU stands for Free Standing Display Unit (or Floor Standing Display Unit), which usually refers to branded cardboard display stands, but can also refer to any display product which is able to stand alone without fixings. FSDUs are designed to highlight key products and ranges, and draw attention to promotions.
What are FSDUs made of?
FSDUs are commonly made from low-cost and lightweight materials such as acrylic and cardboard, however we can just as easily supply metal or wooden floor standing display stands. Alternatively, for a freestanding metal grid display stand, check out our full range of gridwall display kits. These can be merchandised with a huge range of accessories.
Where should I place free standing display units?
Freestanding display units can be placed practically anywhere inside your shop. They're most commonly used at aisle ends in order to highlight particular promotions or new products. You could choose to place them near to similar products, or think outside of the box and put them somewhere unexpected, as the unexpected location could prompt customers to take a closer look.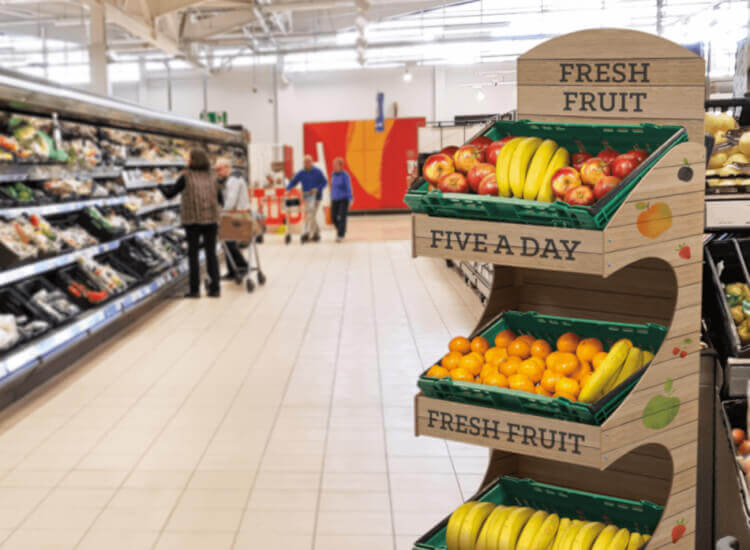 Freestanding display units are perfect for placing at aisle ends and by your tills to promote particular ranges.
Can I customise my FSDUs?
Yes, many of our floor standing display stands are available with the option for custom printing and branding. Plus, since many of our items are manufactured in-house right here in the UK, if you don't see the free standing display stands you need, you can get in touch with our Sales Team anytime for your bespoke quote.