Merchandising Hooks and Accessories
Merchandising Hooks and Retail Accessories
What are merchandising hooks and accessories for?
If you own a retail business or are a visual merchandiser, it's likely you'll be looking for opportunities to create unique and professional ways to display products on slatwall, gridwall, pegboards, shelving and garment rails.
That is why our range of euro hooks and slatwall hooks are so popular with customers - they are cost effective, easy to use and they are perfect for presenting a large volume of products in a neat and tidy way, saving space and improving visibility.
What types of merchandising display hooks do you stock?
We have options available for metal and plastic slatwall hooks, metal gridwall hooks and pegboard hooks with both single and double pronged varieties available. We also supply additional accessories to complete your merchandising hook display, such as swing tags, hang tabs and overarm ticket holders.
These merchandising hooks, garment rail arms and accessories simply slot into your slatwall panels, gridwall panels or pegboard for instant use.
Do I need anything else to use my merchandising hooks?
To ensure your products can successfully hang from a clip strip or merchandising hook, you may wish to invest in some adhesive hang tabs, which are a low cost, high return way to ensure all of your smaller products can be hung successfully at the point of sale.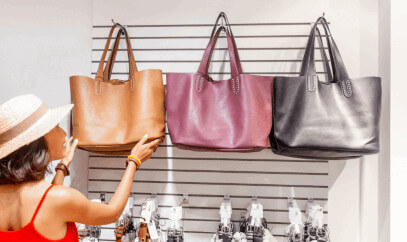 Space planning in retail stores
Shop planning involves looking at several factors, including product placement, traffic flow and floor plans. Our shop display hooks and retail accessories can all help with this.
Do you supply shop display hooks for shelf edge merchandising?
At UK POS we stock a large range of clip strips and accessories, including metal clip strips, plastic hang strips, suspension hooks and racking clips. These items are designed to clip onto scanner rails and shelf edges to promote smaller items at the point of sale, saving essential space on your shelving and countertops.
Displaying your smaller items professionally on a merchandising hook display or clip strip can help encourage shoppers to pick up products by creating a simple and enjoyable browsing experience.
Browse our range of retail hooks and merchandising display accessories now and start creating your perfect retail display.