Shelf Edge Leaflet Holders

Shelf Edge Leaflet Holders and Dispensers
What are the benefits of using shelf edge leaflet holders?
Make sure your customers and clients have the information they need to hand and that you are maximising your sales opportunities by investing in high quality brochure holders and leaflet dispensers. They clip straight into the shelf edges of your scanning rails, which saves you space in store. Shelf edge leaflet dispensers encourage browsing customers to interact with your business by picking up leaflets, brochures and information cards as they shop. What's more, thanks to their hard-wearing design, these products can be used outside as well as inside a shop, caf̩e or restaurant.
How can I make the most out of shelf edge displays?
Make the most of your available shelf edge space by using leaflet dispensers to display everything from information leaflets and postcards, through to menus, magazines and many other forms of literature. Supermarkets can display recipes next to their food, while hardware and homeware stores can use them to give away useful building instructions or design ideas for their products.
What are shelf edge leaflet holders made from?
Each leaflet holder is made from different materials, from hard-wearing acrylic and PVC plastic, through to glass or wire mounted dispensers.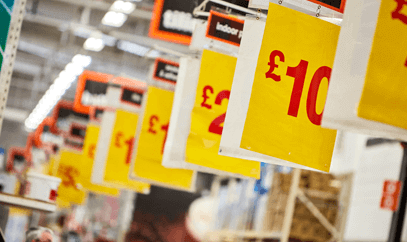 Essential point of sale displays for supermarkets
Supermarkets offer vast ranges of products, all of which need to be clearly marked out.
What sizes are your shelf edge leaflet holders available in?
Our range of shelf edge leaflet holders caters for literature that is printed onto A5 or A6 paper or card. If you can't find a product that meets your individual needs, get in touch to discuss the possibility of producing a custom order by calling 0845 450 3848.
Do I need to assemble the leaflet holders myself?
All of UK POS' shelf edge mounting products are either quick and easy to assemble or come ready to use straight out of the box.